Note: Supplemental materials are not guaranteed with Rental or Used book purchases.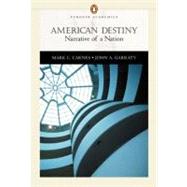 Summary
Using rich and distinctive prose, American Destiny: Narrative of a Nation presents a comprehensive look at the development and growth of the United States. Based on a political history framework, the book examines the political, social, economic, and cultural developments that have shaped this country. This elegant, high-quality text offers a low-price alternative to traditional U.S. history survey textbooks.
Table of Contents
Prologue—Beginnings.
1. Alien Encounters: Europe in the Americas.
2. American Society in the Making.
3. America in the British Empire.
4. The American Revolution.
5. The Federalist Era: Nationalism Triumphant.
6. Jeffersonian Democracy.
7. National Growing Pains.
8. Toward a National Economy.
9. Jacksonian Democracy.
10. The Making of Middle-Class America.
11. A Democratic Culture.
12. Expansion and Slavery.
13. The Sections Go Their Ways.
14. The Coming of the Civil War.
15. The War to Save the Union.
16. Reconstruction and the South.
17. In the Wake of War.
18. An Industrial Giant.
19. American Society in the Industrial Age.
20. Intellectual and Cultural Trends.
21. Politics: National, State, and Local.
22. The Age of Reform.
23 .From Isolation to Empire.
24. Woodrow Wilson and the Great War.
25. Postwar Society and Culture: Change and Adjustment.
26. The New Era, 1921-1933.
27. The New Deal, 1933-1941.
28. War and Peace.
29. The American Century.
30. From Camelot to Watergate.
31. Society in Flux.
32. Running on Empty: The Nation Transformed.
33. Misdemeanors and High Crimes.