Note: Supplemental materials are not guaranteed with Rental or Used book purchases.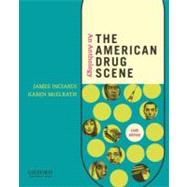 Questions About This Book?
What version or edition is this?
This is the 6th edition with a publication date of 7/12/2010.
What is included with this book?
The Used copy of this book is not guaranteed to include any supplemental materials. Typically, only the book itself is included.
Related Products
Summary
Now in its sixth edition, The American Drug Scene, edited by James A. Inciardi and Karen McElrath, is a collection of contemporary and classic articles on the changing patterns, problems, perspectives, and policies of legal and illicit drug use. Offering a unique focus on the social contexts in which drug usage, drug-related problems, and drug policies occur, it presents theoretical and descriptive material drawn from both ethnographic and quantitative sources. The American Drug Scene, Sixth Edition, features forty-two selections that cover all abused drugs--amphetamines and methamphetamines, opiates, marijuana, cocaine and crack, hallucinogens, and "club drugs"--as well as such legal substances as alcohol, tobacco, and prescription drugs. Other topics include gender and addiction; cross-cultural research into drug use; the relationship between drugs, violence, and street crime; the symbolic meaning of drug taking; injection drug use; the social construction of drug problems and moral panics; prevention and treatment; and the drug legalization debate. The sixth edition includes thirteen new articles that address recent and emerging patterns of drug use and policy debates, including crystal methamphetamine abuse among gay men; MDMA/ecstasy and the club scene; anabolic steroid use by bodybuilders; medical marijuana; prescription opiate abuse; the relatively recent use of khat in the U.S.; and salvia divinorum use among college students.
Author Biography

James Inciardi (1939-2009) was Director of the Center for Drug and Alcohol Studies and Professor in the Department of Sociology and Criminal Justice at the University of Delaware.

Karen McElrath is Reader in the School of Sociology, Social Policy, and Social Work at Queen's University in Belfast, Ireland.

Table of Contents

*=New to this Edition
Preface
Acknowledgments
About the Editors
About the Contributors
Introduction
PART I. HISTORICAL AND THEORETICAL PERSPECTIVES ON DRUG USE AND ADDICTION
* 1. The Evolution of Drug Taking and Drug Seeking in America, James A. Inciardi and Karen McElrath
2. A Sociological Theory of Drug Addiction, Alfred R. Lindesmith
* 3. Why People Take Drugs, Andrew Weil
* 4. Becoming a Marihuana User, Howard S. Becker
5. Dope Fiends and Degenerates: The Gendering of Addiction in the Early Twentieth Century, Mara L. Keire
6. Sociopharmacology of Drug Use: Initial Thoughts, Samuel R. Friedman
7. The Social Impact of Drugs and the War on Drugs: The Social Construction of Drug Scares, Craig Reinarman
PART II. ALCOHOL, TOBACCO, AND STEROIDS
8. A Brief History of Alcohol, Harvey A. Siegal and James A. Inciardi
9. Gateway to Nowhere: How Alcohol Came to Be Scapegoated for Drug Abuse, Stanton Peele and Archie Brodsky
* 10. Gendered Dimensions of Smoking among College Students, Mimi Nichter, Mark Nichter, Elizabeth E. Lloyd-Richardson, Brian Flaherty, Asli Carkoglu, and Nicole Taylor
* 11. Getting Huge, Getting Ripped: A Qualitative Exploration of Recreational Steroid Use, Matthew Petrocelli, Trish Oberweis, and Joseph Petrocelli
PART III. MARIJUANA
12. Marijuana: Assassin of Youth, Harry J. Anslinger and Courtney Ryley Cooper
13. Blunts and Blowtjes: Cannabis Use Practices in Two Cultural Settings and Their Implications for Secondary Prevention, Stephen J. Sifaneck, Charles D. Kaplan, Eloise Dunlap, and Bruce D. Johnson
14. The Power of 420, Karen B. Halnon
* 15. Medical Marihuana in a Time of Prohibition, Lester Grinspoon
PART IV. NARCOTICS AND PRESCRIPTION OPIOIDS
16. "Dope Fiend" Mythology, Alfred R. Lindesmith
17. Taking Care of Business: The Heroin Addict's Life on the Street, Edward Preble and John J. Casey
18. Gen-X Junkie: Ethnographic Research with Young White Heroin Users in Washington, D.C., Todd G. Pierce
* 19. Prescription Opioid Abuse and Diversion in an Urban Community: The Results of an Ultrarapid Assessment, James A. Inciardi, Hilary L. Surratt, Theodore J. Cicero, and Ronald A. Beard
PART V. COCAINE AND CRACK
20. America's First Cocaine Epidemic, David F. Musto
* 21. "Social Organization," from Wheeling and Dealing: An Ethnography of an Upper-level Drug Dealing and Smuggling Community, Patricia A. Adler
22. African Americans, Crack, and the Federal Sentencing Guidelines, James A. Inciardi, Hilary L. Surratt, and Steven P. Kurtz
23. Refining Rock: Practical and Social Features of Self-Control among a Group of College-Student Crack Users, Curtis Jackson-Jacobs
PART VI. METHAMPHETAMINE AND OTHER STIMULANTS
* 24. The Prevalence of Methamphetamine and Amphetamine Abuse in North America: A Review of the Indicators, 1992-2007, Jane Carlisle Maxwell and Beth A. Rutkowski
* 25. Crystal Meth, Gay Men, and Circuit Parties, Steven P. Kurtz and James A. Inciardi
* 26. Research Note: Crime, Chemicals, and Culture: On the Complexity of Khat, Edward G. Armstrong
27. A Very Childish Moral Panic: Ritalin, Toby Miller and Marie Claire Leger
PART VII. DRUGS, YOUTH CULTURES, AND CLUB CULTURES
* 28. Solidarity and Drug Use in the Electronic Dance Music Scene, Philip R. Kavanaugh and Tammy L. Anderson
29. Ketamine Injection among High-Risk Youth: Preliminary Findings from New York City, Stephen E. Lankenau and Michael C. Clatts
* 30. Salvia Divinorum Use among a College Student Sample, David N. Khey, Bryan Lee Miller, and O. Hayden Griffin
PART VIII. DRUGS AND CRIME
31. The Drugs/Violence Nexus: A Tripartite Conceptual Framework, Paul J. Goldstein
32. Sex Work and Drug Use in a Subculture of Violence, Hilary L. Surratt, James A. Inciardi, Steven P. Kurtz, and Marion C. Kiley
33. Women in the Street-Level Drug Economy: Continuity or Change?, Lisa Maher and Kathleen Daly
PART IX. DRUG TREATMENT
34. Gender-Specific Issues in the Treatment of Drug-involved Women, Hilary L. Surratt
35. Advances in Therapeutic Communities, National Institute on Drug Abuse
36. Methadone Maintenance: A Theoretical Perspective, Vincent P. Dole and Marie Nyswander
37. The Elephant that No One Sees: Natural Recovery among Middle-Class Addicts, Robert Granfield and William Cloud
PART X. POLICY CONSIDERATIONS
38. Safety First: A Reality-Based Approach to Teens, Drugs, and Drug Education, Marsha Rosenbaum
39. Healthy Nightclubs and Recreational Substance Use: From a Harm Minimization to a Healthy Settings Approach, Mark A. Bellis, Karen Hughes, and Helen Lowey
40. Commonsense Drug Policy, Ethan A. Nadelmann
41. Why Can't We Make Prohibition Work Better? Some Consequences of Ignoring the Unattractive, Peter Reuter
* 42. Clinical and Societal Implications of Drug Legalization, Herbert D. Kleber and James A. Inciardi
Websites