Note: Supplemental materials are not guaranteed with Rental or Used book purchases.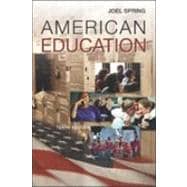 American Education
ISBN13:
9780072397789
by
Spring, Joel H.
McGraw-Hill Higher Education
Summary
"Clear, concise, and authoritative, American Education brings issues and challenging perspectives to teacher educators' classrooms. Revised every two years, the text provides an up-to-date introduction to the historical, political, social, and legal foundations of education and to the profession of teaching in the United States."--BOOK JACKET.
Author Biography
Joel Spring is currently a professor at Queens College and the Graduate Center of the City University of New York.
Table of Contents
PART 1: THE SCHOOL AND THE SOCIAL ORDERChapter 1: The Purposes of Public SchoolingThe Political Purposes of SchoolingThe Social Purposes of SchoolingThe Economic Purposes of SchoolingThe Economic Purposes of Schooling in a Global EconomyHuman Capital and the Role of Business in American EducationIssues about Human CapitalismConclusionSuggested Readings and Works Cited in ChapterChapter 2: The Profession of TeachingTeacher Education in a Global EconomyCurrent Issues in Teacher EducationControl Through Testing: National Licensing and CertificationNational LicensingNational CertificationNational Council for Accreditation of Teacher Education (NCATE)Career Ladders and Salary IncreasesShould Teachers Be Trained to 'Teach to the Test'?Teacher EducationThe Rewards of Teaching Working ConditionsConclusionSuggested Readings and Works Cited in ChapterChapter 3: Teachers' Unions and Teacher PoliticsDifferences Between the Two UnionsA Brief History of the National Education Association (NEA)A Brief History of the American Federation of Teachers (AFT)The NEA and the AFT TodayA Case Study: Tom Mooney, AFT Vice President and President of the Ohio Federation of TeachersSalaries and Teacher StrikesConclusionSuggested Readings and Works Cited in ChapterChapter 4: Equality of Opportunity and Social ClassEquality of Opportunity and American SchoolsSocial Class and EducationInequalities in School ExpendituresSavage InequalitiesQuality of City SchoolsSocial ReproductionShould Tracking and Ability Grouping Be Abolished?ResistanceParental InvolvementConclusionSuggested Readings and Works Cited in ChapterChapter 5: Equality of Educational Opportunity: Race, Gender, and Special NeedsRace, Gender, and Special NeedsThe Law, Race, and Equality of Educational OpportunityThe Meaning of RaceRace and Social ClassThe Economics of RacismDefining RacismRace, Social Class, and Equal Educational OpportunitiesTeaching About RacismThe Future of DesegregationSecond-Generation SegregationSegregation and Political PowerThe Economic Value of Being A MaleThe Recent Struggle for Equal Education for WomenSexism and EducationStudents with Special NeedsInclusionTeachers Resist the Call for InclusionConclusionSuggested Readings and Works Cited in ChapterChapter 6: Student DiversityIs It Hispanic or Latino?The Changing Population of U. S. SchoolsVarieties of Educational Experience of Immigrants to the United StatesImmigrant LanguagesAre U.S. Teachers Prepared for Language Diversity in the Schools?Hispanic/Latino/Latina Students and U.S. SchoolsAsian American Students and U.S. SchoolsNative American Students and U.S. SchoolsConclusion: Cultural and Language RightsSuggested Readings and Works Cited in ChapterChapter 7: Multicultural EducationDominated Cultures: John OgbuEmpowerment through Multicultural Education: James Banks, Sonia Nieto, and Critical PedagogyEducating for Economic Power: Lisa Delpit Ethnocentric EducationThe Struggle Over Bilingual Education and ESLBicultural Education: Is This The Answer?Globalization: Language and Cultural RightsConclusionSuggested Readings and Works Cited in ChapterPART 2: POWER AND CONTROL IN AMERICAN EDUCATION Chapter 8: Local Control, Home Schooling, Choice, Charter Schools, Privatization, and CommercialismThe Education ChairSchool BoardsWho Knows Their School Board Members?Educational BureaucracySite-Based ManagementHome SchoolingSchool ChoiceCharter SchoolsCharacteristics of Charter SchoolsCharter Schools and PrivatizationCharter School StudentsCharter Schools and Teachers UnionsExample of Two Charter SchoolsFor-Profit Schools and PrivatizationCommercialism in SchoolsConclusionSuggested Readings and Works Cited in ChapterChapter 9: Power and Control at the State and National Levels: Accountability, High-Stakes Testing, School Violence, The Reading and Math Wars, and Private FoundationsThe Relationship of Federal and State Control Over EducationAccountability and High-Stakes Tests As Part of State and Federal School ReformThe Backlash to High-Stakes TestingCheating on High-Stakes TestsStudent Violence and Federal Action: A Case StudyShould State and Federal Politics Determine Methods of Instruction: The Reading and Math WarsPrivate Foundations: The Invisible Power in EducationShould The Role of Politicians In Education Be Limited by Eliminating Compulsory-Education Laws?ConclusionSuggested Readings and Works Cited in ChapterChapter 10: Textbooks, Curriculum, Internet E-Learning, and InstructionTextbooksCurriculum Standards and the Political Nature of KnowledgeCurriculumJohn Dewey and Progressive EducationHumanistic Social Efficiency for the 21st CenturyThe Internet and E-LearningInstructionCritical PedagogyConclusionSuggested Readings and Works Cited in ChapterChapter 11: The Courts and the SchoolsCompulsion and ReligionSchool Prayer, Bible Reading, and MeditationPublic Aid to Private School StudentsSecular Humanism and the Religion of Public SchoolsEvolution and CreationismParents RightsTeachers' RightsThe Liability of TeachersTeachers' Private LivesStudents' RightsSchooling as a Property RightDo School Authorities Have the Right to Beat Children? The Language of the SchoolsSchool FinancesConclusionSuggested Readings and Works Cited in Chapter