Note: Supplemental materials are not guaranteed with Rental or Used book purchases.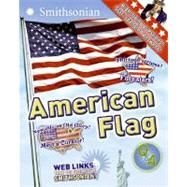 American Flag Q&A
ISBN13:
9780060899585
by
Thomson, Sarah L.
HarperCollins Publications
Summary
In American Flag Q&A Check out cool Smithsonian websites and exhibits throughout the book Meet a Smithsonian Curator See fabulous close-up photos Read extremely fun facts about flags
Table of Contents
What country do you think of when you see this flag?
p. 4
How are all flags alike?
p. 7
Where did flags come from?
p. 8
What were the first American flags?
p. 11
What flags did the colonists fly?
p. 12
What was the Grand Union flag?
p. 15
What did the first Stars and Stripes look like?
p. 16
Did soldiers carry the new flag in battle?
p. 18
What flag flew on John Paul Jones's ship?
p. 20
What happened to the flag in New York City?
p. 22
What kind of flag flew over Fort McHenry?
p. 24
Why was the Fort McHenry flag called the Star-Spangled Banner?
p. 27
Where did the nickname Old Glory come from?
p. 28
Why did Confederates have their own flags?
p. 30
Did the Union flag change during the Civil War?
p. 32
How has the flag changed over the years?
p. 35
What is Flag Day?
p. 36
What is the Pledge of Allegiance?
p. 38
When and how should you fly the flag?
p. 41
In what unexpected places has the flag been flown?
p. 42
Meet the Curator
p. 44
Glossary
p. 46
More to See and Read
p. 47
Index
p. 48
Table of Contents provided by Ingram. All Rights Reserved.
Excerpts
American Flag Q&A
Chapter One
What country do you think of when you see this flag?
When you saw those stars and stripes, one place probably flashed into your mind: the United States of America. The flag is a symbol of our country. When people see it, they are reminded of what this country means to them.
The flag is a symbol because it stands for something. The designs on the flag are symbols too. The thirteen stripes make us think of the thirteen colonies that joined together to form the United States. The fifty stars are for the fifty states in our country today.
Many people call the flag the "Stars and Stripes."
Flags can be symbols of countries, states, clubs, or even ideas. A white flag, for example, means "I surrender." But no matter what they stand for, there are some things that all flags have in common.
American Flag Q&A
. Copyright © by Sarah Thomson. Reprinted by permission of HarperCollins Publishers, Inc. All rights reserved. Available now wherever books are sold.
---

Excerpted from American Flag Q&A by Sarah L. Thomson
All rights reserved by the original copyright owners. Excerpts are provided for display purposes only and may not be reproduced, reprinted or distributed without the written permission of the publisher.