Note: Supplemental materials are not guaranteed with Rental or Used book purchases.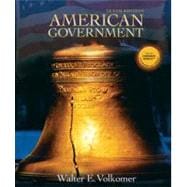 Summary
For freshman- and sophomore-level courses in American Government. This text presents a succinct and timely approach to the principles and practices of the American governmental system. Concentrating on the most significant issues necessary to understanding American government, this book is specifically structured to engage today's students through a concise, stimulating style that is free of ideological and political bias. In order to stay brief, while intellectually stimulating, each edition is revised thoroughly to focus on the current issues of greatest significance.
Table of Contents
I. THE FRAMEWORK OF GOVERNMENT.
1. Politics, Democracy, and the American People.
2. From Colonialism to Constitutionalism.
3. The Federal System.

II. POLITICS AND THE AMERICAN PEOPLE.
4. Public Opinion and the Mass Media.
5. Political Parties and Interest Groups.
6. Nominations and Elections.

III. THE INSTITUTIONS OF GOVERNMENT.
7. Congress.
8. The Chief Executive.
9. The Federal Bureaucracy.
10. The Judiciary.

IV. THE RIGHTS OF THE INDIVIDUAL.
11. Civil Liberties.
12. Civil Rights.

V. PUBLIC POLICY.
13. Public Policy—What Government Does.
14. Foreign Policy.

APPENDICES.
Appendix A: The Declaration of Independence.
Appendix B: The Articles of Confederation.
Appendix C: The Antifederalists.
Appendix D: The Federalist.
Appendix E: The Constitution of the United States of America.
Appendix F: Amendments to the Constitution.
Appendix G: Presidents and Vice Presidents of the United States.
Appendix H: The 2002 Presidential Election.
Glossary.
Index.