Note: Supplemental materials are not guaranteed with Rental or Used book purchases.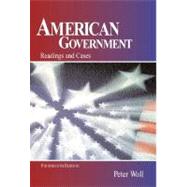 American Government : Readings and Cases
ISBN13:
9780321079992
by
Woll, Peter
Summary
Putting students directly in touch with the great authors and political leaders who have shapedand are shapingAmerican government, the new edition of this best-selling reader is one of the most substantial revisions yet. The Fourteenth Edition features new essays that reflect the recent developments and debates over campaign finance reform; the new Supreme Court imposed limits on congressional power over the states; and political trends that are reshaping government and politics at the national and state levels. The book is structured in such a way that it can be used as an ancillary or a core textbook: included are extensive notes that prepare, connect, and comment on the selections and point out their significance so that, more than other readers, it presents a coherent narrative. As it has since its first edition, this reader provides a strong, balanced blend of classic readings and cases that illustrate and amplify important concepts in American government, along with extremely current readings and cases drawn from today's issues and literature.
Table of Contents
I. THE SETTING OF THE AMERICAN GOVERNMENT.
1. Constitutional Government.
John Locke, Second Treatise, Of Civil Government.
John P. Roche, The Founding Fathers: A Reform Caucus in Action.
Charles A. Beard, Framing the Constitution.
James Madison, Federalist 47, 48, 51.
Laurence H. Tribe and Michael C. Dorf, How Not to Read the Constitution.
2. Federalism.
Alexander Hamilton, Federalist 16, 17.
James Madison, Federalist 39.
James Bryce, The Merits of the Federal System.
McCulloch v. Maryland, 4 Wheaton 316 (1819) .
United States v. Morrison (2000).
Morton Grodzins, The Federal System.
David Broder, A Republic Subverted .
3. Civil Liberties and Civil Rights.
Gideon v. Wainwright.
John Stuart Mill, Liberty of Thought and Discussion.
Chaplinsky v. State of New Hampshire.
R.A.V. v. St. Paul.
Dambrot v. Central Michigan University.
Reno v. American Civil Liberties Union (1997).
United States Et al. V. Playboy Entertainment Group, Inc. United States Supreme Court, May 22 (2000).
Brown v. Board of Education of Topeka 347 U.S. 483 (1954).
Brown v. Board of Education of Topeka 349 U.S. 294 (1955).
Engel v. Vitale 370 U.S. 421 (1962).
Santa Fe Independent School District, Petitioner v. Jane Doe United Supreme Court (2000).
Roe v. Wade 410 U.S. 113 (1973).
Adarand Constructors, Inc. v. Pena 515 U.S. 200 ( 1995).
Furman v. Georgia 408 U.S. 238 (1972).
Gregg v. Georgia 428 U.S. 153 (1976).
II. POLITICAL PARTIES, ELECTORAL BEHAVIOR, AND INTEREST GROUPS.
4. Political Parties and the Electorate.
James Madison, Federalist 10.
E. E. Schattschneider, Party Government.
California Democratic Party et al. V. Jones, Secretary of State of California, et al. Supreme Court of the United States (2000).
Research of the Committee of Political Parties, American Political Science Association, Toward a More Responsible Two Party System.
Martin P. Wattenberg, Perspectives on American Political Parties.
David R. Mayhew, Divided We Govern.
V.O. Key, Jr., A Theory of Critical Elections.
Benjamin Ginsberg and Martin Shefter, Politics by Other Means.
Bernard R. Berelson, Paul F. Lazarsfeld, and William N. McPhee, Democratic Practice and Democratic Theory.
V.O. Key, Jr., The Responsible Electorate.
Frank J. Sorauf, Political Parties in Campaign Finance.
Colorado Republican Federal Campaign Committee v. Federal Election Commission 518 U.S. 604 (1996).
5. Interest Groups.
Jeffrey M. Berry, Madison's Dilemma.
David B. Truman, The Governmental Process.
Theodore J. Lowi, The End of Liberalism: The Indictment.
Mark J. Rozell and Clyde Wilcox, Interest Groups and the American Political System.
Larry J. Sabato, The Misplaced Obsession with PACs.
Buckley v. Valeo 424 U.S. 1 (1976).
Larry J. Sabato and Glenn R. Simpson, Campaign Finance Reform.
6. The Presidency.
Alexander Hamilton, Federalist 70.
Clinton Rossiter, The Presidency-Focus of Leadership.
Richard E. Neustadt, Presidential Power.
Thomas E. Cronin and Michael A. Genovese, Presidential Paradoxes.
James David Barber, The Presidential Character.
George C. Edwards III, Campaigning Is Not Governing: Bill Clinton's Rhetorical Presidency.
Kenneth T. Walsh, Feeding the Beast.
Aaron Wildavsky, The Two Presidencies.
Sidney M. Milkis, The Presidency and Political Parties.
7. The Bureaucracy.
Peter Woll, Constitutional Democracy and Bureaucratic Power.
James Q. Wilson, The Rise of the Bureaucratic State.
8. Congress.
James Madison, Federalist 53, 56, 57, 58, 62, 63.
Morris P. Fiorina, The Rise of the Washington Establishment.
Lawrence C. Dodd, Congress and the Quest for Power.
Timothy E. Cook, Media Power and Congressional Power.
Edmund Burke, Speech to the Electors of Bristol.
Richard F. Fenno, Jr., If, As Ralph Nader Says, Congress Is "The Broken Branch," How Come We Love Our Congressmen So Much?.
Nelson W. Polsby, Congress-Bashing for Beginners.
David R. Mayhew, Congress: The Electoral Connection.
Richard F. Fenno, Jr., Home Style and Washington Career.
Roger H. Davidson and Walter J. Oleszek, Congress and Organized Interests.
9. The Judiciary.
Alexander Hamilton, Federalist 78.
Marbury v. Madison 1 Cranch 137 (1803).
Dikerson v. United States Supreme Court (2000).
John P. Roche, Judicial Self-Restraint.
William J. Brennan, Jr., How the Supreme Court Arrives at Decisions.
Justice Sandra Day O'Connor, Constitutional Liberty and the Right to Abortion.
Chief Justice William H. Rehnquist, Liberty, Privacy, and the Right to Abortion.
Justice Antonin Scalia, Liberty and Abortion: A Strict Constructionist's View.
Appendix 1 The Declaration of Independence.
Appendix 2 The Constitution of the United States.