Note: Supplemental materials are not guaranteed with Rental or Used book purchases.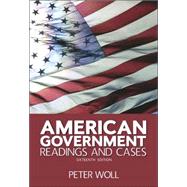 American Government Readings and Cases
ISBN13:
9780321329509
by
Woll, Peter
Questions About This Book?
What version or edition is this?
This is the 16th edition with a publication date of 2/4/2005.
What is included with this book?
The New copy of this book will include any supplemental materials advertised. Please check the title of the book to determine if it should include any CDs, lab manuals, study guides, etc.
The Used copy of this book is not guaranteed to include any supplemental materials. Typically, only the book itself is included.
Summary
As it has since its first edition, this reader provides a strong, balanced blend of classics that illustrate and amplify important concepts in American government, along with extremely current readings and cases drawn from today's literature.
Table of Contents
Preface
xix
Acknowledgments
xxii

| | |
| --- | --- |
| | PART ONE The Setting of the American System |

1
(172)

| | |
| --- | --- |
| | Constitutional Government |

3
(47)

| | |
| --- | --- |
| | Constitutional Democracy: The Rule of Law |

3
(7)

| | |
| --- | --- |
| | Second Treatise, Of Civil Government |

4
(6)

| | |
| --- | --- |
| | Framing the Constitution: Elitist or Democratic Process? |

10
(31)

| | |
| --- | --- |
| | The Founding Fathers: A Reform Caucus in Action |

10
(21)
31
(10)

| | |
| --- | --- |
| | Limitation of Governmental Power and of Majority Rule |

41
(4)
41
(4)

| | |
| --- | --- |
| | Interpreting the Constitution |

45
(5)

| | |
| --- | --- |
| | How Not to Read the Constitution |

47
(3)
50
(55)

| | |
| --- | --- |
| | Constitutional Background: National Versus State Power |

51
(23)
53
(4)

| | |
| --- | --- |
| | The Anti-Federalist Papers No. 17 |

57
(3)
60
(3)
63
(3)
66
(5)

| | |
| --- | --- |
| | The Merits of the Federal System |

71
(3)

| | |
| --- | --- |
| | Implied Powers and the Supremacy of National Law |

74
(9)

| | |
| --- | --- |
| | 4 Wheaton 316 (1819) McCulloch v. Maryland |

74
(4)

| | |
| --- | --- |
| | 9 Wheaton 1 (1824) Gibbons v. Ogden |

78
(5)

| | |
| --- | --- |
| | A Perspective on Federalism: Present and Future |

83
(5)
84
(4)

| | |
| --- | --- |
| | State Politics and Constitutional Government |

88
(7)
89
(6)

| | |
| --- | --- |
| | National Power over the States: A Recurring Constitutional Debate |

95
(10)

| | |
| --- | --- |
| | 529 U.S. 59 (2000) United States v. Morrison |

99
(6)

| | |
| --- | --- |
| | Civil Liberties and Civil Rights |

105
(68)

| | |
| --- | --- |
| | Constitutional Background |

105
(7)

| | |
| --- | --- |
| | Anti-Federalist Paper No. 84 On the Lack of a Bill of Rights |

106
(2)

| | |
| --- | --- |
| | Speech Before the House of Representatives in 1789 Proposing Amendments to Add a Bill of Rights to the Constitution |

108
(4)

| | |
| --- | --- |
| | The Nationalization of the Bill of Rights |

112
(4)

| | |
| --- | --- |
| | Barron v. Mayor & City Council of Baltimore 32 U.S. 243 (1833) |

113
(3)
116
(8)

| | |
| --- | --- |
| | Gideon v. Wainwright 372 U.S. 335 (1963) |

119
(5)

| | |
| --- | --- |
| | Freedom of Speech and Press |

124
(6)

| | |
| --- | --- |
| | The Need to Maintain a Free Marketplace of Ideas Abrams v. United States 250 U.S. 616 (1919) |

126
(4)

| | |
| --- | --- |
| | Expanding the Boundaries of Permissible Criticism of Government and Public Officials |

130
(6)

| | |
| --- | --- |
| | New York Times Co. v. Sullivan 376 U.S. 254 (1964) |

130
(6)

| | |
| --- | --- |
| | Equal Protection of the Laws: School Desegregation |

136
(9)

| | |
| --- | --- |
| | Plessy v. Ferguson 163 U.S. 537 (1896) |

136
(3)

| | |
| --- | --- |
| | Brown v. Board of Education of Topeka 347 U.S. 483 (1954) |

139
(3)

| | |
| --- | --- |
| | Brown v. Board of Education of Topeka 349 U.S. 294 (1955) |

142
(3)

| | |
| --- | --- |
| | The Judicial Sources of Major Political Controversies over Civil Liberties and Rights |

145
(1)

| | |
| --- | --- |
| | The Establishment Clause and the Issue of School Prayer |

146
(8)

| | |
| --- | --- |
| | Engel v. Vitale 370 U.S. 421 (1962) |

147
(7)

| | |
| --- | --- |
| | School Vouchers and the Establishment Clause |

154
(2)

| | |
| --- | --- |
| | Zelman v. Simmons-Harris Supreme Court of the United States (2002) |

154
(2)
156
(11)

| | |
| --- | --- |
| | Roe v. Wade 410 U.S. 113 (1973) |

157
(10)
167
(6)

| | |
| --- | --- |
| | Adarand Constructors, Inc. v. Pena 515 U.S. 200 (1995) |

168
(5)

| | |
| --- | --- |
| | PART TWO Political Parties, Electoral Behavior, and Interest Groups |

173
(112)

| | |
| --- | --- |
| | Political Parties and the Electorate |

175
(78)

| | |
| --- | --- |
| | Constitutional Background |

175
(8)
176
(5)
181
(2)

| | |
| --- | --- |
| | Constitutional Protection of Parties |

183
(2)

| | |
| --- | --- |
| | California Democratic Party et al. v. Jones, Secretary of State of California, et al. Supreme Court of the United States (2000) |

184
(1)

| | |
| --- | --- |
| | The Party Model of Government |

185
(8)

| | |
| --- | --- |
| | Toward a More Responsible Two-Party System |

187
(4)

| | |
| --- | --- |
| | Perspectives on American Political Parties |

191
(2)

| | |
| --- | --- |
| | Political Parties in Divided Government |

193
(8)
194
(7)

| | |
| --- | --- |
| | Functions and Types of Elections |

201
(11)

| | |
| --- | --- |
| | A Theory of Critical Elections |

202
(10)

| | |
| --- | --- |
| | Party Decline and Electoral Decay |

212
(6)
212
(6)

| | |
| --- | --- |
| | Voting Behavior: Rational or Irrational? |

218
(8)

| | |
| --- | --- |
| | Democratic Practice and Democratic Theory |

219
(7)

| | |
| --- | --- |
| | Political Campaigns and the Electorate |

226
(4)

| | |
| --- | --- |
| | The Responsible Electorate |

226
(4)

| | |
| --- | --- |
| | Political Parties and Campaign Finance: Constitutional Issues Regulating Political Campaigns |

230
(6)

| | |
| --- | --- |
| | Buckley v. Valeo 424 U.S. 1 (1976) |

231
(5)

| | |
| --- | --- |
| | The Bipartisan Campaign Reform Act of 2002 |

236
(11)

| | |
| --- | --- |
| | McConnell v. Federal Election Commission United States Supreme Court (2003) |

236
(6)

| | |
| --- | --- |
| | Unfree Speech: The Future of Regulatory ``Reform'' |

242
(5)
247
(6)

| | |
| --- | --- |
| | Myths and Realities About The Bipartisan Campaign Reform Act of 2002 |

247
(6)
253
(32)

| | |
| --- | --- |
| | Constitutional Background |

253
(6)
254
(5)

| | |
| --- | --- |
| | The Nature and Functions of Interest Groups |

259
(14)
260
(6)

| | |
| --- | --- |
| | The Theory of Countervailing Power |

266
(4)

| | |
| --- | --- |
| | The End of Liberalism: The Indictment |

270
(3)

| | |
| --- | --- |
| | How American Government and Politics Enhance Interest Group Power |

273
(4)

| | |
| --- | --- |
| | Interest Groups and the American Political System |

274
(3)

| | |
| --- | --- |
| | Money, PACs, and Elections |

277
(8)

| | |
| --- | --- |
| | The Misplaced Obsession with PACs |

278
(7)

| | |
| --- | --- |
| | PART THREE National Government Institutions |

285
(181)
287
(63)

| | |
| --- | --- |
| | Constitutional Background: Single Versus Plural Executive |

287
(3)
288
(2)

| | |
| --- | --- |
| | The Nature of the Presidency: Power, Persuasion, and Paradoxes |

290
(12)

| | |
| --- | --- |
| | The Presidency---Focus of Leadership |

291
(5)
296
(4)
300
(2)
302
(1)

| | |
| --- | --- |
| | Presidential Character and Style |

303
(10)

| | |
| --- | --- |
| | The Presidential Character |

303
(10)

| | |
| --- | --- |
| | Presidential Leadership and Political Parties |

313
(14)

| | |
| --- | --- |
| | The Presidency and Political Parties |

313
(14)
327
(4)
327
(4)

| | |
| --- | --- |
| | The Constitutional Presidency and Emergency Powers |

331
(7)

| | |
| --- | --- |
| | Ex Parte Merryman (April, 1861) |

332
(2)

| | |
| --- | --- |
| | Ex Parte Milligan 71 U.S. 2 (1866) |

334
(4)

| | |
| --- | --- |
| | Ex Parte Quirin (1942) as a Precedent for Military Tribunals to Try Suspected Terrorists |

338
(12)

| | |
| --- | --- |
| | A Mixed Precedent for Military Tribunals |

339
(3)

| | |
| --- | --- |
| | Ex Parte Quirin 317 U.S. 1 (1942) |

342
(3)

| | |
| --- | --- |
| | Hamdi v. Rumsfeld United States Supreme Court (2004) |

345
(5)
350
(14)

| | |
| --- | --- |
| | Constitutional Background |

350
(5)

| | |
| --- | --- |
| | Constitutional Democracy and Bureaucratic Power |

351
(4)

| | |
| --- | --- |
| | The Political Roots and Consequences of Bureaucracy |

355
(9)

| | |
| --- | --- |
| | The Rise of the Bureaucratic State |

356
(8)
364
(62)

| | |
| --- | --- |
| | Constitutional Background: Representation of Popular, Group, and National Interests |

364
(8)

| | |
| --- | --- |
| | Federalist 53, 56, 57, 58, 62, 63 |

365
(7)

| | |
| --- | --- |
| | Congress and the Washington Political Establishment: Congress Emerges as a Professional Body Shaped by Reelection and Internal Power Incentives |

372
(13)
373
(5)

| | |
| --- | --- |
| | The Rise of the Washington Establishment |

378
(7)

| | |
| --- | --- |
| | Committee Chairmen as Political Entrepreneurs |

385
(12)

| | |
| --- | --- |
| | Congress and the Quest for Power |

386
(11)

| | |
| --- | --- |
| | Congress and the Electoral Connection |

397
(29)

| | |
| --- | --- |
| | Speech to the Electors of Bristol |

398
(3)

| | |
| --- | --- |
| | If, as Ralph Nader Says, Congress Is ``The Broken Branch,'' How Come We Love Our Congressmen So Much? |

401
(7)

| | |
| --- | --- |
| | Congress-Bashing for Beginners |

408
(7)

| | |
| --- | --- |
| | Congress: The Electoral Connection |

415
(5)

| | |
| --- | --- |
| | Home Style and Washington Career |

420
(6)
426
(40)

| | |
| --- | --- |
| | Constitutional Background: Judicial Independence and Judicial Review |

426
(9)
427
(5)

| | |
| --- | --- |
| | Marbury v. Madison I Cranch 137 (1803) |

432
(3)

| | |
| --- | --- |
| | Powers and Limitations of the Supreme Court |

435
(7)
436
(6)

| | |
| --- | --- |
| | A Case Study of Judicial Self-Restraint: The Pledge of Allegiance Case and the First Amendment's Establishment Clause |

442
(1)

| | |
| --- | --- |
| | The Use of the Standing Doctrine as Procedural Self-Restraint: A Case Study |

442
(5)

| | |
| --- | --- |
| | [The Pledge of Allegiance Case] Elk Grove Unified School District et al. v. Newdow et al. |

443
(4)
447
(8)

| | |
| --- | --- |
| | How the Supreme Court Arrives at Decisions |

448
(7)

| | |
| --- | --- |
| | Interpreting the Constitution |

455
(1)

| | |
| --- | --- |
| | The Contemporary Debate over Constitutional Interpretation |

456
(10)

| | |
| --- | --- |
| | Constitutional Liberty and the Right to Abortion |

457
(5)

| | |
| --- | --- |
| | Justice Sandra Day O'Connor |

| | |
| --- | --- |
| | Liberty, Privacy, and the Right to Abortion |

462
(1)

| | |
| --- | --- |
| | Chief Justice William H. Rehnquist |

| | |
| --- | --- |
| | Liberty and Abortion: A Strict Constructionist's View |

463
(3)
Appendix 1 The Declaration of Independence
466
(4)
Appendix 2 The Constitution of the United States
470
(19)
Credits
489