Note: Supplemental materials are not guaranteed with Rental or Used book purchases.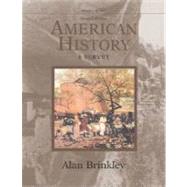 American History, Volume 1, with PowerWeb
ISBN13:
9780072936711
by
Brinkley, Alan
McGraw-Hill Humanities/Social Sciences/Languages
Questions About This Book?
What version or edition is this?
This is the 11th edition with a publication date of 5/29/2003.
What is included with this book?
The Used copy of this book is not guaranteed to include any supplemental materials. Typically, only the book itself is included.
Summary
Highly-respected for its impeccable scholarship and elegant writing style, American History: A Survey provides students and instructors with a comprehensive account of the American past in which no single approach or theme predominates. From its first edition, this text has included a scrupulous account of American political and diplomatic history. Today, however, the book explores areas of history such as social, cultural, urban, racial and ethnic history, more history of the West and South, environmental history, and the history of women and gender. In addition, American history has not evolved in a vacuum, but as part of a larger global world. The eleventh edition of this text places American history into that global context, making connections for students who live in an ever-expanding world themselves.
Table of Contents
PrefaceChapter One: THE MEETING OF CULTURESSignificant Events America Before ColumbusThe Civilizations of the South/The Civilizations of the North/Tribal CulturesEurope Looks WestwardCommerce and Nationalism/Christopher Columbus/The Conquistadors/The Spanish Empire/Spanish America/Northern Outposts/The Empire at High Tide/Biological and Cultural Exchanges/Africa and AmericaThe Arrival of the EnglishThe Commercial Incentive/The Religious Incentive/The English in Ireland/The French and the Dutch in America/The First English Settlements/RoanokeWhere Historians Disagree: Why Do Historians So Often Differ?Where Historians Disagree: The American Population Before ColumbusAmerica in the World: The Atlantic Context of Early American HistoryConclusionFor Further Reference
Chapter Two: TRANSPLANTATIONS AND BORDERLANDSSignificant EventsThe Early ChesapeakeThe Founding of Jamestown/Reorganization/Tobacco/Expansion/Exchanges of Agricultural Technology/Maryland and the Calverts/Turbulent Virginia/Bacon's RebellionThe Growth of New EnglandPlymouth Plantation/The Expansion of New England/Settlers and Natives/The Pequot War, King Philip's War, and the Technology of BattleThe Restoration ColoniesThe English Civil War/The Carolinas/New Netherland, New York, and New Jersey/The Quaker ColoniesBorderlands and Middle GroundsThe Caribbean Islands/Masters and Slaves in the Caribbean/Borderlands and Middle Grounds/The Southwestern Borderlands/The Southeast Borderlands/The Founding of Georgia/Middle GroundsThe Evolution of the British EmpireThe Drive for Reorganization/The Dominion of New England/The "Glorious Revolution"The American Environment: The Other PilgrimsConclusionFor Further Reference
Chapter Three: SOCIETY AND CULTURE IN PROVINCIAL AMERICASignificant EventsThe Colonial PopulationIndentured Servitude/Birth and Death/Medicine in the Colonies/Women and Families in the Chesapeake/Women and Families in New England/The Beginnings of Slavery in British America/Changing Sources of European ImmigrationThe Colonial EconomiesThe Southern Economy/Northern Economic and Technological Life/The Extent and Limits of Technology/The Rise of Colonial Commerce/The Rise of ConsumerismPatterns of SocietyThe Plantation/Plantation Slavery/The Puritan Community/The Witchcraft Phenomenon/CitiesAwakenings and EnlightenmentThe Pattern of Religions/The Great Awakening/The Enlightenment/Education/The Spread of Science/Concepts of Law and PoliticsWhere Historians Disagree: The Origins of SlaveryPatterns of Popular Culture: Colonial AlmanacsConclusionFor Further Reference
Chapter Four: THE EMPIRE IN TRANSITIONSignificant EventsLoosening TiesA Tradition of Neglect/The Colonies DividedThe Struggle for the ContinentNew France and the Iroquois Nation/Anglo-French Conflicts/The Great War for the EmpireThe New ImperialismBurdens of Empire/The British and the Tribes/The Colonial ResponseStirrings of RevoltThe Stamp Act Crisis/The Townshend Program/The Boston Massacre/The Philosophy of Revolt/The Tea ExcitementCooperation and WarNew Sources of Authority/Lexington and ConcordPatterns of Popular Culture: Taverns in Revolutionary MassachusettsConclusionFor Further Reference
Chapter Five: THE AMERICAN REVOLUTIONSignificant EventsThe States UnitedDefining American War Aims/The Decision for Independence/Responses to Independence/Mobilizing for WarThe War for IndependenceThe First Phase: New England/The Second Phase: The Mid-Atlantic Region/The Iroquois and the British/Securing Aid from Abroad/The Final Phase: The South/Winning the PeaceWar and SocietyLoyalists and Minorities/The War and Slavery/Native Americans and the Revolution/Women's Rights and Women's Roles/The War EconomyThe Creation of State GovernmentsThe Assumptions of Republicanism/The First State Constitutions/Revising State Governments/Toleration and SlaveryThe Search for a National GovernmentThe Confederation/Diplomatic Failures/The Confederation and the Northwest/Indians and the Western Lands/Debts, Taxes, and Daniel ShaysWhere Historians Disagree: The American RevolutionAmerica in the World: The Age of RevolutionThe American Environment: The GridConclusionFor Further Reference
Chapter Six: THE CONSTITUTION AND THE NEW REPUBLICSignificant EventsFraming a New GovernmentAdvocates of Centralization/A Divided Convention/Compromise/The Constitution of 1787/Federalists and Antifederalists/Completing the StructureFederalists and RepublicansHamilton and the Federalists/Enacting the Federalist Program/The Republican OppositionEstablishing National SovereigntySecuring the Frontier/Native Americans and the New Nation/Maintaining Neutrality/Jay's Treaty and Pinckney's TreatyThe Downfall of the FederalistsThe Election of 1796/The Quasi War with France/Repression and Protest/The "Revolution" of 1800Where Historians Disagree: The Background of the ConstitutionConclusion For Further Reference
Chapter Seven: THE JEFFERSONIAN ERASignificant EventsThe Rise of Cultural NationalismPatterns of Education/Medicine and Science/Cultural Aspirations in the New Nation/Religious Skepticism/The Second Great AwakeningStirrings of IndustrialismThe Industrial Revolution in England/Technology in America/Transportation Innovations/The Rising CitiesJefferson the PresidentThe Federal City and the "People's President"/Dollars and Ships/Conflict with the CourtsDoubling the National DomainJefferson and Napoleon/The Louisiana Purchase/Lewis and Clark Explore the West/The Burr ConspiracyExpansion and WarConflict on the Seas/Impressment/'Peaceable Coercion'/Tecumseh and the Prophet/Florida and War FeverThe War of 1812Battles with Tribes/Battles with the British/The Revolt of New England/The Peace SettlementPatterns of Popular Culture: Horse RacingConclusionFor Further Reference
Chapter Eight: VARIETIES OF AMERICAN NATIONALISMSignificant EventsA Growing EconomyBanking, Currency, and Protection/TransportationExpanding WestwardThe Great Migrations/White Settlers in the Old Northwest/The Plantation System in the Southwest/Trade and Trapping in the Far West/Eastern Images of the WestThe "Era of Good Feelings"The End of the First Party System/John Quincy Adams and Florida/The Panic of 1819Sectionalism and NationalismThe Missouri Compromise/Marshall and the Court/The Court and the Tribes/The Latin American Revolution and the Monroe DoctrineThe Revival of OppositionThe "Corrupt Bargain"/The Second President Adams/Jackson TriumphantConclusionFor Further Reference
Chapter Nine: JACKSONIAN AMERICASignificant EventsThe Rise of Mass PoliticsThe Expanding Electorate/The Legitimization of Party/"President of the Common Man"Our Federal UnionCalhoun and Nullification/The Rise of Van Buren/The Webster-Hayne Debate/The Nullification CrisisThe Removal of the IndiansWhite Attitudes Towards the Tribes/The Black Hawk War/The "Five Civilized Tribes"/Trails of Tears/The Meaning of RemovalJackson and the Bank WarBiddle's Institution/The Taney CourtThe Changing Face of American PoliticsDemocrats and Whigs/Van Buren and the Panic of 1837/The Log Cabin Campaign/The Frustration of the Whigs/Whig DiplomacyWhere Historians Disagree: The "Age of Jackson"Patterns of Popular Culture: The Penny PressConclusionFor Further Reference
Chapter Ten: AMERICA'S ECONOMIC REVOLUTIONSignificant EventsThe Changing American PopulationThe American Population, 1820-1840/Immigration and Urban Growth, 1840-1860/The Rise of NativismTransportation, Communications, and TechnologyThe Canal Age/The Early Railroads/The Triumph of the Rails/Innovations in Communications and JournalismCommerce and IndustryThe Expansion of Business, 1820-1840/The Emergence of the Factory/Advances in Technology/Innovations in Corporate OrganizationMen and Women at WorkRecruiting a Native Work Force/The Immigrant Work Force/The Factory System and the Artisan Tradition/Fighting for ControlPatterns of Industrial SocietyThe Rich and the Poor/Social Mobility/Middle-Class Life/The Changing Family/Women and the 'Cult of Democracy'/Leisure ActivitiesThe Agricultural NorthNortheastern Agriculture/The Old Northwest/Rural Life The American Environment: The Flow of WaterPatterns of Popular Culture: Shakespeare in AmericaConclusionFor Further Reference
Chapter Eleven: COTTON, SLAVERY, AND THE OLD SOUTHSignificant EventsThe Cotton EconomyThe Rise of King Cotton/Southern Trade and Industry/Sources of Southern DifferenceWhite Society in the SouthThe Planter Class/Honor/The "Southern Lady"/The Plain FolkSlavery: The "Peculiar Institution"Varieties of Slavery/Life Under Slavery/Slavery in the Cities/Free African Americans/The Slave Trade/Slave ResistanceThe Culture of SlaveryLanguage and Music/African-American Religion/The Slave FamilyWhere Historians Disagree: The Character of SlaveryPatterns of Popular Culture: The Slaves' MusicConclusionFor Further Reference
Chapter Twelve: ANTEBELLUM CULTURE AND REFORMSignificant EventsThe Romantic ImpulseNationalism and Romanticism in American Painting/Literature and Other Quest for Liberation/Literature in the Antebellum South/The Transcendentalists/The Defense of Nature/Visions of Utopia/Redefining Gender Roles/The MormonsRemaking SocietyRevivalism, Morality, and Order/The Temperance Crusade/Health Fads and Phrenology/Medical Science/Reforming Education/Rehabilitation/The Indian Reservation/The Rise of FeminismThe Crusade Against SlaveryEarly Opposition to Slavery/Garrison and Abolitionism/Black Abolitionists/Anti-Abolitionism/Abolitionism DividedAmerica in the World: The Abolition of SlaveryPatterns of Popular Culture: Sentimental NovelsConclusionFor Further Reading
Chapter Thirteen: THE IMPENDING CRISISSignificant EventsLooking WestwardManifest Destiny/Americans in Texas/Tensions Between the United States and Mexico/Oregon/The Westward Migration/Life on the TrailExpansion and WarThe Democrats and Expansion/The Southwest and California/The Mexican WarThe Sectional DebateSlavery and the Territories/The California Gold Rush/Rising Sectional Tensions/The Compromise of 1850The Crises of the 1850sThe Uneasy Truce/"Young America"/Slavery, Railroads, and the West/The Kansas-Nebraska Controversy/"Bleeding Kansas"/The Free-Soil Ideology/The Pro-Slavery Argument/Buchanan and Depression/The Dred Scott Decision/Deadlock over Kansas/The Emergence of Lincoln/John Brown's Raid/The Election of LincolnPatterns of Popular Culture: LyceumsConclusionFor Further Reference
Chapter Fourteen: THE CIVIL WARSignificant EventsThe Secession CrisisThe Withdrawal of the South/The Failure of Compromise/Fort Sumter/The Opposing SidesThe Mobilization of the NorthEconomic Measures/Raising the Union Armies/Wartime Politics/The Politics of Emancipation/African Americans and the Union Cause/The War and Economic Development/Women, Nursing, and the WarThe Mobilization of the SouthThe Confederate Government/Money and Manpower/States' Rights versus Centralization/Economic and Social Effects of the WarStrategy and DiplomacyThe Commanders/The Role of Sea Power/Europe and the Disunited States/The American West and the WarThe Course of BattleThe Technology of Battle/The Opening Clashes, 1861/The Western Theater/The Virginia Front, 1862/1863, Year of Decision/The Last Stage, 1864-1865Where Historians Disagree: The Causes of the Civil WarAmerica in the World: The Consolidation of NationsPatterns of Popular Culture: Baseball and the Civil WarConclusionFor Further Reference
Chapter Fifteen: RECONSTRUCTION AND THE NEW SOUTHSignificant EventsThe Problems of PeacemakingThe Aftermath of War and Emancipation/Competing Notions of Freedom/Issues of Reconstruction/Plans for Reconstruction/The Death of Lincoln/Johnson and "Restoration"Radical ReconstructionThe Black Codes/The Fourteenth Amendment/The Congressional Plan/The Impeachment of the PresidentThe South in ReconstructionThe Reconstruction Governments/Education/Landownership and Tenancy/The Crop-Lien System/The African-American Family in FreedomThe Grant AdministrationThe Soldier President/The Grant Scandals/The Greenback Question/Republican DiplomacyThe Abandonment of ReconstructionThe Southern States "Redeemed"/The Ku Klux Klan Acts/Waning Northern Commitment/The Compromise of 1877/The Legacies of ReconstructionThe New SouthThe "Redeemers"/Industrialization and the "New South"/Tenants and Sharecroppers/African Americans and the New South/The Birth of Jim CrowWhere Historians Disagree: ReconstructionPatterns of Popular Culture: The Minstrel ShowWhere Historians Disagree: The Origins of SegregationConclusionFor Further Reference Appendixes The United States Topographical Map of the United States The World United States Territorial Expansion, 1783-1898 The Declaration of Independence The Constitution of the United States of America Presidential Elections Vice Presidents and Cabinet Members Population of the United States, 1790-2000 Employment, 1870-2000 Production, Trade, and Federal Spending/Debt, 1790-2000 Index