Note: Supplemental materials are not guaranteed with Rental or Used book purchases.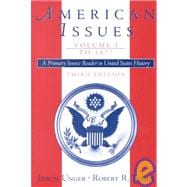 American Issues: A Primary Source Reader in United States History, Volume I: To 1877
ISBN13:
9780130940179
by
Unger, Irwin
;
Tomes, Robert R.
Related Products
Summary
For a two-semester, freshman/sophomore undergraduate level course in Survey of American History. This popular two-volume series presents an anthology of primary documents, letters, and articles in which participants and contemporary observers express their opinions, make their observations, and reach their conclusions about events and issues of their own day that affected the nation and the American society as a whole. Updated throughout with new material and fresh perspectives, the texts continue to stimulate critical thinking and promote active learning about American historyleading students to reject received ideas when appropriate, relate the past to their own experience, and reach conclusions on the basis of evidence.
Table of Contents
Preface
xiii

| | |
| --- | --- |
| | The Settlement Enterprise |

1
(17)

| | |
| --- | --- |
| | Richard Haklyt on the Colonizing of North America (1584) |

1
(4)

| | |
| --- | --- |
| | John Winthrop Advises Puritans to Emigrate (1629) |

5
(3)

| | |
| --- | --- |
| | A Cavalier Goes into Exile (1649) |

8
(2)

| | |
| --- | --- |
| | The Common Folk Come to America (1683) |

10
(1)

| | |
| --- | --- |
| | Indentured Servants: Upward Mobility or Deeper Bondage (1622) |

11
(1)

| | |
| --- | --- |
| | Coercion: The West African Slave (1729) |

12
(6)

| | |
| --- | --- |
| | The British Colonies of North America |

18
(36)

| | |
| --- | --- |
| | Paradise or Hell: Economic Survival and Opportunity (1609, 1623, 1666, 1725) |

18
(9)

| | |
| --- | --- |
| | The Political Economy: Old Regime or Innovation? (1624, 1629, 1663) |

27
(7)

| | |
| --- | --- |
| | Religious Toleration (1636, 1677, 1661, 1644, 1782) |

34
(7)

| | |
| --- | --- |
| | Class Tensions and Slavery in Colonial America (1679, 1664, 1739) |

41
(13)
54
(25)

| | |
| --- | --- |
| | A Professor Disparages the Native Americans of Virginia (1724) |

55
(4)

| | |
| --- | --- |
| | A Pennsylvanian Calls the Native Americans ``Devils'' (1782) |

59
(3)

| | |
| --- | --- |
| | William Penn Urges Kindness Toward Native Americans (1683) |

62
(5)

| | |
| --- | --- |
| | A Moravian Missionary Praises Native American Values (1777) |

67
(3)

| | |
| --- | --- |
| | Treaties and Alliances (1684, 1742) |

70
(4)

| | |
| --- | --- |
| | The Paxton Boys and Native American Extermination (1764) |

74
(5)
79
(33)

| | |
| --- | --- |
| | The Stamp Act Congress Denounces Taxation Without Representation (1765) |

79
(2)

| | |
| --- | --- |
| | A Constitutional Crisis: Virtual and Actual Representation (1765) |

81
(3)

| | |
| --- | --- |
| | The Boston Town Meeting Presents the Patriot Case (1772) |

84
(3)

| | |
| --- | --- |
| | An American Radical Reevaluates the English Constitution (1776) |

87
(7)

| | |
| --- | --- |
| | The Declaration of Independence (1776) |

94
(4)

| | |
| --- | --- |
| | The Radicalism of the American Revolution (1776) |

98
(2)

| | |
| --- | --- |
| | Parliament's Official View (1766) |

100
(1)

| | |
| --- | --- |
| | A British Official Argues for Taxing Americans (1766) |

101
(2)

| | |
| --- | --- |
| | A British View of ``No Taxation Without Representation'' (1765) |

103
(2)

| | |
| --- | --- |
| | American Loyalists Defend Britain (1774, 1775) |

105
(3)

| | |
| --- | --- |
| | The American Revolution as a Social Movement (1776, 1777) |

108
(4)
112
(28)

| | |
| --- | --- |
| | Drafting the Constitution (1787) |

113
(13)

| | |
| --- | --- |
| | Patrick Henry Denounces the Constitution (1788) |

126
(5)

| | |
| --- | --- |
| | The Constitution as a Usurpation (1787) |

131
(2)

| | |
| --- | --- |
| | ``The Father of the Constitution'' Defends His Offspring (1787, 1788) |

133
(4)

| | |
| --- | --- |
| | Alexander Hamilton on Pro- and Anti-Constitution Forces (1787) |

137
(3)

| | |
| --- | --- |
| | Federalist Versus Republican |

140
(30)

| | |
| --- | --- |
| | Alexander Hamilton's Economic Reports (1790-1791) |

141
(8)

| | |
| --- | --- |
| | Thomas Jefferson and the American Arcadia (1784) |

149
(1)

| | |
| --- | --- |
| | Thomas Jefferson Attacks the Hamiltonian System (1790) |

150
(3)

| | |
| --- | --- |
| | The Jeffersonians Embrace the French (1793) |

153
(3)

| | |
| --- | --- |
| | The Federalists Denounce the French Revolution (1793) |

156
(2)

| | |
| --- | --- |
| | Freedom of Expression: The Press (1798, 1804) |

158
(4)

| | |
| --- | --- |
| | Washington and the Success of the Great Experiment (1789, 1796) |

162
(8)

| | |
| --- | --- |
| | Pioneers and Native Americans |

170
(16)

| | |
| --- | --- |
| | Opening the Great American Desert: The Lewis and Clark Expedition (1803) |

171
(5)

| | |
| --- | --- |
| | The Pioneer Experience (1818) |

176
(1)

| | |
| --- | --- |
| | Indian Removal (1825-1835) |

177
(9)
186
(14)

| | |
| --- | --- |
| | The Lowell System (1842, 1845, 1846) |

187
(6)

| | |
| --- | --- |
| | An Economist Defends Capitalism (1835) |

193
(2)

| | |
| --- | --- |
| | The Workingmen's Party Indicts Capitalism (1840) |

195
(5)
200
(18)

| | |
| --- | --- |
| | Andrew Jackson Vetoes the Bank Bill (1832) |

201
(4)

| | |
| --- | --- |
| | Daniel Webster Replies to the Veto (1832) |

205
(3)

| | |
| --- | --- |
| | Jacksonian Enterprise (1837) |

208
(4)

| | |
| --- | --- |
| | Democratic Egalitarianism (1836) |

212
(3)

| | |
| --- | --- |
| | A ``Knickerbocker'' Gentleman Flays the ``Rabble'' (1836, 1837) |

215
(3)
218
(24)
219
(3)
222
(4)

| | |
| --- | --- |
| | Dorothea L. Dix and the Plight of the Mentally Ill (1843) |

226
(5)

| | |
| --- | --- |
| | Sarah Josepha Hale on Women and Peace Societies (1840) |

231
(2)

| | |
| --- | --- |
| | A Utopian Community (1841) |

233
(3)

| | |
| --- | --- |
| | Unitarianism and Christian Benevolence (1836) |

236
(2)

| | |
| --- | --- |
| | A Southerner Denounces Northern Reform and Social Experimentation (1857) |

238
(4)

| | |
| --- | --- |
| | Defining the American Character |

242
(21)

| | |
| --- | --- |
| | American Diversity (1782, 1855) |

243
(4)

| | |
| --- | --- |
| | A European Traveler Observes America's English Cultural Heritage (1835) |

247
(5)

| | |
| --- | --- |
| | Voices of Cultural Nationalism (1834, 1837) |

252
(4)

| | |
| --- | --- |
| | The Significance of the Frontier in American History (1893) |

256
(7)
263
(14)
264
(3)

| | |
| --- | --- |
| | James K. Polk Calls for War Against Mexico (1846) |

267
(3)
270
(3)

| | |
| --- | --- |
| | Dissent at Home (1846, 1847) |

273
(4)

| | |
| --- | --- |
| | Slavery and the ``Old South'' |

277
(39)

| | |
| --- | --- |
| | Slavery from the Victim's Viewpoint (1848) |

278
(7)

| | |
| --- | --- |
| | A Southern Apologist Views Slavery (1859) |

285
(2)

| | |
| --- | --- |
| | The Southern Plantation Idyll (1832) |

287
(4)

| | |
| --- | --- |
| | A Nonslaveholding Southerner Attacks the ``Peculiar Institution'' (1857) |

291
(3)

| | |
| --- | --- |
| | A Northerner Describes the Old South (1854) |

294
(5)

| | |
| --- | --- |
| | The World the Slaves Made (c. 1850) |

299
(1)

| | |
| --- | --- |
| | Resistance and Rebellion (1849, 1831) |

300
(16)
316
(21)

| | |
| --- | --- |
| | A Southern Champion Demands Equal Rights for the South (1850) |

317
(4)

| | |
| --- | --- |
| | A Northern Unionist Supports the Compromise of 1850 (1850) |

321
(3)

| | |
| --- | --- |
| | Antislavery Leaders Respond to the Kansas-Nebraska Act (1854) |

324
(4)

| | |
| --- | --- |
| | John Brown and the Remission of Sins by Blood (1859) |

328
(2)

| | |
| --- | --- |
| | The Victory of the Republican Party (1860) |

330
(3)
333
(4)
337
(26)

| | |
| --- | --- |
| | The War Is About Slavery (1861) |

337
(5)

| | |
| --- | --- |
| | The War Is Over Constitutional Issues (1861) |

342
(5)

| | |
| --- | --- |
| | The War Is a Clash of Economic Interests (1860, 1861) |

347
(7)

| | |
| --- | --- |
| | The Union's Advance Undermines Slavery (1863, 1865) |

354
(9)
363
(1)

| | |
| --- | --- |
| | Harsh Versus Lenient Victors (1865) |

364
(8)

| | |
| --- | --- |
| | The White South Responds (1865, 1866, 1868, 1874) |

372
(11)

| | |
| --- | --- |
| | The Black Response (1865, 1868, 1866) |

383