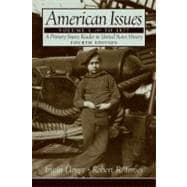 Questions About This Book?
What version or edition is this?
This is the 5th edition with a publication date of 1/1/2011.
What is included with this book?
The Used copy of this book is not guaranteed to include any supplemental materials. Typically, only the book itself is included.
Related Products
Summary
This popular two-volume series presents an anthology of primary documents, letters, and articles in which participants and contemporary observers express their opinions, make their observations, and reach their conclusions about events and issues of their own day that affected the nation and the American society as a whole. Updated throughout with new material and fresh perspectives, the texts continue to stimulate critical thinking and promote active learning about American history leading students to reject received ideas when appropriate, relate the past to their own experience, and reach conclusions on the basis of evidence.
Table of Contents
Preface
ix

| | |
| --- | --- |
| | The Settlement Enterprise |

1
(16)

| | |
| --- | --- |
| | Richard Hakluyt on the Colonizing of North America (1584) |

1
(4)

| | |
| --- | --- |
| | John Winthrop Advises Puritans to Emigrate (1629) |

5
(3)

| | |
| --- | --- |
| | A Cavalier Goes into Exile (1649) |

8
(1)

| | |
| --- | --- |
| | The Common Folk Come to America (1683) |

9
(2)

| | |
| --- | --- |
| | Indentured Servants: Upward Mobility or Deeper Bondage (1622) |

11
(1)

| | |
| --- | --- |
| | Coercion: The West African Slave (1729) |

12
(5)

| | |
| --- | --- |
| | The British Colonies of North America |

17
(41)

| | |
| --- | --- |
| | Paradise or Hell: Economic Survival and Opportunity (1609, 1623, 1698, 1675, 1760) |

17
(15)

| | |
| --- | --- |
| | The Political Economy: Old Regime or Innovation? (1621, 1629, 1663) |

32
(6)

| | |
| --- | --- |
| | Religious Toleration (1636, 1677, 1661, 1644, 1782) |

38
(7)

| | |
| --- | --- |
| | Class Tensions and Slavery in Colonial America (1664, 1745, 1749, 1739, 1679, 1770, 1830) |

45
(13)
58
(22)

| | |
| --- | --- |
| | A British Officer Describes Native Americans (1767) |

58
(3)

| | |
| --- | --- |
| | A Pennsylvanian Calls the Native Americans ``Devils'' (1782) |

61
(3)

| | |
| --- | --- |
| | William Penn Urges Kindness Toward Native Americans (1683) |

64
(5)

| | |
| --- | --- |
| | A Moravian Missionary Praises Native American Values (1777) |

69
(2)

| | |
| --- | --- |
| | Treaties and Alliances (1684, 1742) |

71
(4)

| | |
| --- | --- |
| | The Paxton Boys and Native American Extermination (1764, 1749) |

75
(5)
80
(34)

| | |
| --- | --- |
| | The Stamp Act: Congress Denounces Taxation Without Representation (1765) |

80
(2)

| | |
| --- | --- |
| | A Constitutional Crisis: Virtual and Actual Representation (1765) |

82
(3)

| | |
| --- | --- |
| | The Boston Town Meeting Presents the Patriot Case (1772) |

85
(4)

| | |
| --- | --- |
| | An American Radical Reevaluates the English Constitution (1776) |

89
(6)

| | |
| --- | --- |
| | The Declaration of Independence (1776) |

95
(4)

| | |
| --- | --- |
| | The Radicalism of the American Revolution (1776) |

99
(2)

| | |
| --- | --- |
| | Parliament's Official View (1766) |

101
(1)

| | |
| --- | --- |
| | A British Sage Denounces the Americans (1775) |

102
(2)

| | |
| --- | --- |
| | A British View of ``No Taxation Without Representation'' (1765) |

104
(2)

| | |
| --- | --- |
| | American Loyalists Defend Britain (1765, 1774) |

106
(4)

| | |
| --- | --- |
| | The American Revolution as a Social Movement (1776, 1777) |

110
(4)
114
(31)

| | |
| --- | --- |
| | Drafting the Constitution (1787) |

115
(14)

| | |
| --- | --- |
| | Patrick Henry Denounces the Constitution (1788) |

129
(4)

| | |
| --- | --- |
| | The Constitution as a Usurpation (1787) |

133
(2)

| | |
| --- | --- |
| | ``The Father of the Constitution'' Defends His Offspring (1787, 1788) |

135
(4)

| | |
| --- | --- |
| | Alexander Hamilton on Pro- and Anti-Constitution Forces (1787) |

139
(6)

| | |
| --- | --- |
| | Federalist Versus Republican |

145
(30)

| | |
| --- | --- |
| | Alexander Hamilton's Economic Reports (1790-1791) |

146
(8)

| | |
| --- | --- |
| | Thomas Jefferson and the American Arcadia (1784) |

154
(1)

| | |
| --- | --- |
| | Thomas Jefferson Attacks the Hamiltonian System (1790) |

155
(3)

| | |
| --- | --- |
| | The Jeffersonians Embrace the French (1793) |

158
(3)

| | |
| --- | --- |
| | The Federalists Denounce the French Revolution (1793) |

161
(2)

| | |
| --- | --- |
| | Freedom of Expression: The Press (1798, 1804) |

163
(4)

| | |
| --- | --- |
| | Washington and the Success of the Great Experiment (1789, 1796) |

167
(8)

| | |
| --- | --- |
| | Pioneers and Native Americans |

175
(16)

| | |
| --- | --- |
| | Opening the Great American Desert: The Adventures of Daniel Boone (1784) |

176
(2)

| | |
| --- | --- |
| | The Pioneer Experience (1810, 1818) |

178
(4)

| | |
| --- | --- |
| | Indian Removal (1826-1830) |

182
(9)
191
(14)

| | |
| --- | --- |
| | The Lowell System (1842, 1845, 1846) |

192
(6)

| | |
| --- | --- |
| | An Economist Defends Capitalism (1835) |

198
(2)

| | |
| --- | --- |
| | The Workingmen's Party Indicts Capitalism (1840) |

200
(5)
205
(14)

| | |
| --- | --- |
| | Andrew Jackson Vetoes the Bank Bill (1832) |

206
(4)

| | |
| --- | --- |
| | Daniel Webster Replies to the Veto (1832) |

210
(3)

| | |
| --- | --- |
| | Democratic Egalitarianism (1836) |

213
(3)

| | |
| --- | --- |
| | A ``Knickerbocker'' Gentleman Flays the ``Rabble'' (1836, 1837) |

216
(3)

| | |
| --- | --- |
| | Women's Issues in Antebellum America |

219
(23)
219
(4)

| | |
| --- | --- |
| | Abolitionism and Human Rights (1837, 1867) |

223
(4)
227
(7)

| | |
| --- | --- |
| | Sarah Josepha Hale on Women and Peace Societies (1840) |

234
(2)

| | |
| --- | --- |
| | Dorothea L. Dix and the Plight of the Mentally Ill (1843) |

236
(6)

| | |
| --- | --- |
| | Defining the American Character |

242
(26)

| | |
| --- | --- |
| | American Diversity (1782, 1855) |

243
(4)

| | |
| --- | --- |
| | A European Traveller Observes America's English Cultural Heritage (1835) |

247
(5)

| | |
| --- | --- |
| | Voices of Cultural Nationalism (1834, 1837) |

252
(3)

| | |
| --- | --- |
| | The Significance of the Frontier in American History (1893) |

255
(7)

| | |
| --- | --- |
| | A Self-Made Man in a Land of Opportunity (1758) |

262
(6)
268
(14)
269
(3)

| | |
| --- | --- |
| | James K. Polk Calls for War Against Mexico (1846) |

272
(3)
275
(3)

| | |
| --- | --- |
| | Dissent at Home (1846, 1847) |

278
(4)

| | |
| --- | --- |
| | Slavery and the ``Old South'' |

282
(44)

| | |
| --- | --- |
| | Slavery from the Victim's Viewpoint (1848) |

283
(6)

| | |
| --- | --- |
| | A Southern Apologist Views Slavery (1859) |

289
(3)

| | |
| --- | --- |
| | The Southern Plantation Idyll vs. Northern Experiments (1832, 1857) |

292
(6)

| | |
| --- | --- |
| | A Nonslaveholding Southerner Attacks the ``Peculiar Institution'' (1857) |

298
(3)
301
(3)

| | |
| --- | --- |
| | A Northerner Describes the Old South (1854) |

304
(5)

| | |
| --- | --- |
| | The World the Slaves Made (c. 1850) |

309
(1)

| | |
| --- | --- |
| | Resistance and Rebellion (1849, 1831) |

310
(16)
326
(21)

| | |
| --- | --- |
| | A Southern Champion Demands Equal Rights for the South (1850) |

327
(4)

| | |
| --- | --- |
| | A Northern Unionist Supports the Compromise of 1850 (1850) |

331
(3)

| | |
| --- | --- |
| | Antislavery Leaders Respond to the Kansas-Nebraska Act (1854) |

334
(4)

| | |
| --- | --- |
| | John Brown and the Remission of Sins by Blood (1859) |

338
(2)

| | |
| --- | --- |
| | The Victory of the Republican Party (1860) |

340
(3)
343
(4)
347
(25)

| | |
| --- | --- |
| | The War Is About Slavery (1861) |

347
(5)

| | |
| --- | --- |
| | The War Is Over Constitutional Issues (1861) |

352
(5)

| | |
| --- | --- |
| | The War Is a Clash of Economic Interests (1860, 1861) |

357
(7)

| | |
| --- | --- |
| | The Union's Advance Undermines Slavery (1863, 1865) |

364
(8)
372

| | |
| --- | --- |
| | Harsh Versus Lenient Victors (1865) |

373
(8)

| | |
| --- | --- |
| | The White South Responds (1865, 1866, 1868) |

381
(10)

| | |
| --- | --- |
| | The Black Response (1865, 1868, 1866) |

391
Excerpts
Americans worry about the state of education in the United States today. Recently we have been told how little students know about science, geography, mathematics, and history; we fear that our country will be unprepared to compete against the other advanced industrial societies in years to come. We are also concerned that the new generation will lack the shared civic knowledge essential for a functioning democratic system. Study after study reveals that participation in the political process, knowledge and understanding of newsworthy events, and interest in public life are declining, particularly among younger Americans. Stated simply, the younger you are, the less likely you are to vote, read a newspaper, or be aware of current political issues. A growing body of research bemoans a deterioration in the quality and quantity of community life as a new, unchecked privatism, and unchecked individualism characterizes the American experience. What will the future hold for our political, social, economic, and cultural institutions if these trends continue?There is indeed reason to be dismayed by how small a stock of historical information young Americans possess. But it is important also to realize that education is not just transmission of data. It is also the fostering of critical thinking. The most encyclopedic knowledge does students little good if they cannot use it to reach valid and useful conclusions. It is this belief that has inspiredAmerican Issues.This two-volume work will stimulate critical thinking and active learning about U.S. history--leading students to reject received ideas when appropriate, relate the past to their own experience, and reach conclusions on the basis of evidence. At times, no doubt, students will have to do additional reading beyond this textbook; that, of course, is all to the good.American Issuesis not a compendium of scholars' views. It is constructed out ofprimary documents,the raw material of history. In its pages participants and contemporary observers express their opinions, make their observations, and reach their conclusions about events and issues of their own day that affected the nation and American society. The selections do not point in one direction on any given issue. On the contrary, they were chosen to raise questions and force the student to confront disparity, complexity, and apparent contradiction.American Issuesavoids giving students the "simple bottom line." Rather, it compels them to grapple with the same ambiguous raw materials that historians process to reach their conclusions. To further the engagement process, each selection asks specific questions of the student. That approach, we believe, is an incomparable way to enlighten students about the rich complexity and fullness of historical reality.We would like to acknowledge the following reviewers of this text: Alan R. Ball, Rose State College (Oklahoma); Stephen H. Coe, Eastern Kentucky University; Samuel Crompton, Holyoke Community College; Anthony O. Edmonds, Ball State University; Lorien Foote, University of Central Arkansas; John A. Hall, Albion College; Edward L. Schapsmeier, Illinois State University; Rebecca S. Shoemaker, Indiana State University; and Donald G. Sofchalk, Mankato State University. We express our deep and sincere appreciation to the staff of St. John's University Libraries, particularly Joan Daly, Mark Meng, Ben Turner, and, most of all, Anthony Todman, Government Documents Specialist, for their generous, patient, and knowledgeable assistance.The selections in Volume I and Volume II range widely in subject matter across the American past. Besides the key political questions, they deal with the social, cultural, economic, and gender problems our predecessors faced.American Issuesis guided by the sense that America has always been a heterogeneous society whose inhabitants led their lives in many ways. Yet it does not abandon th