Note: Supplemental materials are not guaranteed with Rental or Used book purchases.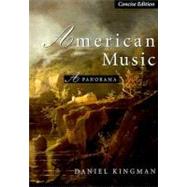 American Music A Panorama, Concise Edition
ISBN13:
9780028646145
by
Kingman, Daniel
Summary
This best-selling survey text describes American music as a collection of distinct strains of music--including popular, folk, sacred, classical, blues, jazz, and rock music - that have evolved into a musical panorama reflecting the nation's unique character. By comparing and contrasting America's musical styles across regions and time periods, Kingman delivers a clear vision of American music that encompasses the historical sources of all American music, the ways in which diverse styles have influenced each other, and the cultural contributions of America's innovative and original composers.
Author Biography
Daniel Kingman is a professor emeritus of music at California State University, Sacramento. He is a well-known authority on American music.
Table of Contents
AUTHOR'S GUIDE TO THE CONCISE EDITION
xi
PART ONE. Folk and Ethnic Musics
3
(74)

| | |
| --- | --- |
| | Chapter 1. The Anglo-American Tradition |

3
(17)

| | |
| --- | --- |
| | "Barbara Allen" as a Prototype of the Anglo-American Ballad |

3
(2)
5
(1)

| | |
| --- | --- |
| | Imported versus Native Ballads |

6
(1)
7
(2)
9
(3)

| | |
| --- | --- |
| | Folk Music as an Instrument of Persuasion in the Twentieth Century |

12
(8)

| | |
| --- | --- |
| | Chapter 2. The African-American Tradition |

20
(20)

| | |
| --- | --- |
| | African Music and Its Relation to Black Music in America |

20
(1)

| | |
| --- | --- |
| | Religious Folk Music: The Spiritual |

21
(6)
27
(13)

| | |
| --- | --- |
| | Chapter 3. The American Indian Tradition |

40
(13)

| | |
| --- | --- |
| | Music in Aboriginal Indian Life |

41
(5)

| | |
| --- | --- |
| | Characteristics of Indian Music |

46
(1)

| | |
| --- | --- |
| | Indian Music and Acculturation |

47
(6)

| | |
| --- | --- |
| | Chapter 4. The Latino Tradition |

53
(24)
53
(3)

| | |
| --- | --- |
| | Secular Music from Mexico |

56
(11)

| | |
| --- | --- |
| | Music from the Caribbean and South America |

67
(10)
PART TWO. Three Prodigious Offspring of the Rural South
77
(62)
77
(23)

| | |
| --- | --- |
| | Enduring Characteristics of the Music |

77
(4)

| | |
| --- | --- |
| | Enduring Characteristics of the Words |

81
(3)

| | |
| --- | --- |
| | Commercial Beginnings: Early Recordings, Radio, and the First Stars |

84
(3)

| | |
| --- | --- |
| | The West: The Cowboy Image |

87
(1)

| | |
| --- | --- |
| | The West: Realism and Eclecticism |

88
(1)

| | |
| --- | --- |
| | Postwar Dissemination and Full-Scale Commercialization |

89
(4)

| | |
| --- | --- |
| | The Persistence and Revival of Traditional Styles |

93
(7)

| | |
| --- | --- |
| | Chapter 6. Blues and Soul: From Country to City |

100
(14)
100
(2)
102
(2)
104
(1)
105
(1)

| | |
| --- | --- |
| | The Absorption of Country Blues into Popular Music |

106
(3)
109
(1)
110
(4)

| | |
| --- | --- |
| | Chapter 7. Rock and Its Progeny |

114
(25)

| | |
| --- | --- |
| | Characteristics of the Music |

114
(3)

| | |
| --- | --- |
| | Characteristics of the Words |

117
(5)

| | |
| --- | --- |
| | A Brief History of Rock's Times and Styles |

122
(17)
PART THREE. Popular Sacred Music
139
(42)

| | |
| --- | --- |
| | Chapter 8. From Psalm Tune to Rural Revivalism |

139
(22)
139
(3)

| | |
| --- | --- |
| | The Singing-School Tradition |

142
(6)

| | |
| --- | --- |
| | The Frontier and Rural America in the Nineteenth Century |

148
(8)

| | |
| --- | --- |
| | Music Among Our Smaller Independent Sects |

156
(5)

| | |
| --- | --- |
| | Chapter 9. Urban Revivalism and Gospel Music |

161
(20)

| | |
| --- | --- |
| | Urban Revivalism After the Civil War: The Moody-Sankey Era of Gospel Hymns |

161
(2)

| | |
| --- | --- |
| | The Billy Sunday-Homer Rodeheaver Era: Further Popularization |

163
(3)

| | |
| --- | --- |
| | Gospel Music After the Advent of Radio and Recordings |

166
(15)
PART FOUR. Popular Secular Music
181
(62)

| | |
| --- | --- |
| | Chapter 10. Secular Music in the Cities from Colonial Times to the Jacksonian Era |

181
(13)
181
(3)
184
(2)
186
(3)
189
(5)

| | |
| --- | --- |
| | Chapter 11. Popular Musical Theatre from the Jacksonian Era to the Present |

194
(23)

| | |
| --- | --- |
| | Minstrelsy and Musical Entertainment Before the Civil War |

194
(6)

| | |
| --- | --- |
| | From the Civil War Through the Turn of the Century |

200
(3)

| | |
| --- | --- |
| | The First Half of the Twentieth Century |

203
(7)

| | |
| --- | --- |
| | The Musical Since the Advent of Rock |

210
(7)

| | |
| --- | --- |
| | Chapter 12. Popular Song, Dance, and March Music from the Jacksonian Era to the Advent of Rock |

217
(26)

| | |
| --- | --- |
| | Popular Song from the 1830s Through the Civil War |

217
(7)

| | |
| --- | --- |
| | Popular Song from the Civil War Through the Ragtime Era |

224
(6)

| | |
| --- | --- |
| | The Band in America After the Jacksonian Era |

230
(4)

| | |
| --- | --- |
| | Popular Song from Ragtime to Rock |

234
(1)

| | |
| --- | --- |
| | Tin Pan Alley and Its Relation to Jazz and Black Vernacular Music |

235
(8)
PART FIVE. Jazz and Its Forerunners
243
(44)

| | |
| --- | --- |
| | Chapter 13. Ragtime and Pre-Jazz |

243
(18)

| | |
| --- | --- |
| | The Context of Ragtime from Its Origins to Its Zenith |

243
(3)

| | |
| --- | --- |
| | The Musical Characteristics of Ragtime |

246
(4)

| | |
| --- | --- |
| | The Decline and Dispersion of Ragtime |

250
(3)
253
(1)
254
(7)
261
(26)

| | |
| --- | --- |
| | The New Orleans Style: The Traditional Jazz of the Early Recordings |

261
(2)

| | |
| --- | --- |
| | Dissemination and Change: The Pre-Swing Era |

263
(4)

| | |
| --- | --- |
| | The Swing Era and the Big Bands |

267
(4)

| | |
| --- | --- |
| | The Emergence of Modren Jazz: Bop as a Turning Point |

271
(6)

| | |
| --- | --- |
| | The Pluralism of the Last Quarter Century |

277
(10)
PART SIX. Classical Music
287
(106)

| | |
| --- | --- |
| | Chapter 15. Laying the Foundation: Accomplishments from the Jacksonian Era to World War I |

287
(21)

| | |
| --- | --- |
| | 1830-1865: Education and Reform in a Time of Expansion |

288
(1)

| | |
| --- | --- |
| | Outspoken "Nativists" of the Mid-Nineteenth Century |

289
(5)

| | |
| --- | --- |
| | Louis Moreau Gottschalk and the Virtuoso in Nineteenth-Century America |

294
(2)

| | |
| --- | --- |
| | After the Civil War: The Pursuit of Culture in a Time of Industrialization |

296
(2)

| | |
| --- | --- |
| | The Second New England School |

298
(2)

| | |
| --- | --- |
| | Five Individualists Around the Turn of the Century |

300
(8)

| | |
| --- | --- |
| | Chapter 16. The Evolving Tradition, 1920-1970 |

308
(21)

| | |
| --- | --- |
| | Some Background for the "Fervent Years" |

308
(4)
312
(3)
315
(3)
318
(3)

| | |
| --- | --- |
| | Music Independent of Film, Dance, or Poetry |

321
(8)

| | |
| --- | --- |
| | Chapter 17. Modernism I: New Ways with Old Tools |

329
(23)
329
(10)
339
(3)

| | |
| --- | --- |
| | Lou Harrison and John Cage |

342
(1)
343
(3)

| | |
| --- | --- |
| | Edgard Varese (1883-1965) |

346
(6)

| | |
| --- | --- |
| | Chapter 18. Modernism II: The Impact of Technology and New Esthetic Concepts |

352
(16)

| | |
| --- | --- |
| | The Surface Features of Mid-Century Modernism |

352
(3)

| | |
| --- | --- |
| | The Two Dominant Rationales of Mid-Century Modernism |

355
(4)

| | |
| --- | --- |
| | New Technology and the New Music |

359
(2)

| | |
| --- | --- |
| | Other Aspects of Mid-Century Modernism |

361
(7)

| | |
| --- | --- |
| | Chapter 19. Modernism Transcended: Autonomy, Assimilation, and Accessibility |

368
(12)

| | |
| --- | --- |
| | Minimalism: A Radical Antidote to Modernism |

369
(4)

| | |
| --- | --- |
| | Modernism Gives Way to Assimilation and Reconnection |

373
(2)

| | |
| --- | --- |
| | Music of Association and the New Accessibility |

375
(5)

| | |
| --- | --- |
| | Chapter 20. Opera Old and New |

380
(13)

| | |
| --- | --- |
| | Opera in America before the 1930s: An Unassimilated Alien |

380
(1)

| | |
| --- | --- |
| | Traditional American Opera Beginning in the 1930s |

380
(5)

| | |
| --- | --- |
| | New Opera in the Last Quarter of the Century |

385
(8)
PART SEVEN. Regionalism and Diversity
393
(16)

| | |
| --- | --- |
| | Chapter 21. Three Regional Samplings |

393
(16)

| | |
| --- | --- |
| | Louisiana and the French Influence |

393
(5)

| | |
| --- | --- |
| | The Upper Midwest and the Scandinavian Influence |

398
(3)

| | |
| --- | --- |
| | The Sacramento Valley: A Rich Mix of Cultures |

401
(8)
INDEX
409