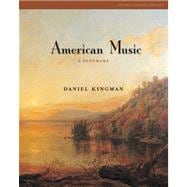 List Price: $63.67
Currently Available, Usually Ships in 24-48 Hours

More New and Used
from Private Sellers
Questions About This Book?
What version or edition is this?
This is the 2nd edition with a publication date of 12/2/2002.
What is included with this book?
The New copy of this book will include any supplemental materials advertised. Please check the title of the book to determine if it should include any CDs, lab manuals, study guides, etc.
Summary
This best-selling survey text describes American music as a collection of distinct strains of music--including popular, folk, sacred, classical, blues, jazz, and rock music - that have evolved into a musical panorama reflecting the nation's unique character. By comparing and contrasting America's musical styles across regions and time periods, Kingman delivers a clear vision of American music that encompasses the historical sources of all American music, the ways in which diverse styles have influenced each other, and the cultural contributions of America's innovative and original composers.
Author Biography
Daniel Kingman is a professor emeritus of music at California State University, Sacramento. He is a well-known authority on American music.
Table of Contents
Author's Guide to the Panorama
xii
PART I FOLK AND ETHNIC MUSICS

| | |
| --- | --- |
| | The Anglo-Celtic-American Tradition |

1
(17)
2
(2)
2
(2)

| | |
| --- | --- |
| | Features Common to Most Ballads |

4
(3)
5
(2)
7
(2)
7
(2)
9
(2)
9
(2)
11
(1)
11
(1)

| | |
| --- | --- |
| | Other Aspects of the Ballad |

12
(1)
13
(3)
14
(2)

| | |
| --- | --- |
| | Play-Party Songs or Games |

16
(2)
16
(2)
18
(1)
18
(1)

| | |
| --- | --- |
| | The African American Tradition |

18
(17)

| | |
| --- | --- |
| | African Music and Its Relation to Black Music in America |

18
(2)

| | |
| --- | --- |
| | ``Music in Praise of a Yoruban Chief'' |

19
(1)

| | |
| --- | --- |
| | Religious Folk Music: The Spiritual |

20
(8)

| | |
| --- | --- |
| | ``Sheep, Sheep, Don't You Know the Road'' |

20
(1)

| | |
| --- | --- |
| | ``Low Down the Chariot and Let Me Ride'' |

21
(3)
24
(4)
28
(6)
28
(2)

| | |
| --- | --- |
| | ``I Don't Mind the Weather'' |

30
(1)
31
(1)
31
(3)
34
(1)
34
(1)

| | |
| --- | --- |
| | The American Indian Tradition |

35
(14)

| | |
| --- | --- |
| | Music in Aboriginal Indian Life |

36
(2)

| | |
| --- | --- |
| | Concreteness and Efficacy of Songs |

38
(1)

| | |
| --- | --- |
| | ``Real'' Songs and Songs for Recreation |

38
(1)

| | |
| --- | --- |
| | Types of Songs According to Purpose |

39
(4)
39
(1)

| | |
| --- | --- |
| | ``Cherokee/Creek Stomp Dance'' |

40
(1)
40
(1)
41
(1)
41
(1)
42
(1)
43
(1)

| | |
| --- | --- |
| | Characteristics of Indian Music |

43
(1)

| | |
| --- | --- |
| | Indian Music and Acculturation |

44
(4)
45
(1)
46
(1)
47
(1)

| | |
| --- | --- |
| | ``Contest Song for Fancy Dancers'' |

47
(1)

| | |
| --- | --- |
| | Two World Concerto, ``Spirit Call'' |

48
(1)
48
(1)
49
(1)

| | |
| --- | --- |
| | The Hispanic and Latin Traditions |

49
(31)
50
(1)
50
(4)

| | |
| --- | --- |
| | ``Al Pie de Este Santo Altar'' |

51
(1)
52
(2)

| | |
| --- | --- |
| | Secular Music From Mexico |

54
(15)
55
(2)
57
(4)

| | |
| --- | --- |
| | ``El Corrido de Gregorio Cortez'' |

61
(3)
64
(5)
69
(10)
69
(3)
72
(1)
73
(1)
73
(6)
79
(1)
80
(1)

| | |
| --- | --- |
| | Other Traditions: French, Scandinavian, Asian |

80
(16)

| | |
| --- | --- |
| | Louisiana and the French Influence |

80
(6)
82
(1)

| | |
| --- | --- |
| | ``J'ai passe devant ta porte'' |

83
(1)

| | |
| --- | --- |
| | ``Le Two-Step a Midland'' |

84
(2)

| | |
| --- | --- |
| | African American Music of Louisiana |

86
(2)
88
(1)

| | |
| --- | --- |
| | The Upper Midwest and the Scandinavian Influence |

88
(3)
89
(1)
89
(1)
89
(1)
90
(1)
91
(4)

| | |
| --- | --- |
| | Threnody for Carlos Chavez |

94
(1)
95
(1)
95
(1)
96
(1)

| | |
| --- | --- |
| | Folk Music as an Instrument of Advocacy |

96
(11)

| | |
| --- | --- |
| | ``The Farmer Is the Man That Feeds Them All'' |

97
(1)

| | |
| --- | --- |
| | The Urban Folk-Song Movement of the 1930s and 1940s |

98
(3)
98
(2)
100
(1)

| | |
| --- | --- |
| | Protest and Folk Song in the 1960s |

101
(2)

| | |
| --- | --- |
| | Freedom Songs, and the Civil Rights Movement in the South |

103
(1)

| | |
| --- | --- |
| | ``Ain't Gonna Let Nobody Turn Me Around'' |

103
(1)
103
(1)

| | |
| --- | --- |
| | Continuity and Change in the Folk Style of Advocacy from the 1970s to the 2000s |

104
(1)
104
(1)
105
(1)
105
(2)
PART II THREE PRODIGIOUS OFFSPRING OF THE RURAL SOUTH
107
(21)

| | |
| --- | --- |
| | Enduring Characteristics of the Words |

108
(2)

| | |
| --- | --- |
| | Enduring Characteristics of the Music |

110
(4)
111
(1)
112
(1)
113
(1)

| | |
| --- | --- |
| | Commercial Beginnings: Early Recordings, Radio, and the First Stars |

114
(2)
116
(1)

| | |
| --- | --- |
| | The West: The Cowboy Image |

116
(2)

| | |
| --- | --- |
| | The West: Realism and Eclecticism |

118
(1)
119
(1)

| | |
| --- | --- |
| | Postwar Dissemination and Full-Scale Commercialization |

119
(5)

| | |
| --- | --- |
| | ``I'm So Lonesome I Could Cry'' |

120
(1)
121
(3)

| | |
| --- | --- |
| | The Persistence and Revival of Traditional Styles |

124
(3)
125
(1)
125
(2)
127
(1)
127
(1)

| | |
| --- | --- |
| | Blues and Soul: From Country to City |

128
(17)

| | |
| --- | --- |
| | The Spiritual and the Blues |

128
(1)
129
(2)

| | |
| --- | --- |
| | The form and Music of the Blues |

131
(3)
131
(1)
132
(2)
134
(1)
135
(3)
137
(1)
138
(1)
138
(1)
139
(1)
140
(1)

| | |
| --- | --- |
| | The Absorption of Country Blues into Popular Music |

140
(1)
141
(2)
143
(1)
143
(1)

| | |
| --- | --- |
| | Blues at the Turn of the Century |

144
(1)
145
(1)
145
(1)

| | |
| --- | --- |
| | Rock: A Panorama in Itself |

145
(29)

| | |
| --- | --- |
| | Characteristics of the Words |

147
(6)

| | |
| --- | --- |
| | Characteristics of the Music |

153
(4)

| | |
| --- | --- |
| | A Brief History of Rock's Times and Styles |

157
(12)
158
(1)
158
(4)
162
(1)
162
(7)
169
(1)
170
(4)
PART III POPULAR SACRED MUSIC

| | |
| --- | --- |
| | From Psalm Tune to Rural Revivalism |

174
(21)
174
(4)
177
(1)
178
(1)

| | |
| --- | --- |
| | The Singing-School Tradition |

178
(7)
181
(2)
183
(1)
183
(2)

| | |
| --- | --- |
| | The Frontier and Rural America in the Nineteenth Century |

185
(8)
187
(6)

| | |
| --- | --- |
| | Music Among Smaller Independent American Sects |

193
(1)

| | |
| --- | --- |
| | ``'Tis the Gift to Be Simple'' |

194
(1)
194
(1)
195
(1)

| | |
| --- | --- |
| | Urban Revivalism and Gospel Music |

195
(23)

| | |
| --- | --- |
| | Urban Revivalism After the Civil War: The Moody-Sankey Era of Gospel Hymns |

196
(4)

| | |
| --- | --- |
| | ``Sweet By-and-By'' (two versions) |

197, 199
(199)

| | |
| --- | --- |
| | ``Can the Circle Be Unbroken'' |

199
(1)

| | |
| --- | --- |
| | The Billy Sunday-Homer Rodeheaver Era: Further Popularization |

200
(1)

| | |
| --- | --- |
| | ``Brighten the Corner Where You Are'' |

200
(1)

| | |
| --- | --- |
| | Gospel Music After the Advent of Radio and Recordings |

201
(13)

| | |
| --- | --- |
| | ``Give the World a Smile'' |

202
(5)

| | |
| --- | --- |
| | ``I'm on the Battlefield for My Lord'' |

207
(1)

| | |
| --- | --- |
| | ``He Got Better Things for You'' |

208
(1)
209
(1)
210
(1)
211
(3)
214
(1)
214
(4)
PART IV POPULAR SECULAR MUSIC

| | |
| --- | --- |
| | Secular Music in the Cities from Colonial Times to the Jacksonian Era |

218
(12)
218
(4)
219
(3)
222
(2)
222
(1)
222
(2)
224
(3)

| | |
| --- | --- |
| | ``Chorus of Adventurers,'' The Indian Princess |

225
(2)
227
(2)
228
(1)
229
(1)
230
(1)

| | |
| --- | --- |
| | Popular Musical Theater from the Jacksonian Era to the Present |

230
(30)

| | |
| --- | --- |
| | Minstrelsy and Musical Entertainment Before the Civil War |

231
(8)
236
(3)

| | |
| --- | --- |
| | From the Civil War through The Turn of the Century |

239
(5)

| | |
| --- | --- |
| | ``The Babies on Our Block'' |

241
(2)

| | |
| --- | --- |
| | ``The Yankee Doodle Boy'' |

243
(1)

| | |
| --- | --- |
| | The First Half of the Twentieth Century |

244
(2)

| | |
| --- | --- |
| | The Musical in its Maturity: Show Boat to West Side Story |

246
(9)

| | |
| --- | --- |
| | ``Can't Help Lovin' That Man'' |

247
(3)

| | |
| --- | --- |
| | ``Glamour Dream,'' Lady in the Dark |

250
(1)

| | |
| --- | --- |
| | ``Childhood Dream: My Ship,'' Lady in the Dark |

250
(2)
252
(2)

| | |
| --- | --- |
| | ``Great Fugue'' String Quartet Op. 133 (Beethoven) |

254
(1)

| | |
| --- | --- |
| | ``Cool,'' West Side Story |

254
(1)

| | |
| --- | --- |
| | ``Tonight,'' West Side Story |

254
(1)

| | |
| --- | --- |
| | The Musical Since the Advent of Rock |

255
(4)
259
(1)
260
(1)

| | |
| --- | --- |
| | Popular Song, Dance, and March Music from the Jacksonian Era to the Advent of Rock |

260
(27)

| | |
| --- | --- |
| | Popular Song from the 1830s Through the Civil War |

260
(10)

| | |
| --- | --- |
| | ``Woodman! Spare That Tree!'' |

263
(1)
264
(2)

| | |
| --- | --- |
| | ``Hard Times Come Again No More'' |

266
(2)

| | |
| --- | --- |
| | ``The Battle Cry of Freedom'' |

268
(1)

| | |
| --- | --- |
| | ``All Quiet Along the Potomac Tonight'' |

269
(1)
269
(1)

| | |
| --- | --- |
| | Popular Song from the Civil War through the Ragtime Era |

270
(7)
274
(3)

| | |
| --- | --- |
| | The Band in America after the Jacksonian Era |

277
(4)

| | |
| --- | --- |
| | Popular Song from Ragtime to Rock |

281
(2)

| | |
| --- | --- |
| | ``Brother, Can You Spare a Dime?'' |

282
(1)
283
(1)

| | |
| --- | --- |
| | Tin Pan Alley and its Relation to Jazz and Black Vernacular Music |

283
(2)
285
(1)
285
(1)
285
(2)
PART V JAZZ AND ITS FORERUNNERS
287
(17)

| | |
| --- | --- |
| | The Context of Ragtime from its Origins to its Zenith |

287
(5)
287
(2)

| | |
| --- | --- |
| | ``Solace---A Mexican Serenade'' |

289
(3)
292
(1)
292
(1)

| | |
| --- | --- |
| | ``At a Georgia Camp Meeting'' |

292
(1)

| | |
| --- | --- |
| | The Musical Characteristics of Ragtime |

292
(5)
296
(1)
296
(1)

| | |
| --- | --- |
| | The Decline and Dispersion of Ragtime |

297
(2)
298
(1)
299
(1)
300
(3)
303
(1)

| | |
| --- | --- |
| | ``Just a Little While to Stay Here'' |

303
(1)
303
(1)
304
(1)
304
(29)

| | |
| --- | --- |
| | The New Orleans Style: The Traditional Jazz of the Early Recordings |

304
(5)
306
(3)
309
(1)

| | |
| --- | --- |
| | Dissemination and Change: The Pre-Swing Era |

309
(2)

| | |
| --- | --- |
| | The Swing Era and the Big Bands |

311
(8)
314
(1)
314
(2)
316
(3)

| | |
| --- | --- |
| | The Emergence of Modern Jazz: Bop as a Turning Point |

319
(6)
321
(2)
323
(2)

| | |
| --- | --- |
| | The Pluralism of the Last Quarter-Century |

325
(4)
325
(2)
327
(2)
329
(1)
329
(4)
PART VI CLASSICAL MUSIC

| | |
| --- | --- |
| | Classical Music and the Contemporary World |

333
(6)
334
(1)
334
(1)

| | |
| --- | --- |
| | The San Francsico Bay Area, California |

335
(1)
335
(1)

| | |
| --- | --- |
| | Grand Forks, North Dakota |

335
(2)

| | |
| --- | --- |
| | ``Red River, remember me,'' What the River Says |

335
(2)

| | |
| --- | --- |
| | Madison County, Mississippi |

337
(1)

| | |
| --- | --- |
| | ``And We Ride ... (#4),'' Traces of Mississippi |

337
(1)
338
(1)
338
(1)

| | |
| --- | --- |
| | Accomplishments from the Jacksonian Era to World War I |

339
(17)

| | |
| --- | --- |
| | Louis Moreau Gottschalk and the Virtuoso in Nineteenth Century America |

340
(3)
340
(3)

| | |
| --- | --- |
| | 1830-1865: Education and Reform in a Time of Expansion |

343
(2)

| | |
| --- | --- |
| | ``But See! In the West a Cloud Appears,'' The Haymakers |

344
(1)

| | |
| --- | --- |
| | Outspoken ``Nativists'' of the Mid-Nineteenth Century and the Debate Over Nationality |

345
(1)

| | |
| --- | --- |
| | After the Civil War: The Pursuit of Culture in a Time of Industrialization |

346
(1)

| | |
| --- | --- |
| | The Second New England School |

347
(4)

| | |
| --- | --- |
| | ``Hobgoblin,'' Symphonic Sketches |

349
(2)

| | |
| --- | --- |
| | Five Individualists Around the Turn of the Century |

351
(4)
355
(1)
355
(1)
356
(1)

| | |
| --- | --- |
| | The Evolving Tradition, 1920-70 |

356
(23)

| | |
| --- | --- |
| | Some Background for the ``Fervent Years'' |

357
(4)
361
(1)
362
(4)

| | |
| --- | --- |
| | ``Street in a Frontier Town,'' Billy the Kid |

363
(3)
366
(4)
367
(1)

| | |
| --- | --- |
| | ``Heavenly Grass,'' Blue Mountain Ballads |

368
(2)

| | |
| --- | --- |
| | Music Independent of Film, Dance, or Poetry |

370
(6)
371
(5)
376
(1)
377
(2)

| | |
| --- | --- |
| | Twentieth-Century Innovation |

379
(42)

| | |
| --- | --- |
| | Charles Ives (1874--1954) |

379
(11)

| | |
| --- | --- |
| | ``The Cage,'' Charles Ives |

382
(1)

| | |
| --- | --- |
| | General William Booth Enters into Heaven |

383
(7)
390
(2)

| | |
| --- | --- |
| | New York and Europe-Related ``Futurism'' and ``Modernism'' |

392
(1)

| | |
| --- | --- |
| | Edgard Varese (1883--1965) |

392
(3)
393
(2)

| | |
| --- | --- |
| | Ruth Crawford (Seeger) (1901--53) |

395
(1)

| | |
| --- | --- |
| | The West: Cowell, Harrison, Cage, and Partch |

396
(10)
398
(2)
400
(2)

| | |
| --- | --- |
| | ``Sonata V,'' Sonatas and Interludes for Prepared Piano (Cage) |

402
(1)
403
(3)
406
(3)

| | |
| --- | --- |
| | Phonenema (Babbitt) (two realizations) |

406
(3)

| | |
| --- | --- |
| | The Two Dominant Rationales of Midcentury Modernism |

409
(6)

| | |
| --- | --- |
| | New Technology and the New Music |

415
(1)

| | |
| --- | --- |
| | Other Aspects of Midcentury Modernism |

416
(3)
419
(1)
419
(2)

| | |
| --- | --- |
| | Toward a More Hospitable Music |

421
(12)

| | |
| --- | --- |
| | Minimalism: A Radical Antidote to Modernism |

422
(5)

| | |
| --- | --- |
| | ``Violin Solo Music,'' Einstein on the Beach (Glass) |

425
(1)
426
(1)

| | |
| --- | --- |
| | Modernism Gives Way to Assimilation and Reconnection |

427
(2)

| | |
| --- | --- |
| | ``1 after Marc-Antoine Charpentier,'' Prism (Druckman) |

428
(1)

| | |
| --- | --- |
| | Music with Associative Connotations |

429
(3)

| | |
| --- | --- |
| | ``Way to Go,'' Passages (Zwilich) |

431
(1)
432
(1)
432
(1)
433
(16)

| | |
| --- | --- |
| | Opera in America Before the 1930s: An Unassimilated Alien |

434
(1)

| | |
| --- | --- |
| | Traditional American Opera Beginning in the 1930s |

435
(1)

| | |
| --- | --- |
| | Three Landmarks of the 1930s |

435
(4)

| | |
| --- | --- |
| | ``I've Got a Ram Goliath,'' The Devil and Daniel Webster (Moore) |

435
(3)

| | |
| --- | --- |
| | ``Pigeons on the Grass Alas,'' Four Saints in Three Acts (Thomson) |

438
(1)

| | |
| --- | --- |
| | American Opera in Relation to American Culture After the 1930s |

439
(2)

| | |
| --- | --- |
| | New Opera in the Last Quarter of the Century |

441
(6)

| | |
| --- | --- |
| | ``Choosing Companions,'' Atlas (Monk) |

444
(1)

| | |
| --- | --- |
| | Eric Hermannson's Soul (Larsen) |

445
(2)
447
(1)
448
(1)
POST-CHAPTER American Music in Your Own Backyard
449
(8)

| | |
| --- | --- |
| | The Sacramento Valley: A Rich Mix of Cultures |

450
(5)
452
(2)
454
(1)

| | |
| --- | --- |
| | ``Chy Ya Tobi Ne Kazala'' |

454
(1)
455
(1)
455
(2)
References
457
(8)
Additional Reading
465
(6)
Glossary
471
(4)
Index
475