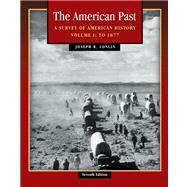 American Past With Infotrac: A Survey of American History, to 1877
by
Conlin, Joseph R.
List Price: $65.00
Currently Available, Usually Ships in 24-48 Hours
Questions About This Book?
What version or edition is this?
This is the 7th edition with a publication date of 7/21/2003.
What is included with this book?
The New copy of this book will include any supplemental materials advertised. Please check the title of the book to determine if it should include any CDs, lab manuals, study guides, etc.
Summary
1. When Worlds Collide: America and Europe Before 10,000 B.C.- A.D. 1550. 2. England in America: The Struggle to Plant a Colony 1550-1624. 3. Puritans and Proprietors: Colonial America 1620-1732. 4. Colonial Society: English Legacies, American Facts of Life. 5. Other Americans: The Indians, French, and Africans of Colonial North America. 6. British America: The Colonies at the Equinox. 7. Years of Tumult: The Quarrel with Great Britain 1763-1770. 8. Riot to Rebellion: The Road to Independence 1770-1776. 9. War for Independence: Winning the Revolution 1776-1781. 10. Inventing a Country: American Constitutions 1781-1789. 11. We the People: Putting the Constitution to Work 1789-1800. 12. The Age of Jefferson: Expansion and Frustration 1800-1815. 13. Beyond the Appalachian Ridge: The West in the Early Nineteenth Century. 14. Nation Awakening: Political, Diplomatic, and Economic Developments 1815-1824. 15. Hero of the People: The Age of Andrew Jackson 1824-1830. 16. In the Shadow of Old Hickory: Personalities and Politics 1830-1842. 17. Sects, Utopias, Visionaries, Reformers: Popular Culture in Antebellum America. 18. A Different Country: The South. 19. The Peculiar Institution: Slavery as It Was Perceived and as It Was. 20. From Sea to Shining Sea: American Expansion 1820-1848. 21. Apples of Discord: The Poisoned Fruits of Victory 1844-1854. 22. The Collapse of the Old Union: The Road to Secession 1854-1861. 23. Tidy Plans, Ugly Realities: The Civil War 1861-1862. 24. Driving Old Dixie Down: General Grant's War of Attrition 1863-1865. 25. Reconstruction: Rebuilding the Shattered Union: 1863-1877. Appendices. Photo Credits. Index.
Table of Contents
Preface to the Seventh Edition
xxi

| | |
| --- | --- |
| | Indians, Europeans, and America 15,000 B.C.--A.D. 1550 |

1
(17)
2
(3)

| | |
| --- | --- |
| | Locked in a Circle of Time |

5
(1)

| | |
| --- | --- |
| | Europe: Driven, Dynamic, Expansive |

6
(2)

| | |
| --- | --- |
| | Portugal and Spain: The Vanguard of Exploration |

8
(3)
11
(3)
14
(2)
16
(2)

| | |
| --- | --- |
| | Settlement Across the Sea |

| | |
| --- | --- |
| | The Idea, the Failures, Success 1550-1624 |

18
(13)

| | |
| --- | --- |
| | England's Slow Turn Toward America |

18
(2)

| | |
| --- | --- |
| | The Elizabethan Age: Seedbed of Colonization |

20
(2)
22
(2)
24
(1)
25
(4)
29
(1)
30
(1)

| | |
| --- | --- |
| | The Thirteen Colonies 1620-1732 |

31
(14)
31
(5)

| | |
| --- | --- |
| | The Expansion of New England |

36
(2)

| | |
| --- | --- |
| | Royal and Proprietary Colonies |

38
(3)
41
(2)
43
(2)

| | |
| --- | --- |
| | English Legacies, American Facts of Life |

| | |
| --- | --- |
| | Colonial Society in the 1600s |

45
(14)
45
(2)

| | |
| --- | --- |
| | Mercantilism in the South |

47
(4)

| | |
| --- | --- |
| | How They Lived Finding the Way |

51
(1)
52
(4)
56
(1)
57
(2)

| | |
| --- | --- |
| | The Indians, French, and Africans of Colonial North America |

59
(17)

| | |
| --- | --- |
| | The Indians of North America |

59
(2)

| | |
| --- | --- |
| | People of the Eastern Woodlands |

61
(1)
62
(4)

| | |
| --- | --- |
| | The French in North America |

66
(2)
68
(1)
69
(3)
72
(2)
74
(2)

| | |
| --- | --- |
| | Society, Culture, and War in the 1700s |

76
(15)
77
(4)
81
(1)
82
(2)

| | |
| --- | --- |
| | The Long Peace, 1713-1739 |

84
(3)

| | |
| --- | --- |
| | The End of French America |

87
(3)
90
(1)

| | |
| --- | --- |
| | The Quarrel with Great Britain 1763-1770 |

91
(14)
91
(3)
94
(4)
98
(1)
99
(2)

| | |
| --- | --- |
| | British Policies and Policy Makers |

101
(2)
103
(2)

| | |
| --- | --- |
| | The Road to Independence 1770-1776 |

105
(14)
105
(3)
108
(3)

| | |
| --- | --- |
| | The Beginning of a Revolution |

111
(1)
112
(3)
115
(3)
118
(1)

| | |
| --- | --- |
| | Winning the Revolution 1776-1781 |

119
(14)
119
(3)

| | |
| --- | --- |
| | The Times that Try Men's Souls |

122
(3)
125
(6)
131
(1)
131
(2)

| | |
| --- | --- |
| | American Constitutions 1781-1789 |

133
(15)
133
(2)

| | |
| --- | --- |
| | America Under the Articles of Confederation |

135
(3)

| | |
| --- | --- |
| | Difficulties and Failures |

138
(2)
140
(2)
142
(3)

| | |
| --- | --- |
| | Ratification of the Constitution |

145
(2)
147
(1)

| | |
| --- | --- |
| | Putting the Constitution to Work 1789-1800 |

148
(16)
148
(3)
151
(2)
153
(4)
157
(1)

| | |
| --- | --- |
| | Federalists Versus Republicans |

158
(5)
163
(1)

| | |
| --- | --- |
| | Expansion and Frustration 1800-1815 |

164
(16)
164
(1)
165
(2)
167
(3)
170
(3)

| | |
| --- | --- |
| | Jemmy Applejohn and the War of 1812 |

173
(1)

| | |
| --- | --- |
| | Socializing on the Frontier |

174
(5)
179
(1)

| | |
| --- | --- |
| | The West in the Early Nineteenth Century |

180
(16)
180
(2)
182
(4)
186
(2)
188
(1)

| | |
| --- | --- |
| | The Transportation Revolution |

189
(6)
195
(1)

| | |
| --- | --- |
| | Political and Economic Development 1815-1824 |

196
(17)
196
(4)

| | |
| --- | --- |
| | The Industrial Revolution in America |

200
(4)

| | |
| --- | --- |
| | A Country Made for Industry |

204
(1)
205
(2)

| | |
| --- | --- |
| | The South at the Crossroads |

207
(4)
211
(2)

| | |
| --- | --- |
| | Andrew Jackson and a New Era 1824-1830 |

213
(15)

| | |
| --- | --- |
| | The Skewed Election of 1824 |

213
(3)

| | |
| --- | --- |
| | The Age of the Common Man |

216
(2)
218
(2)

| | |
| --- | --- |
| | Dueling and Brawling the American Way |

220
(3)

| | |
| --- | --- |
| | Issues of Jackson's First Term |

223
(4)
227
(1)

| | |
| --- | --- |
| | In the Shadow of Old Hickory |

| | |
| --- | --- |
| | Personalities and Politics 1830-1842 |

228
(14)
228
(3)
231
(2)

| | |
| --- | --- |
| | The Second American Party System |

233
(1)
234
(6)
240
(2)

| | |
| --- | --- |
| | Evangelicals, Utopians, Reformers |

242
(15)
242
(4)
246
(2)
248
(1)

| | |
| --- | --- |
| | Philanthropists and Reformers |

249
(1)
250
(2)
252
(3)
255
(1)
256
(1)
257
(11)
257
(3)

| | |
| --- | --- |
| | Threats of the Southern Order |

260
(3)

| | |
| --- | --- |
| | Entrenchment of the South |

263
(1)
264
(3)
267
(1)

| | |
| --- | --- |
| | Slavery as It Was Perceived and as It Was |

268
(13)
268
(3)
271
(3)
274
(3)

| | |
| --- | --- |
| | African Slave Traders: Defying the Law |

277
(1)
278
(2)
280
(1)

| | |
| --- | --- |
| | American Expansion 1820-1848 |

281
(14)
281
(4)
285
(1)

| | |
| --- | --- |
| | Zorro and the Californios |

286
(1)
287
(7)
294
(1)

| | |
| --- | --- |
| | Poisoned Fruits of Victory 1844-1854 |

295
(13)
295
(2)
297
(2)
299
(2)
301
(2)
303
(4)
307
(1)

| | |
| --- | --- |
| | The Collapse of the Union |

| | |
| --- | --- |
| | The Road to Secession 1854-1861 |

308
(16)
308
(3)
311
(4)
315
(1)
316
(1)
317
(5)
322
(2)

| | |
| --- | --- |
| | Tidy Plans, Ugly Realities |

| | |
| --- | --- |
| | The Civil War Through 1862 |

324
(17)

| | |
| --- | --- |
| | The Art and Science of War |

324
(4)

| | |
| --- | --- |
| | The Sobering Campaign of 1861 |

328
(1)
329
(4)
333
(7)
340
(1)

| | |
| --- | --- |
| | General Grant's War of Attrition 1863-1865 |

341
(15)
341
(5)
346
(3)
349
(1)
350
(2)

| | |
| --- | --- |
| | Consequences of the Civil War |

352
(3)
355
(1)

| | |
| --- | --- |
| | The Reconstruction of the Union 1865-1877 |

356

| | |
| --- | --- |
| | The Reconstruction Debate |

356
(3)
359
(2)

| | |
| --- | --- |
| | Reconstruction Realities and Myths |

361
(4)
365
(2)
367
(2)

| | |
| --- | --- |
| | The Twilight of Reconstruction |

369
(1)
369
Appendix
1
(1)
Photo Credits
1
(1)
Index
1