Note: Supplemental materials are not guaranteed with Rental or Used book purchases.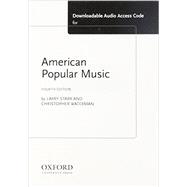 Related Products
Summary
Purchase this access code to get sixty featured musical selections from American Popular Music, Fourth Edition, in MP3 format. Good for one use. Code will be void if used.

Author Biography

Larry Starr is Professor of Music at the University of Washington. He is a respected scholar of American popular music and the music of Ives, Gershwin, and Copland.

Christopher Waterman is Dean of the UCLA School of the Arts and Architecture. An anthropologist specializing in the music of Africa and the Americas, he is also a bassist who has performed professionally in a wide variety of popular genres.

Table of Contents

Text (978-0-19-985911-5)

Listening and Analysis Guides
Preface
1. Themes and Streams of American Popular Music
2. "After the Ball": Popular Music of the Nineteenth and Early Twentieth Centuries
3. "Catching as the Small-pox": Social Dance and Jazz, 1917-1935
4. "I Got Rhythm": The Golden Age of Tin Pan Alley Song, 1920s and 1930s
5. "St. Louis Blues": Race Records and Hillbilly Music, 1920s and 1930s
6 "In the Mood": The Swing Era, 1935-1945
7. "Choo Choo Ch' Boogie": The Postwar Era, 1946-1954
8. "Rock Around the Clock": ROCK 'N' ROLL, 1954-1959
9. "Good Vibrations": American Pop and the British Invasion, 1960s
10. "Blowin' in the Wind": Country, Soul, Urban Folk, and the Rise of Rock, 1960s
11. The 1970s: Rock Music, Disco, and the Popular Mainstream
12. Outsiders' Music: Progressive Country, Reggae, Salsa, Punk, Funk, and Rap, 1970s
13. The 1980s: Digital Technology, MTV, and the Popular Mainstream
14. "Smells Like Teen Spirit": Hip-Hop, "Alternative" Music, and the Entertainment Business
15. Conclusion

Sixty featured musical selections from American Popular Music in MP3 format available with access code (978-0-19-931669-4), which is available for purchase separately or when you purchase a new copy of the text:

1. Barbary Allen, performed by Jean Ritchie
2. Soldier's Joy, performed by Gid Tanner and the Skillet Lickers
3. Soldier's Joy, performed by Tommy Jarrell
4. Long John, performed by Lightning Washington and fellow convicts
5. Coo Coo, performed by Dink Roberts (banjo)
6. Stack O'Lee, performed by Mississippi John Hurt (guitar and vocals)
7. Enigue Nigue, performed by Grupo AfroCuba de Matanzas
8. Son de la Negra, performed by Mariachi Vargas de Tecalitlán
9. Jeannie with the Light Brown Hair, performed by Thomas Hampson
10. Castle House Rag, performed by Europe's Society Orchestra
11. Tiger Rag, performed by the Original Dixieland Jass Band
12. Dippermouth Blues, performed by King Joe Oliver and the Creole Jazz Band
13. West End Blues, performed by Louis Armstrong and his Hot Five
14. East St. Louis Toodle-Oo, performed by Duke Ellington and his Washingtonians
15. El Manicero, performed by Don Azpiazu and his Havana Casino Orchestra
16. My Blue Heaven, performed by Gene Austin
17. April Showers (1921 version), performed by Al Jolson
18. April Showers (1932 version), performed by Al Jolson
19. St. Louis Blues, performed by Bessie Smith
20. That Black Snake Moan, performed by Blind Lemon Jefferson
21. Gospel Ship, performed by The Carter Family
22. Blue Yodel No. 2 (Lovin' Gal Lucille), performed by Jimmie Rodgers
23. Wrappin' It Up (The Lindy Glide), performed by Fletcher Henderson and his Orchestra
24. Taking A Chance on Love, performed by Benny Goodman
25. Caravan, performed by Duke Ellington and his Orchestra
26. Paper Doll, performed by The Mills Brothers
27. In The Mood, performed by Glenn Miller and His Orchestra
28. New San Antonio Rose, performed by Bob Wills and His Texas Playboys
29. Brazil, performed by Xavier Cugat and his Waldorf-Astoria Orchestra
30. Nancy (With The Laughing Face), performed by Frank Sinatra
31. Mambo No. 5, performed by Perez Prado and his Orchestra
32. Choo-Choo-Ch-Boogie, performed by Louis Jordan and his Tympany Five
33. (I'm Your) Hoochie Coochie Man, performed by Muddy Waters
34. Mama, He Treats Your Daughter Mean, performed by Ruth Brown
35. Hound Dog, performed by Big Mama Thornton
36. It's Mighty Dark to Travel, performed by Bill Monroe
37. Maybelline, performed by Chuck Berry
38. Shake, Rattle and Roll, performed by Joe Turner
39. Sh-Boom, performed by Bill Haley and His Comets
40. Sh-Boom, performed by The Chords
41. Sh-Boom, performed by The Crew Cuts
42. Mystery Train, performed by Little Junior's Blue Flames
43. Mystery Train, performed by Elvis Presley
44. Long Tall Sally, performed by Little Richard
45. Don't Be Cruel, performed by Elvis Presley
46. La Bamba, performed by Ritchie Valens
47. Charlie Brown, performed by The Coasters
48. My Girl (Robinson - White), performed by The Temptations
49. You Can't Hurry Love, performed by Diana Ross and the Supremes
50. Good Vibrations, performed by the Beach Boys
51. Watermelon Man, performed by Mongo Santamaria
52. El Watusi, performed by Ray Barretto
53. Papa's Got a Brand New Bag, Part 1, performed by James Brown
54. Respect, performed by Aretha Franklin
55. Like A Rolling Stone, performed by Bob Dylan
56. Oye Como Va, performed by Santana
57. Bad Girls, performed by Donna Summer
58. Pedro Navaja, performed by Willie Colon and Ruben Blades
59. The Message, performed by Grandmaster Flash & The Furious Five
60. Walk This Way, performed by Run-D.M.C. featuring Aerosmith