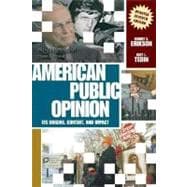 Questions About This Book?
What version or edition is this?
This is the 7th edition with a publication date of 1/1/2007.
What is included with this book?
The Used copy of this book is not guaranteed to include any supplemental materials. Typically, only the book itself is included.
Summary
The updated seventh edition of American Public Opinion continues to go beyond a simple presentation of data to critically analyze the integral role public opinion plays in American democracy.
Table of Contents
List of Figures and Tables
ix
Credits for Figures and Tables
xiii
Preface
xvii
CHAPTER 1 Public Opinion in Democratic Societies
1
(23)

| | |
| --- | --- |
| | 1-1 Public Opinion and Government |

1
(6)

| | |
| --- | --- |
| | 1-2 Public Opinion Defined |

7
(1)

| | |
| --- | --- |
| | 1-3 The Evolution of the Public Opinion Poll |

8
(5)

| | |
| --- | --- |
| | 1-4 The Modern Public Opinion Poll and Its Political Consequences |

13
(2)

| | |
| --- | --- |
| | 1-5 Sources of Information on Public Opinion |

15
(3)

| | |
| --- | --- |
| | 1-6 Linkage Models Between Public Opinion and Public Policies |

18
(3)
21
(3)
CHAPTER 2 Polling: The Scientific Assessment of Public Opinion
24
(34)
24
(3)
27
(11)
38
(5)

| | |
| --- | --- |
| | 2-4 The Misuse of Surveys |

43
(3)

| | |
| --- | --- |
| | 2-5 Polls and Predicting Elections |

46
(8)
54
(4)
CHAPTER 3 Microlevel Opinion: The Psychology of Opinion-Holding
58
(34)

| | |
| --- | --- |
| | 3-1 Political Attention and Opinion-Holding |

60
(12)

| | |
| --- | --- |
| | 3-2 Liberal-Conservative Ideology and the Organization of Opinions |

72
(11)

| | |
| --- | --- |
| | 3-3 Party Identification and the Organization of Political Opinions |

83
(9)
CHAPTER 4 Macrolevel Opinion: The Flow of Political Sentiment
92
(35)

| | |
| --- | --- |
| | 4-1 The Micro Foundations of Macro Opinion |

93
(2)

| | |
| --- | --- |
| | 4-2 Trends in Policy Opinions |

95
(19)

| | |
| --- | --- |
| | 4-3 General Ideological Movement |

114
(3)

| | |
| --- | --- |
| | 4-4 General Partisan Movement |

117
(2)

| | |
| --- | --- |
| | 4-5 Presidential Approval |

119
(6)

| | |
| --- | --- |
| | 4-6 Conclusion: What Moves Public Opinion? |

125
(2)
CHAPTER 5 Political Socialization and Political Learning
127
(35)

| | |
| --- | --- |
| | 5-1 The Preadult Years: Socialization to Citizenship |

127
(7)

| | |
| --- | --- |
| | 5-2 The Agents of Preadult Socialization |

134
(15)

| | |
| --- | --- |
| | 5-3 Socialization During Adulthood |

149
(7)

| | |
| --- | --- |
| | 5-4 The Persistence of Political Orientations |

156
(2)
158
(4)
CHAPTER 6 Public Opinion and Democratic Stability
162
(29)

| | |
| --- | --- |
| | 6-1 Support for Democratic Values |

163
(11)
174
(2)

| | |
| --- | --- |
| | 6-3 Political Support: Trust and Efficacy |

176
(7)

| | |
| --- | --- |
| | 6-4 Personality and Public Opinion |

183
(5)
188
(3)
CHAPTER 7 Group Differences in Political Opinions
191
(37)

| | |
| --- | --- |
| | 7-1 Socioeconomic Class and Political Opinions |

191
(9)

| | |
| --- | --- |
| | 7-2 Race and Political Opinions |

200
(6)

| | |
| --- | --- |
| | 7-3 Age and Political Opinions |

206
(3)

| | |
| --- | --- |
| | 7-4 Religion and Political Opinions |

209
(7)

| | |
| --- | --- |
| | 7-5 Geography and Political Opinions |

216
(5)

| | |
| --- | --- |
| | 7-6 Gender and Political Opinions |

221
(4)
225
(3)
CHAPTER 8 The News Media and Political Opinions
228
(37)

| | |
| --- | --- |
| | 8-1 The Evolution of the American Media |

228
(8)

| | |
| --- | --- |
| | 8-2 Bias and Negativity in the News |

236
(8)

| | |
| --- | --- |
| | 8-3 Models of Media Effects |

244
(7)

| | |
| --- | --- |
| | 8-4 Media Content and Political Opinions |

251
(4)

| | |
| --- | --- |
| | 8-5 The News Source and Comprehension |

255
(2)

| | |
| --- | --- |
| | 8-6 An Informed Electorate? Television News and Campaign Ads |

257
(4)
261
(4)
CHAPTER 9 Elections as Instruments of Popular Control
265
(31)

| | |
| --- | --- |
| | 9-1 Political Campaigns and the Voter |

266
(6)

| | |
| --- | --- |
| | 9-2 Policy Issues and Voters |

272
(12)

| | |
| --- | --- |
| | 9-3 Explaining Election Outcomes |

284
(9)
293
(3)
CHAPTER 10 The Public and Its Elected Leaders
296
(29)

| | |
| --- | --- |
| | 10-1 Opinion Sharing Between Policymakers and the Public |

296
(4)

| | |
| --- | --- |
| | 10-2 Political Parties and Representation |

300
(9)

| | |
| --- | --- |
| | 10-3 Leadership Responsiveness to Public Opinion |

309
(6)

| | |
| --- | --- |
| | 10-4 Do Elected Officials Need to Follow Public Opinion? |

315
(4)

| | |
| --- | --- |
| | 10-5 Interest Groups and Democratic Representation |

319
(3)
322
(3)
CHAPTER 11 Public Opinion and the Performance of Democracy
325
(14)

| | |
| --- | --- |
| | 11-1 Assessing the Impact of Public Opinion on Policy |

325
(8)

| | |
| --- | --- |
| | 11-2 Interpreting the Public's Role in Democracy |

333
(2)

| | |
| --- | --- |
| | 11-3 The Expansion of Political Participation |

335
(4)
APPENDIX The National Election Study and the General Social Survey Questions
339
(6)

| | |
| --- | --- |
| | A-1 Questions from the National Election Studies |

339

| | |
| --- | --- |
| | A-2 Questions from the General Social Survey |

334
(11)
References
345
(34)
Index
379