Note: Supplemental materials are not guaranteed with Rental or Used book purchases.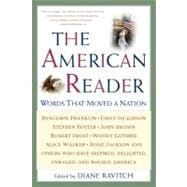 The American Reader: Words That Moved a Nation
ISBN13:
9780062737335
by
Ravitch, Diane
HarperCollins Publications
Questions About This Book?
What version or edition is this?
This is the 2nd edition with a publication date of 10/21/2009.
What is included with this book?
The New copy of this book will include any supplemental materials advertised. Please check the title of the book to determine if it should include any CDs, lab manuals, study guides, etc.
Summary
This revised historical anthology of Americans speaking their minds contains more than 200 poems, speeches, songs, letters, and other expressions arranged in chronological order. From Woody Guthrie to Thomas Jefferson, the nation's most notable spokespersons pay tribute to the nation's character and values.
Table of Contents
Introduction
xvii
COLONIAL DAYS AND THE REVOLUTION
3
(2)
5
(2)
7
(5)
12
(2)

| | |
| --- | --- |
| | Defense of Freedom of the Press |

14
(5)

| | |
| --- | --- |
| | A Demand to Limit Search and Seizure |

19
(3)
22
(2)
24
(4)
28
(2)
30
(1)

| | |
| --- | --- |
| | The Slaves' Appeal to the Royal Governor of Massachusetts |

31
(2)

| | |
| --- | --- |
| | Speech to the Second Virginia Convention |

33
(4)

| | |
| --- | --- |
| | The Declaration of Independence |

37
(5)

| | |
| --- | --- |
| | A Bill for Establishing Religious Freedom in Virginia |

42
(3)
45
(5)
50
(4)
54
(1)
55
(3)

| | |
| --- | --- |
| | Letters from an American Farmer |

58
(5)

| | |
| --- | --- |
| | J. Hector St. John De Crevecoeur |

63
(8)
THE NEW NATION
71
(6)
77
(2)
79
(4)
83
(2)
85
(2)
87
(1)

| | |
| --- | --- |
| | A Visit from St. Nicholas |

88
(2)

| | |
| --- | --- |
| | The Meaning of patriotism in America |

90
(3)
93
(3)
96
(2)

| | |
| --- | --- |
| | The Height of the Ridiculous |

98
(1)
99
(1)
100
(5)
ANTEBELLUM AMERICA: REFORM AND EXPANSION
105
(1)
106
(5)
111
(1)

| | |
| --- | --- |
| | Columbia, the Gem of the Ocean |

112
(2)
114
(4)
118
(2)

| | |
| --- | --- |
| | Henry Wadsworth Longfellow |

120
(1)

| | |
| --- | --- |
| | Henry Wadsworth Longfellow |

121
(4)

| | |
| --- | --- |
| | Henry Wadsworth Longfellow |

125
(9)
134
(6)
140
(3)
143
(5)

| | |
| --- | --- |
| | The Case for Public Schools |

148
(5)

| | |
| --- | --- |
| | Seneca Falls Declaration of Sentiments and Resolutions |

153
(6)

| | |
| --- | --- |
| | Address to the Ohio Women's Rights Convention |

159
(2)
161
(1)
162
(1)

| | |
| --- | --- |
| | Address to the Legislature of New York on Women's Rights |

163
(6)
169
(2)
171
(4)
PRELUDE TO War
175
(4)

| | |
| --- | --- |
| | Prospectus for The Liberator |

179
(2)
181
(3)

| | |
| --- | --- |
| | Predjudice Against the Colored Man |

184
(4)

| | |
| --- | --- |
| | Bearing Witness Against Slavery |

188
(4)

| | |
| --- | --- |
| | An Address to the Slaves of the United States of America |

192
(6)
198
(4)

| | |
| --- | --- |
| | Independence Day Speech at Rochester |

202
(6)
208
(8)

| | |
| --- | --- |
| | The Lincoln-Douglas Debates |

216
(8)

| | |
| --- | --- |
| | Last Statement to the Court |

224
(3)
227
(11)
238
(5)
THE CIVIL WAR
243
(1)
244
(6)
250
(2)
252
(2)
254
(2)
256
(1)

| | |
| --- | --- |
| | Battle Hymn of the Republic |

257
(2)
259
(2)
261
(2)
263
(2)
265
(1)
266
(1)

| | |
| --- | --- |
| | Speech to the American Anti-Slavery Society |

267
(8)
AFTER THE CIVIL WAR
275
(2)
277
(8)
285
(2)
287
(1)

| | |
| --- | --- |
| | I've Been Working on the Railroad |

288
(2)
290
(5)

| | |
| --- | --- |
| | Speech at the National Convention of Colored Men |

295
(6)
301
(1)
302
(2)
304
(2)

| | |
| --- | --- |
| | When the Frost Is on the Punkin |

306
(2)
308
(2)

| | |
| --- | --- |
| | What Does the Working Man Want? |

310
(5)
315
(1)

| | |
| --- | --- |
| | The Mountains of California |

316
(4)
320
(1)
321
(1)
322
(1)

| | |
| --- | --- |
| | The Atlanta Exposition Address |

323
(6)

| | |
| --- | --- |
| | Reply to Booker T. Washington |

329
(1)

| | |
| --- | --- |
| | Dissent from Plessy v. Ferguson |

330
(3)

| | |
| --- | --- |
| | In Praise of the Strenuous Life |

333
(4)
337
(5)
342
(5)
THE PROGRESSIVE AGE
347
(7)
354
(3)
357
(2)

| | |
| --- | --- |
| | Lift Ev'ry Voice and Sing |

359
(1)

| | |
| --- | --- |
| | Should Higher Education for Women Differ? |

360
(5)
365
(4)
369
(4)
373
(5)

| | |
| --- | --- |
| | Advice to a Black Schoolgirl |

378
(1)

| | |
| --- | --- |
| | The Niagara Movement Declaration of Principles |

379
(5)

| | |
| --- | --- |
| | Take Me Out to the Ball Game |

384
(1)
385
(2)
387
(1)
388
(6)

| | |
| --- | --- |
| | Protest to President Wilson |

394
(4)
398
(3)
401
(1)
402
(2)
404
(1)
405
(1)
405
(1)
406
(2)
408
(5)
WORLD WAR I AND AFTER

| | |
| --- | --- |
| | Abraham Lincoln Walks at Midnight |

413
(1)
414
(1)

| | |
| --- | --- |
| | I Didn't Raise My Boy to Be a Soldier |

415
(1)

| | |
| --- | --- |
| | I Have a Rendezvous with Death |

416
(1)
417
(5)

| | |
| --- | --- |
| | Against Entry into the War |

422
(4)
426
(1)

| | |
| --- | --- |
| | Oh, How I Hate to Get Up in the Morning |

427
(2)
429
(1)
430
(1)
431
(1)
432
(3)
435
(4)
439
(1)
440
(1)

| | |
| --- | --- |
| | A Korean Discovers New York |

441
(3)
444
(1)
445
(1)
446
(1)

| | |
| --- | --- |
| | O Black and Unknown Bards |

447
(2)

| | |
| --- | --- |
| | The Negro Speaks of Rivers |

449
(1)
450
(1)

| | |
| --- | --- |
| | The America System of Self-Government |

451
(8)
THE DEPRESSION AND WORLD WAR II

| | |
| --- | --- |
| | Happy Days Are Here Again |

459
(1)
460
(4)

| | |
| --- | --- |
| | Franklin Delano Roosevelt |

464
(3)

| | |
| --- | --- |
| | Franklin Delano Roosevelt |

| | |
| --- | --- |
| | Brother, Can You Spare a Dime? |

467
(2)
469
(1)

| | |
| --- | --- |
| | So Long, It's Been Good to Know Yuh (Dusty Old Dust) |

470
(1)
471
(1)

| | |
| --- | --- |
| | I Dreamed I Saw Joe Hill Last Night |

472
(2)
474
(2)

| | |
| --- | --- |
| | Franklin Delano Roosevelt |

476
(1)

| | |
| --- | --- |
| | This Is the Army, Mr. Jones |

477
(1)
478
(1)
479
(6)
485
(2)

| | |
| --- | --- |
| | John Gillespie Magee, Jr. |

487
(1)
488
(4)

| | |
| --- | --- |
| | Franklin Delano Roosevelt |

492
(2)

| | |
| --- | --- |
| | Franklin Delano Roosevelt |

494
(2)
496
(1)

| | |
| --- | --- |
| | Praise the Lord and Pass the Ammunition |

497
(1)
498
(2)
500
(7)
AFTER WORLD WAR II

| | |
| --- | --- |
| | The Baruch Plan for Control of Atomic Energy |

507
(3)
510
(3)
513
(3)
516
(6)

| | |
| --- | --- |
| | Declaration of Conscience |

522
(5)
527
(2)
529
(1)
530
(1)
531
(1)

| | |
| --- | --- |
| | Brown v. Board of Education |

531
(4)
535
(4)

| | |
| --- | --- |
| | It Could Be a Wonderful World |

539
(1)
540
(9)
THE `60s
549
(4)

| | |
| --- | --- |
| | Where Have All the Flowers Gone? |

553
(2)

| | |
| --- | --- |
| | Address to the Broadcasting Industry |

555
(5)
560
(4)

| | |
| --- | --- |
| | Last Night I Had the Strangest Dream |

564
(1)
565
(3)

| | |
| --- | --- |
| | Letter from Birmingham City Jail |

568
(8)

| | |
| --- | --- |
| | Speech at the Berlin Wall |

576
(2)
578
(5)
583
(1)
584
(1)
585
(1)
586
(1)
587
(2)
589
(3)
592
(1)

| | |
| --- | --- |
| | Howard University Address |

593
(4)

| | |
| --- | --- |
| | On the Death of Martin Luther King, Jr. |

597
(3)
600
(3)
AMERICAN IDEAS
603
(2)

| | |
| --- | --- |
| | Speech at Moscow State University |

605
(5)
610
(3)
Bibliography
613
(6)
Author Index
619
(6)
Copyright Acknowledgments
625