Note: Supplemental materials are not guaranteed with Rental or Used book purchases.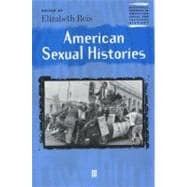 Summary
American Sexual Histories is a first-rate collection of fourteen articles investigating human sexuality in America from the colonial period to the modern day. Contains fourteen essays by leading scholars investigating American sexual history from colonial times to the modern day. Includes general and sectional introductions, primary documents, questions for students, and further reading lists Covers the most crucial topics explored in sexual history including reproductive issues, sexual practices, relationships, gender roles and sexual identity.
Author Biography
Elizabeth Reis teaches history and women's studies at the University of Oregon. She is the author of Damned Women: Sinners and Witches in Puritan New England (1997) and the editor of Spellbound: Women and Witchcraft in America (1998).
Table of Contents
Series Editor's Preface
x
Acknowledgments
xii
About the Contributors
xiii
Introduction
1
(12)
PART I EARLY AMERICA
13
(32)

| | |
| --- | --- |
| | ``Things Fearful to Name'': Bestiality in Early America |

14
(21)

| | |
| --- | --- |
| | Of Plymouth Plantation: the Pilgrims in America |

35
(2)

| | |
| --- | --- |
| | Records of the Colony and Plantation of New Haven, from 1638 to 1649 |

37
(8)
44
(1)

| | |
| --- | --- |
| | Eroticizing the Middle Ground |

45
(27)

| | |
| --- | --- |
| | Eroticizing the Middle Ground: Anglo-Indian Relations along the Eighteenth-century Frontier |

46
(18)

| | |
| --- | --- |
| | John Rolfe to Sir Thomas Dale, April 1614 |

64
(4)
68
(2)

| | |
| --- | --- |
| | Quebec to Carolina in 1785-1786 |

70
(2)
71
(1)
72
(21)

| | |
| --- | --- |
| | ``Girling of It'' in Eighteenth-century New Hampshire |

73
(12)

| | |
| --- | --- |
| | Bundling: Its Origins, Progress, and Decline in America |

85
(2)
87
(2)

| | |
| --- | --- |
| | Female Policy Detected, or the Arts of a Designing Woman Laid Open |

89
(4)
90
(3)
PART II NINETEENTH CENTURY

| | |
| --- | --- |
| | The Psychology of Free Love |

93
(23)

| | |
| --- | --- |
| | The Psychology of Free Love: Sexuality in the Oneida Community |

94
(15)

| | |
| --- | --- |
| | History of American Socialisms |

109
(1)
110
(6)
114
(2)
116
(29)

| | |
| --- | --- |
| | Ministerial Misdeeds: the Onderdonk Trial and Sexual Harassment in the 1840s |

117
(17)

| | |
| --- | --- |
| | Trial of the Right Rev. Benjamin T. Onderdonk, D.D., Bishop of New York |

134
(10)

| | |
| --- | --- |
| | De Darkie's Comic Al-Me-Nig |

144
(1)
144
(1)

| | |
| --- | --- |
| | White Women, Black Men, and Adultery in the Antebellum South |

145
(26)

| | |
| --- | --- |
| | Adultery: Dorothea Bourne and Edmond |

146
(19)

| | |
| --- | --- |
| | Lewis Bourne Divorce Petition |

165
(6)
168
(3)
PART III EARLY TWENTIETH CENTURY
171
(27)

| | |
| --- | --- |
| | Hysteria: the Revolt of the ``Good Girl'' |

172
(18)
190
(8)
196
(2)

| | |
| --- | --- |
| | Christian Brotherhood or Sexual Perversion? |

198
(29)

| | |
| --- | --- |
| | Christian Brotherhood or Sexual Perversion? Homosexual Identites and the Construction of Sexual Boundaries in the World War I Era |

199
(18)

| | |
| --- | --- |
| | Alleged Immoral Conditions and Practices at the Naval Training Station, Newport, Rhode Island |

217
(4)

| | |
| --- | --- |
| | The Intersexes: a History of Similisexualism |

221
(3)

| | |
| --- | --- |
| | Edward Irenaeus Prime Stevenson |

| | |
| --- | --- |
| | Sexual Perversion, Satyriasis, and Nymphomania |

224
(3)
226
(1)
227
(23)

| | |
| --- | --- |
| | ``About to Meet Her Maker'': Women, Doctors, Dying Declarations, and the State's Investigation of Abortion, Chicago, 1867-1940 |

228
(18)

| | |
| --- | --- |
| | A Maryland Abortionist Gets No Pardon |

246
(1)

| | |
| --- | --- |
| | Dying Declarations Obtained in Abortion Case as Condition to Rendering Aid |

247
(1)
248
(2)
249
(1)
250
(33)

| | |
| --- | --- |
| | Contraceptive Consumers: Gender and the Political Economy of Birth Control in the 1930s |

251
(18)
269
(2)

| | |
| --- | --- |
| | Facts and Frauds in Women's Hygiene |

271
(2)

| | |
| --- | --- |
| | What Do the American Women Think about Birth Control? |

273
(5)
278
(1)
279
(4)
PART IV MODERN AMERICA

| | |
| --- | --- |
| | Mixing Bodies and Cultures |

283
(27)

| | |
| --- | --- |
| | Mixing Bodies and Cultures: the Meaning of America's Fascination with Sex between ``Orientals'' and ``Whites'' |

284
(15)

| | |
| --- | --- |
| | A Stanford Girl Weds a Chinese |

299
(2)
301
(3)

| | |
| --- | --- |
| | Why Japanese and Americans Should Not Intermarry |

304
(2)

| | |
| --- | --- |
| | Intermarriage: Standpoint and Tentative Questionnaire - Confidential |

306
(3)
309
(1)
310
(32)

| | |
| --- | --- |
| | The Sexualized Woman: the Lesbian, the Prostitute, and the Containment of Female Sexuality in Postwar America |

311
(16)

| | |
| --- | --- |
| | Variations in Sexual Behavior: a Psychodynamic Study of Deviations in Various Expressions of Sexual Behavior |

327
(3)
330
(4)
334
(5)
339
(3)
341
(1)

| | |
| --- | --- |
| | The Population Bomb and the Sexual Revolution |

342
(34)

| | |
| --- | --- |
| | The Population Bomb and the Sexual Revolution: Toward Choice |

343
(22)

| | |
| --- | --- |
| | The Slavery of Sex Freedom: America's Moral Crisis |

365
(3)

| | |
| --- | --- |
| | Are We Still Stereotyping the Unmarried Mother? |

368
(3)

| | |
| --- | --- |
| | Population Crisis: Hearings before the Subcommittee on Foreign Aid Expenditures of the Committee on Government Operations |

371
(5)
374
(2)

| | |
| --- | --- |
| | Sex Change and the Popular Press |

376
(34)

| | |
| --- | --- |
| | Sex Change and the Popular Press: Historical Notes on Transsexuality in the United States, 1930-1955 |

377
(21)
398
(3)

| | |
| --- | --- |
| | Psychopathia Transexualis |

401
(5)

| | |
| --- | --- |
| | New Sex Switches: Behind the Sensational Headlines Loom Unpleasant Medical Facts |

406
(2)
408
(2)
409
(1)
Index
410