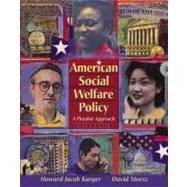 Questions About This Book?
What version or edition is this?
This is the 5th edition with a publication date of 1/1/2006.
What is included with this book?
The Used copy of this book is not guaranteed to include any supplemental materials. Typically, only the book itself is included.
Summary
Now featuring a full-color design, the best-selling text for policy analysis provides students with a comprehensive overview of social welfare policy in the United States while examining cutting-edge issues.
Table of Contents
Preface
xix

| | |
| --- | --- |
| | PART ONE AMERICAN SOCIAL WELFARE POLICY |

| | |
| --- | --- |
| | Social Policy and the American Welfare State |

1
(24)

| | |
| --- | --- |
| | Definitions of Social Welfare Policy |

2
(1)

| | |
| --- | --- |
| | Social Problems and Social Welfare Policy |

3
(1)

| | |
| --- | --- |
| | Social Work and Social Policy |

4
(1)

| | |
| --- | --- |
| | Values, Ideology, and Social Welfare Policy |

5
(1)

| | |
| --- | --- |
| | The Political Economy of American Social Welfare |

6
(1)

| | |
| --- | --- |
| | The U.S. Economic Continuum |

6
(5)
7
(1)

| | |
| --- | --- |
| | Conservative or Free Market Economics |

8
(2)
10
(1)

| | |
| --- | --- |
| | The U.S. Political Continuum |

11
(7)

| | |
| --- | --- |
| | Liberalism and Left-of-Center Movements |

11
(4)

| | |
| --- | --- |
| | Classical Conservatives and the Far Right |

15
(3)

| | |
| --- | --- |
| | The Welfare Philosophers and the Neoconservative Think Tanks |

18
(7)
19
(3)
22
(1)
22
(3)

| | |
| --- | --- |
| | Social Welfare Policy Research: A Framework for Policy Analysis |

25
(13)

| | |
| --- | --- |
| | A Proposed Model for Policy Analysis |

28
(4)

| | |
| --- | --- |
| | Historical Background of the Policy |

28
(2)

| | |
| --- | --- |
| | Problems That Necessitate the Policy |

30
(1)
30
(1)
30
(2)

| | |
| --- | --- |
| | Researching and Analyzing Social Policies |

32
(6)

| | |
| --- | --- |
| | Social Policy Research and the Internet |

33
(1)

| | |
| --- | --- |
| | Journals and Online Research |

33
(1)
33
(1)

| | |
| --- | --- |
| | Ethical Concerns Related to Online Research Involving Human Subjects |

34
(1)

| | |
| --- | --- |
| | Finding and Accessing Online Information |

34
(1)

| | |
| --- | --- |
| | Citing and Documenting Information Obtained Online |

35
(1)

| | |
| --- | --- |
| | Evaluating Reliable and Legitimate Internet Sources |

35
(1)

| | |
| --- | --- |
| | Electronic Journals: An Increasingly Popular Venue |

35
(1)
35
(1)
36
(1)
36
(1)
37
(1)

| | |
| --- | --- |
| | Religion and Social Welfare Policy |

38
(20)

| | |
| --- | --- |
| | Religious Antecedents of Welfare Statism |

39
(5)
39
(1)

| | |
| --- | --- |
| | Church, State, and Social Welfare in Colonial America |

40
(1)

| | |
| --- | --- |
| | The Second Great Awakening |

40
(1)
41
(1)

| | |
| --- | --- |
| | The Late Nineteenth and Early Twentieth Centuries |

42
(2)

| | |
| --- | --- |
| | The Rise of Social Work As a Profession |

44
(3)

| | |
| --- | --- |
| | Urban Needs during Industrialization |

44
(1)

| | |
| --- | --- |
| | Charity Organization Societies |

45
(1)
45
(1)

| | |
| --- | --- |
| | The Social Casework Agency |

46
(1)
47
(1)

| | |
| --- | --- |
| | Religion and the Welfare State |

47
(11)

| | |
| --- | --- |
| | The Fundamentalist Controversy and Its Aftermath |

47
(1)

| | |
| --- | --- |
| | The Great Depression and New Deal |

47
(1)

| | |
| --- | --- |
| | Patterns of Religious Change |

48
(1)

| | |
| --- | --- |
| | Religion and the New Media |

49
(1)
49
(1)

| | |
| --- | --- |
| | The Reawakening of a Religious Social Conscience and the Great Society |

50
(1)

| | |
| --- | --- |
| | The Continuing Decline of Mainline Influence |

51
(1)
51
(2)
53
(1)
54
(1)
54
(4)

| | |
| --- | --- |
| | Discrimination in American Society |

58
(52)
59
(1)
60
(1)

| | |
| --- | --- |
| | The Minority Middle Class |

61
(3)
64
(4)

| | |
| --- | --- |
| | The Demography of African Americans |

64
(1)

| | |
| --- | --- |
| | African Americans in Poverty |

64
(1)

| | |
| --- | --- |
| | The ``Diswelfare'' of African Americans |

64
(4)
68
(1)

| | |
| --- | --- |
| | The Demography of Hispanic Americans |

68
(1)

| | |
| --- | --- |
| | Hispanic Poverty and Income |

69
(1)

| | |
| --- | --- |
| | Diversity in the Hispanic Population |

69
(1)
69
(2)
71
(2)

| | |
| --- | --- |
| | Immigrants and Immigration |

73
(2)
75
(11)
76
(1)

| | |
| --- | --- |
| | The Feminization of Poverty |

76
(1)

| | |
| --- | --- |
| | Women and Low-Income Work |

77
(1)
78
(2)

| | |
| --- | --- |
| | Income and Job Disparities between Men and Women |

80
(2)

| | |
| --- | --- |
| | Day Care: A Barrier to Female Employment |

82
(1)

| | |
| --- | --- |
| | Other Obstacles Faced by Working Women |

83
(1)

| | |
| --- | --- |
| | Fighting Back: The Equal Rights Amendment and Comparable Worth |

84
(1)

| | |
| --- | --- |
| | Abortion and Women's Rights |

85
(1)

| | |
| --- | --- |
| | Gays and Lesbians: Two Populations at Risk |

86
(6)

| | |
| --- | --- |
| | Violence against Gays and Lesbians |

87
(1)
87
(1)

| | |
| --- | --- |
| | Gays and Lesbians in the Military |

88
(1)

| | |
| --- | --- |
| | Gay and Lesbian Family Life |

89
(2)

| | |
| --- | --- |
| | AIDS and the Gay Community |

91
(1)
92
(2)

| | |
| --- | --- |
| | Elderly Poverty and Social Programs |

92
(1)

| | |
| --- | --- |
| | Health Care and the Elderly |

93
(1)
94
(3)

| | |
| --- | --- |
| | Legal Attempts to Remedy Discrimination |

97
(13)

| | |
| --- | --- |
| | Desegregation and the Civil Rights Movement |

97
(1)
97
(4)
101
(1)
102
(1)
102
(8)
110
(35)

| | |
| --- | --- |
| | Some Theoretical Formulations About Poverty |

111
(2)
111
(1)
112
(1)

| | |
| --- | --- |
| | The Radical School and Poverty |

113
(1)
113
(1)
114
(2)
116
(3)

| | |
| --- | --- |
| | Child Support Enforcement |

117
(1)
118
(1)
118
(1)
119
(1)
119
(6)

| | |
| --- | --- |
| | A Profile of the Working Poor |

120
(1)

| | |
| --- | --- |
| | Why Are There Working Poor? |

120
(1)

| | |
| --- | --- |
| | Underemployment and Unemployment |

121
(1)
122
(1)
123
(1)
123
(2)

| | |
| --- | --- |
| | Strategies Developed to Combat Poverty |

125
(3)
126
(1)

| | |
| --- | --- |
| | Three Approaches to Combat Poverty |

126
(2)
128
(1)
129
(16)

| | |
| --- | --- |
| | The Unbanked and the Functionally Poor |

129
(1)
130
(7)

| | |
| --- | --- |
| | Transportation in the Fringe Economy |

137
(1)
138
(1)
139
(1)
140
(5)

| | |
| --- | --- |
| | PART TWO THE VOLUNTARY AND FOR-PROFIT SOCIAL SECTORS |

| | |
| --- | --- |
| | The Voluntary Sector Today |

145
(23)

| | |
| --- | --- |
| | Structural Interests Within Social Welfare |

146
(5)
147
(1)
147
(1)
148
(1)
149
(1)
149
(2)
151
(2)
153
(1)

| | |
| --- | --- |
| | Contemporary Nonprofit Human Service Organizations |

154
(7)
154
(5)
159
(1)

| | |
| --- | --- |
| | Impropriety within Nonprofits |

160
(1)

| | |
| --- | --- |
| | The Future of the Voluntary Sector |

161
(7)
161
(1)

| | |
| --- | --- |
| | Faith-Based Social Services |

162
(1)
163
(1)
164
(1)
164
(1)
165
(1)
165
(3)

| | |
| --- | --- |
| | Privatization and Human Service Corporations |

168
(37)
170
(6)
172
(1)
172
(1)
173
(1)
174
(1)
175
(1)

| | |
| --- | --- |
| | The Challenge of Privatization |

176
(1)

| | |
| --- | --- |
| | Unions and the Private Sector |

177
(2)
179
(1)

| | |
| --- | --- |
| | History of the Corporate Sector |

180
(3)

| | |
| --- | --- |
| | Corporate Social Responsibility |

183
(3)

| | |
| --- | --- |
| | Corporate Influence on Social Welfare Policy |

186
(3)

| | |
| --- | --- |
| | The American Enterprise Institute (AEI) |

187
(1)
188
(1)

| | |
| --- | --- |
| | The Future of Corporate Involvement in Social Welfare |

189
(1)

| | |
| --- | --- |
| | Human Service Corporations |

190
(2)

| | |
| --- | --- |
| | Consolidation and Growth in Human Service Markets |

192
(13)
192
(1)
193
(1)

| | |
| --- | --- |
| | Health Maintenance Organizations |

194
(1)
195
(1)
196
(1)
196
(1)

| | |
| --- | --- |
| | Conclusion: Implications for Health and Human Service Professionals |

197
(1)
198
(2)
200
(5)

| | |
| --- | --- |
| | PART THREE THE GOVERNMENT SECTOR |

| | |
| --- | --- |
| | The Making of Governmental Policy |

205
(27)

| | |
| --- | --- |
| | Technical Aspects of the Policy Process |

206
(2)

| | |
| --- | --- |
| | A Critical Analysis of the Policy Process |

208
(3)
211
(13)
211
(1)
211
(3)
214
(6)
220
(1)
220
(4)

| | |
| --- | --- |
| | Social Workers and Social Reform |

224
(1)

| | |
| --- | --- |
| | Social Work and Advocacy Organizations |

225
(1)

| | |
| --- | --- |
| | Advocacy Organizations and the New Policy Institutes |

226
(1)
227
(5)
228
(1)
229
(1)
230
(2)

| | |
| --- | --- |
| | Tax Policy and Income Distribution |

232
(19)

| | |
| --- | --- |
| | History of U.S. Tax Policy |

233
(3)

| | |
| --- | --- |
| | Tax Policy and Special Interests |

236
(2)
238
(2)

| | |
| --- | --- |
| | State Tax Policy and The Poor |

240
(1)

| | |
| --- | --- |
| | The Efficiency of Tax Policy In Reducing Poverty |

240
(4)

| | |
| --- | --- |
| | Tax Expenditures as Poverty Policy |

244
(2)
246
(1)
247
(4)
248
(1)
249
(1)
249
(2)

| | |
| --- | --- |
| | Social Insurance Programs |

251
(18)

| | |
| --- | --- |
| | Definition of Social Insurance |

252
(1)

| | |
| --- | --- |
| | The Background of Social Insurance |

253
(1)

| | |
| --- | --- |
| | The Financial Organization of Social Insurance |

254
(1)

| | |
| --- | --- |
| | Key Social Insurance Programs |

255
(1)
255
(4)
256
(2)
258
(1)

| | |
| --- | --- |
| | The Social Security Dilemma |

259
(10)

| | |
| --- | --- |
| | Arguments against the Current Social Security System |

260
(1)

| | |
| --- | --- |
| | Arguments for the Current Social Security System |

260
(1)

| | |
| --- | --- |
| | Social Security in Trouble |

261
(1)

| | |
| --- | --- |
| | The Long-Term Prospects for Social Security |

262
(1)

| | |
| --- | --- |
| | Proposed Solutions for Social Security |

263
(1)

| | |
| --- | --- |
| | Should We Privatize Social Security? |

264
(2)
266
(1)
266
(1)
267
(2)

| | |
| --- | --- |
| | Public Assistance Program |

269
(32)

| | |
| --- | --- |
| | Assumptions and Myths About Public Assistance |

271
(3)

| | |
| --- | --- |
| | Aid to Families with Dependent Children |

274
(8)

| | |
| --- | --- |
| | The Evolution of the AFDC Program |

274
(2)

| | |
| --- | --- |
| | The Personal Responsibility and Work Opportunity Reconciliation Act of 1996 |

276
(3)

| | |
| --- | --- |
| | State Welfare Reform Waivers |

279
(1)
279
(2)
281
(1)

| | |
| --- | --- |
| | Supplemental Security Income |

282
(1)
283
(2)

| | |
| --- | --- |
| | Trends and Issues In Public Assistance |

285
(16)

| | |
| --- | --- |
| | Transforming Public Assistance Policy into Labor Policy |

285
(2)
287
(2)
289
(1)
289
(2)
291
(2)

| | |
| --- | --- |
| | Conclusion: The Evolution of Public Assistance |

293
(2)
295
(1)
296
(5)

| | |
| --- | --- |
| | The American Health Care System |

301
(36)
302
(1)

| | |
| --- | --- |
| | The Organization of Medical Services |

303
(1)

| | |
| --- | --- |
| | Major Public Health Programs: Medicare, Medicaid, and S-Chip |

304
(8)
304
(4)
308
(3)

| | |
| --- | --- |
| | The State Children's Health Insurance Program (S-CHIP) |

311
(1)
312
(1)
313
(3)

| | |
| --- | --- |
| | Overview of U.S. Health Care Expenditures |

314
(1)

| | |
| --- | --- |
| | U.S. Health Care in International Perspective |

315
(1)

| | |
| --- | --- |
| | Explaining the High Cost of U.S. Health Care |

316
(2)
317
(1)
317
(1)

| | |
| --- | --- |
| | The Pharmaceutical Industry |

318
(1)

| | |
| --- | --- |
| | Cutting Health Care Costs |

318
(3)
319
(2)
321
(1)
321
(2)

| | |
| --- | --- |
| | Reforming U.S. Health Care |

323
(4)
324
(1)

| | |
| --- | --- |
| | National Health Insurance |

325
(1)
326
(1)

| | |
| --- | --- |
| | Comparative Analysis: Health Care In Canada and Britain |

327
(10)

| | |
| --- | --- |
| | The Canadian Health Care System |

327
(2)

| | |
| --- | --- |
| | Britain's National Health Service |

329
(2)
331
(1)
332
(1)
333
(4)

| | |
| --- | --- |
| | Mental Health and Substance Abuse Policy |

337
(31)
339
(1)

| | |
| --- | --- |
| | The Community Mental Health Centers Acts |

340
(1)
341
(1)
342
(3)
345
(1)
346
(1)

| | |
| --- | --- |
| | Mental Health Service Delivery |

347
(2)

| | |
| --- | --- |
| | Parity for Mental Health Care |

349
(1)
350
(5)

| | |
| --- | --- |
| | History of Substance Abuse |

351
(1)
352
(1)
353
(2)

| | |
| --- | --- |
| | Private Practice and Mental Health Services |

355
(13)

| | |
| --- | --- |
| | The Business of Private Practice |

359
(2)

| | |
| --- | --- |
| | The Future of the Private Sector |

361
(1)
362
(1)
363
(1)
363
(5)
368
(21)

| | |
| --- | --- |
| | History of U.S. Criminal Justice |

369
(1)

| | |
| --- | --- |
| | The Criminal Justice System |

370
(3)
373
(2)
375
(4)

| | |
| --- | --- |
| | The Underclass and ``Moral Poverty'' |

379
(2)
381
(1)
382
(2)

| | |
| --- | --- |
| | The Future of Criminal Justice |

384
(5)
385
(1)
385
(1)
386
(3)
389
(27)

| | |
| --- | --- |
| | History of U.S. Child Welfare Policy |

391
(2)

| | |
| --- | --- |
| | Protective Services for Children |

393
(8)
401
(4)
405
(1)
406
(1)

| | |
| --- | --- |
| | Emerging Issues in Child Welfare |

407
(9)
407
(1)

| | |
| --- | --- |
| | Maternal and Child Health |

408
(1)
409
(2)

| | |
| --- | --- |
| | Conclusion: The Future of Child Welfare |

411
(1)
412
(1)
412
(4)
416
(26)

| | |
| --- | --- |
| | Overview of Housing Legislation |

417
(2)

| | |
| --- | --- |
| | The Federal Government and Low-Income Housing Programs |

419
(4)
423
(8)
424
(1)

| | |
| --- | --- |
| | Problems in Home Ownership |

425
(2)

| | |
| --- | --- |
| | Problems in Finding Affordable Rental Housing |

427
(3)

| | |
| --- | --- |
| | Overcrowded and Deficient Housing |

430
(1)

| | |
| --- | --- |
| | Other Factors Affecting Housing |

430
(1)
431
(6)

| | |
| --- | --- |
| | Characteristics of the Homeless Population |

432
(2)
434
(1)

| | |
| --- | --- |
| | Attempts to Address Homelessness |

435
(2)
437
(5)
438
(1)
438
(1)
439
(3)

| | |
| --- | --- |
| | The Politics of Food Policy and Rural Life |

442
(29)

| | |
| --- | --- |
| | Hunger in the United States |

443
(2)

| | |
| --- | --- |
| | Governmental Food Programs |

445
(10)

| | |
| --- | --- |
| | A Short History of Food Stamps and a Description of the Program |

445
(2)

| | |
| --- | --- |
| | Food Stamps: Who Is in the Program and What Does It Cost? |

447
(1)

| | |
| --- | --- |
| | Special Supplemental Nutrition Program for Women, Infants, and Children (WIC) |

448
(1)
449
(2)

| | |
| --- | --- |
| | Have the Food Programs Worked? |

451
(4)

| | |
| --- | --- |
| | Farming In the United States |

455
(3)

| | |
| --- | --- |
| | Governmental Farm Policies |

456
(1)
457
(1)
458
(3)

| | |
| --- | --- |
| | Issues in American Farming |

461
(10)

| | |
| --- | --- |
| | The Corporatization of American Farming |

461
(2)
463
(1)
463
(1)
463
(1)
463
(1)
464
(1)
464
(1)
465
(1)
466
(1)
466
(1)
467
(4)

| | |
| --- | --- |
| | PART FOUR THE AMERICAN WELFARE STATE IN PERSPECTIVE |

| | |
| --- | --- |
| | The American Welfare State in International Perspective |

471
(23)

| | |
| --- | --- |
| | Typologies of Welfare States |

472
(1)
473
(2)

| | |
| --- | --- |
| | The Welfare State in Transition |

475
(1)

| | |
| --- | --- |
| | Ranking National Development |

476
(8)

| | |
| --- | --- |
| | The Weighted Index of Social Progress |

477
(1)

| | |
| --- | --- |
| | The Human Development Index |

477
(7)
484
(2)
486
(1)
486
(2)
488
(6)
490
(1)
491
(1)
491
(3)
Glossary
494
(6)
Index
500