Note: Supplemental materials are not guaranteed with Rental or Used book purchases.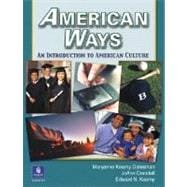 Summary
American Ways: An Introduction to American Culture, Third Edition, by Maryanne Kearny Datesman, JoAnn Crandall, and Edward N. Kearny, focuses on the traditional values that have attracted people to the United States for well over 200 years and traces the effects of these values on American life.
Chapter themes include diversity, the family, education, government and politics, religion, business, and recreation. Cross-cultural activities --- from discussion topics to writing projects --- encourage high-intermediate to advanced students to compare their own values with those discussed in the readings.
New to the Third Edition:
Expanded pre-reading exercises preview the chapter content and Academic Word List vocabulary.
Improve Your Reading Skills helps students become independent readers.
Build Your Vocabulary features collocations and exercises that expand on the Academic Word List.
New Internet activities offer opportunities for further research and study.
Author Biography
Maryanne Kearny Datesman is the author of several ESL reading texts. She has taught ESL and administered programs at Western Kentucky University and American University, and she has taught also at Georgetown University. In Kentucky, she established and administered a private language school and directed programs for refugees. She was co-founder of Kentucky TESOL and is a former president of WATESOL.
JoAnn (Jodi) Crandall is a professor of education at the University of Maryland Baltimore County. At UMBC she had co-directed the master's program in ESOL/Bilingual Education and directed the interdisciplinary Ph.D. program in Language, Literacy and Culture. She is a former president of TESOL and AAAL (American Association for Applied Linguistics) and a frequent speaker at national and international conferences.
Edward N. Kearny is professor emeritus of government at Western Kentucky University. He earned his Ph.D. in government from American University in 1968. He also holds a bachelor's degree in economics and a master's degree in psychology, and he has written a number of books and articles on American politics.
Table of Contents
To the Teacher
iv
About the Third Edition
v
The Book at a Glance
vi

| | |
| --- | --- |
| | Introduction: Understanding the Culture of the United States |

1
(24)

| | |
| --- | --- |
| | Traditional American Values and Beliefs |

25
(24)

| | |
| --- | --- |
| | The American Religious Heritage |

49
(22)
71
(20)

| | |
| --- | --- |
| | The Heritage of Abundance |

91
(24)

| | |
| --- | --- |
| | The World of American Business |

115
(24)

| | |
| --- | --- |
| | Government and Politics in the United States |

139
(24)

| | |
| --- | --- |
| | Ethnic and Racial Diversity in the United States |

163
(24)

| | |
| --- | --- |
| | Education in the United States |

187
(26)

| | |
| --- | --- |
| | How Americans Spend Their Leisure Time |

213
(26)
239
(24)

| | |
| --- | --- |
| | American Values at the Crossroads |

263
(22)
Academic Word List
285
(3)
Bibliography
288
(8)
Credits
296