Note: Supplemental materials are not guaranteed with Rental or Used book purchases.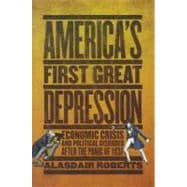 America's First Great Depression : Economic Crisis and Political Disorder after the Panic of 1837
ISBN13:
9780801450334
by
Roberts, Alasdair
Summary
For a while, it seemed impossible to lose money on real estate. But then the bubble burst. The financial sector was paralyzed and the economy contracted. State and federal governments struggled to pay their domestic and foreign creditors. Washington was incapable of decisive action. The country seethed with political and social unrest. In The First Great Depression, Alasdair Roberts describes how the United States dealt with the economic and political crisis that followed the Panic of 1837.As Roberts shows, the two decades that preceded the Panic had marked a democratic surge in the United States. However, the nation's commitment to democracy was tested severely during this crisis. Foreign lenders questioned whether American politicians could make the unpopular decisions needed on spending and taxing. State and local officials struggled to put down riots and rebellion. A few wondered whether this was the end of America's democratic experiment.Roberts explains how the country's woes were complicated by its dependence on foreign trade and investment, particularly with Britain. Aware of the contemporary relevance of this story, Roberts examines how the country responded to the political and cultural aftershocks of 1837, transforming its political institutions to strike a new balance between liberty and social order, and uneasily coming to terms with its place in the global economy.
Table of Contents
Introduction: Back to the Future
p. 1
Boom and Bust
p. 13
Hard times
p. 14
Gauging the losses
p. 22
The bubble
p. 25
The collapse
p. 38
The States' Crisis
p. 49
Defaulting on state debts
p. 50
Disgrace in Europe
p. 65
Shackling the states
p. 73
The Federal Government's Crisis
p. 85
Gridlock in Washington
p. 86
The fraying national compact
p. 98
Losing the arms race
p. 109
Reconciling with the superpower
p. 121
Law and Order
p. 137
Rebellion in Rhode Island
p. 138
The anti rent war
p. 149
Cannon fire in Philadelphia
p. 160
Building civic armies
p. 170
The End of the Crisis
p. 175
A proxy war in Mexico
p. 176
Redemption
p. 189
Conclusion: Freedom, Order, and Economic Crisis
p. 203
Note on Method and Acknowledgments
p. 215
Notes
p. 217
Index
p. 249
Table of Contents provided by Ingram. All Rights Reserved.