Note: Supplemental materials are not guaranteed with Rental or Used book purchases.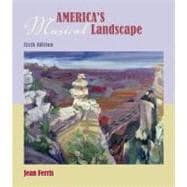 America's Musical Landscape
ISBN13:
9780073401409
by
Ferris, Jean
McGraw-Hill Humanities/Social Sciences/Languages
Questions About This Book?
What version or edition is this?
This is the 6th edition with a publication date of 9/18/2009.
What is included with this book?
The Used copy of this book is not guaranteed to include any supplemental materials. Typically, only the book itself is included.
Related Products
Summary
America's Musical Landscapeaddresses the broad range of music in the United States from early periods to today. This comprehensive yet accessible text offers an elegant and readable introduction to the fundamentals of music, assuming no prior music experience for the student. Frequent connections to other arts, particularly the visual arts, add to the book's appeal and enhance understanding of core musical concepts. The sixth edition emphasizes vernacular over classical music and recent examples over early music, while offering generous coverage of the complete American musical landscape.
Table of Contents
Listening ExamplesOnline Listening ExamplesPrefaceIntroductionPrelude: Basic Properties of Musical Sound The Elements of Music Rhythm Meter Melody Harmony Timbre Form Music Notation Elements of an American Sound How to Improve Your Listening Skills Listening Example 1. trad.: "John Henry" Terms to Review Critical ThinkingPart 1. Music in Early North America The Early Years: Historical and Cultural Perspective The Beginnings of Music in America Native Americans European Emigrants Puritan Society The African Experience in Early America Revolution, in Classical Style Painting in Eighteenth-Century AmericaChapter 1. North American Indian Music Songs TextureTexts Listening Example 2. Yeibichai Chant Song (excerpt) Sioux Grass Dance Listening Example 3. Sioux Grass Dance (excerpt) Sound Instruments Contemporary Indian Song Professional Musicians Terms to Review Key Figures Critical ThinkingChapter 2. Early Folk Music Spanish Traditions Alabados Corridos Listening Example 4: Anonymous, "El corrido de Gregorio Cortez" British Traditions Folk Ballads Listening Example 5: Anonymous, "Barbara Allen" Early American Folk Music Listening Example 6: Anonymous, "Shenandoah" African Traditions Field HollersRing Shouts Listening Example 7: Field Holler Listening Example 8: Father's Field Call Listening Example 9:Jesse Bradley, "Hammer, Ring" (excerpt) Freedom Songs<4>Musical Instruments Listening Example 10: "No More Auction Block for Me" What of African Music Survives Today? Terms to ReviewKey Figures Critical ThinkingChapter 3. Religious Music in the Colonial, Revolutionary, and Federal Periods Music at the Spanish Missions Psalm Tunes Psalters Listening Example 11. Louis Bourgeois, "Old Hundred" (excerpt) Other Protestant Music Listening Example 12. Joseph Brackett, Jr., "'Tis the Gift to Be Simple" German-Speaking Protestant Sects The Great Awakening Early Efforts at Musical Reform The Singing School Movement William Billings (1746-1800) Listening Example 13. William Billings, "Chester" Canons Listening Example 14. William Billings, "When Jesus Wept" Fuging Tunes Listening Example 15. Daniel Read, "Sherburne" Terms to Review Key Figures Critical ThinkingChapter 4. Secular Music in the Colonial, Revolutionary, and Federal Periods Music in Everyday Experience Prestigious Musical Amateurs Early American Theater Early Bands Listening Example 16: Anonymous, "Yankee Doodle" (excerpt) Terms to Review Key Figures Critical ThinkingPart 1 SummaryPart 2. The Tumultuous Nineteenth Century Romanticism in America: Historical and Cultural Perspective The Emergence of Characteristically American ArtIndependenceThe UnknownLove of Nature Fusion of the Arts The Civil War Era MusicChapter 5. Religious Music in the Early Nineteenth Century The Great Revival Shape-Note Notation Spiritual Songs "Amazing Grace" Black Spirituals Listening Example 17: James Macdermid. "There'll Be Joy, Joy, Joy" (excerpt) Listening Example 18: Anonymous, "Amazing Grace"Listening Example 19: Anonymous, "Nobody Knows the Trouble I've Seen" (excerpt) Spirituals As Concert Music Singing Conventions Further Movements to Reform Music Lowell Mason Listening Example 20: Lowell Mason, "Nearer, My God, to Thee" Terms to Review Key Figures Critical ThinkingChapter 6. Popular Music of the Civil War Era Minstrelsy Listening Example 21: Daniel Decatur Emmett, "I Wish I Was in Dixie's Land" James A. Bland (1854-1911) The Heritage of Minstrelsy Stephen Foster (1826-1864) Listening Example 22: Stephen Foster, "I Dream of Jeanie with the Light Brown Hair" Listening Example 23: Stephen Foster, "Oh! Susanna" Patriotic Songs Listening Example 24: John Stafford Smith, "The Anacreontick Song" Civil War Songs Singing Families Listening Example 25: Anonymous, "Get Off the Track" Concert Bands Patrick Sarsfield Gilmore (1829-1892) Terms to Review Key Figures Critical ThinkingChapter 7. Concert Music Orchestral Music Theodore Thomas (1835-1905) Romantic Virtuosos Louis Moreau Gottschalk (1829-1869) Piano Music Listening Example 26: Louis Moreau Gottschalk, "Le bananier" Rise of Nationalism in Music Second New England School John Knowles Paine (1839-1906) Listening Example 27: John Knowles Paine, Fuga giocosa, op. 41, no. 3 Amy Marcy Cheney Beach (1867-1944) Listening Example 28: Amy Marcy Cheney Beach, Symphony in E minor (Gaelic), 2nd movement Edward MacDowell (1860-1908) Terms to Review Key Figures Critical ThinkingPART 2 Summary PART 3. The Growth of Vernacular Traditions Music in the Vernacular: Historical and Cultural Perspective Vernacular Art and Literature Vernacular MusicChapter 8. The Rise of Popular Culture John Philip Sousa (1854-1932) Marches Listening Example 29. John Philip Sousa, "The Stars and Stripes Forever" Ragtime Scott Joplin (1868-1917) Listening Example 30. Scott Joplin, "Maple Leaf Rag" Influence of Ragtime Tin Pan Alley The SongsBarbershop Singing Listening Example 31. George M. Cohan, "Rose" ("A Ring to the Name of Rose") Irving 32. Irving Berlin, "Alexander's Ragtime Band" Jerome Kern (1885-1945) Cole Porter (1892-1964) Listening Example 33. Cole Porter, "Night and Day" George Gershwin (1898-1937) Decline of Tin Pan Alley Terms to Review Key Figures Critical ThinkingChapter 9. The Jazz Age Blues Rural or Country Blues Listening Example 34. Robert Johnson, "Hellhound on My Trail" Classic Blues Listening Example 35. Bessie Smith, "Lost Your Head Blues" Urban Blues Listening Example 36. W. C. Handy, St. Louis Blues New Orleans Jazz Louis Armstrong (1901-1971) Listening Example 37. Lillian Hardin Armstrong, "Hotter Than That" (excerpt) Chicago Jazz Jazz Piano Boogie-Woogie Stride Piano Listening Example 38. James P. Johnson, "Carolina Shout" Sweet Jazz Terms to Review Key Figures Critical ThinkingChapter 10. Jazz 1930-1960 Big Band Swing Art of Arranging Listening Example 39. Count Basie, Lester Young, arr., "Taxi War Dance" (excerpt) Edward Kennedy "Duke" Ellington (1899-1974) Listening Example 40. Duke Ellington, Mood Indigo Women in Jazz Rise of Big Band Vocalists Billie Holiday (1915-1959) Bebop Charlie "Bird" Parker (1920-1955) John Birks "Dizzy" Gillespie (1917-1993) Listening Example 42. Charlie Parker, Dizzy Gillespie, "KoKo" Jazz As Concert Music Jazz Composition Listening Example 42. Duke Ellington, Concerto for Cootie Progressive Jazz Listening Example 43. Paul Desmond, "Take Five" (excerpt) Cool Jazz Listening Example 44. Miles Davis, "Boplicity" Hard Bop Terms to Review Key Figures Critical Thinking Chapter 11. Country Music From Country to City Jimmie Rodgers (1897-1933) Listening Example 45. Jimmie Rodgers, Blue Yodel No. 9 The Carter Family Styles of Country Music American Folk Ballads Listening Example 46. Anonymous, "The Ballad of Casey Jones" Bluegrass Listening Example 47. Earl Scruggs, "Earl's Breakdown" Country Pop and the Nashville Sound Western Swing Honky-Tonk Cowboy Songs Hawaiian Music Listening Example 48: Danny Ku, "Mele of My Tutu E" Cajun Music Listening Example 49. Anonymous, Cajun Two-Step (excerpt) Zydeco Women in Country Recent Country Terms to Review Key Figures Critical ThinkingChapter 12. Latin Popular Musics