Note: Supplemental materials are not guaranteed with Rental or Used book purchases.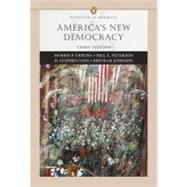 Questions About This Book?
What version or edition is this?
This is the 3rd edition with a publication date of 1/1/2006.
What is included with this book?
The New copy of this book will include any supplemental materials advertised. Please check the title of the book to determine if it should include any CDs, lab manuals, study guides, etc.
Summary
The new edition of this highly affordable Penguin Academic Series book provides a lively, engaging introduction to American government that is more streamlined than ever before. Written in a strong narrative voice and brimming with student-relevant examples, Americas New Democracy provides a focused and stimulating treatment of politics in the United States. Illustrating popular influence across the political system in defense of a central theme -that elections matter more in Americas political system today than they have in the past or do in other democracies- the book challenges the pessimistic view that government seldom listens to ordinary people. Americas New Democracy encourages readers to see that in a system where votes are the main currency, both power and responsibility rest on the shoulders of all citizens.
Table of Contents
Preface
xvii
PART ONE FOUNDATIONS OF AMERICAS NEW DEMOCRACY
1
(62)

| | |
| --- | --- |
| | CHAPTER 1 DEMOCRACY IN THE UNITED STATES |

2
(18)

| | |
| --- | --- |
| | A Unique Conception of Democracy |

6
(3)
9
(2)
11
(6)

| | |
| --- | --- |
| | Evaluating America's New Democracy |

17
(1)
18
(1)
19
(1)
19
(1)

| | |
| --- | --- |
| | CHAPTER 2 THE U.S. CONSTITUTION |

20
(20)

| | |
| --- | --- |
| | Influences on the U.S. Constitution |

23
(6)

| | |
| --- | --- |
| | The Constitutional Convention |

29
(5)

| | |
| --- | --- |
| | The First National Election |

34
(2)

| | |
| --- | --- |
| | Evaluating the Constitution |

36
(2)
38
(1)
39
(1)
39
(1)
39
(1)
40
(23)

| | |
| --- | --- |
| | The Trend Toward Centralized Government |

44
(8)

| | |
| --- | --- |
| | State and Local Government |

52
(8)
60
(2)
62
(1)
62
(1)
62
(1)
PART TWO CHANNELS OF INFLUENCE IN AMERICAS NEW DEMOCRACY
63
(162)

| | |
| --- | --- |
| | CHAPTER 4 AMERICAN POLITICAL CULTURE |

64
(27)
67
(8)
75
(10)

| | |
| --- | --- |
| | Why a Liberal Political Culture? |

85
(4)
89
(1)
89
(1)
89
(1)
90
(1)

| | |
| --- | --- |
| | CHAPTER 5 PUBLIC OPINION AND THE MEDIA |

91
(43)

| | |
| --- | --- |
| | Sources of Public Opinion |

93
(2)
95
(8)

| | |
| --- | --- |
| | Governing by Public Opinion? |

103
(10)

| | |
| --- | --- |
| | Media Influence on Public Opinion |

113
(13)

| | |
| --- | --- |
| | Mass Media and the Election Connection |

126
(5)
131
(1)
132
(1)
132
(1)
133
(1)

| | |
| --- | --- |
| | CHAPTER 6 INDIVIDUAL PARTICIPATION |

134
(23)

| | |
| --- | --- |
| | A Brief History of the Franchise in the United States |

136
(3)

| | |
| --- | --- |
| | International Comparisons of Voter Turnout |

139
(3)

| | |
| --- | --- |
| | Why Americans Vote Less Often Than in the Past |

142
(6)

| | |
| --- | --- |
| | Is Low Turnout a Problem? |

148
(4)
152
(3)
155
(1)
155
(1)
155
(1)
156
(1)

| | |
| --- | --- |
| | CHAPTER 7 NATIONAL ELECTIONS |

157
(37)

| | |
| --- | --- |
| | Voting Behavior: The Importance of Elections |

160
(14)

| | |
| --- | --- |
| | Can Reforms Improve the System? |

174
(17)
191
(1)
191
(1)
192
(1)
193
(1)

| | |
| --- | --- |
| | CHAPTER 8 POLITICAL PARTIES AND INTEREST GROUPS |

194
(31)

| | |
| --- | --- |
| | Political Parties: A Necessary Evil? |

197
(13)

| | |
| --- | --- |
| | Parties Versus Interest Groups |

210
(1)

| | |
| --- | --- |
| | Interest Groups: A Biased Chorus? |

211
(12)
223
(1)
223
(1)
224
(1)
224
(1)
PART THREE THE INSTITUTIONS OF AMERICA'S NEW DEMOCRACY
225
(122)
226
(27)

| | |
| --- | --- |
| | The Organization of Congress |

229
(7)
236
(5)
241
(5)
246
(4)
250
(1)
251
(1)
251
(1)
252
(1)

| | |
| --- | --- |
| | CHAPTER 10 THE PRESIDENCY |

253
(31)

| | |
| --- | --- |
| | The President's Growing Responsibilities |

256
(2)

| | |
| --- | --- |
| | The President's Limited Powers |

258
(16)

| | |
| --- | --- |
| | The Presidential Advisers |

274
(3)
277
(2)
279
(2)
281
(1)
282
(1)
282
(1)
283
(1)

| | |
| --- | --- |
| | CHAPTER 11 THE BUREAUCRACY |

284
(34)

| | |
| --- | --- |
| | Structure of the Federal Bureaucracy |

289
(1)

| | |
| --- | --- |
| | Why the Bureaucracy Is Unresponsive |

290
(7)

| | |
| --- | --- |
| | Outside Influences on the Executive Branch |

297
(6)
303
(12)
315
(1)
316
(1)
316
(1)
317
(1)
318
(29)
320
(13)

| | |
| --- | --- |
| | The Power of Judicial Review |

333
(9)
342
(2)
344
(1)
345
(1)
345
(1)
346
(1)
PART FOUR OUTPUTS FROM AMERICA'S NEW DEMOCRACY
347

| | |
| --- | --- |
| | CHAPTER 13 CIVIL LIBERTIES |

348
(29)

| | |
| --- | --- |
| | Origins of Civil Liberties in the United States |

352
(1)
353
(1)
354
(5)
359
(5)
364
(3)
367
(7)
374
(1)
375
(1)
375
(1)
376
(1)
377
(30)

| | |
| --- | --- |
| | Civil Rights: More Than Just a Race Thing |

381
(2)

| | |
| --- | --- |
| | African Americans and the Importance of Voting Rights |

383
(11)

| | |
| --- | --- |
| | The Civil Rights of Ethnic Minorities |

394
(2)

| | |
| --- | --- |
| | Gender, Sexuality, and Civil Rights |

396
(5)

| | |
| --- | --- |
| | Rights of Americans with Disabilities |

401
(2)
403
(1)
403
(2)
405
(1)
406
(1)
407
410
(1)
411
(10)
421
(10)

| | |
| --- | --- |
| | Foreign and Defense Policy |

431
(4)
435
(1)
435
(1)
436
(1)
437
APPENDIX
A-1

| | |
| --- | --- |
| | The Declaration of Independence |

A-3

| | |
| --- | --- |
| | The Constitution of the United States of America |

A-7
A-25
A-31

| | |
| --- | --- |
| | Presidents of the United States |

A-35
Glossary
G-1
Endnotes
E-1
Photo Credits
C-1
Name Index
NI-1
Subject Index
SI-1