Note: Supplemental materials are not guaranteed with Rental or Used book purchases.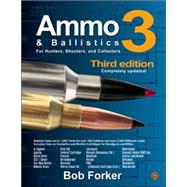 Ammo & Ballistics 3: Ballistic Data out to 1,000 Yards for over 160 Calibers and over 2,000 Different Factory Loads, Includes Data on all Facotry Centerfire and Rimfire Ca
ISBN13:
9781571572448
by
Forker, Bob
Summary
The completely revised and updated Ammo & Ballistics 3 is now available and better than ever! Ammo & Ballistics 3 contains data and illustrations on virtually every sporting cartridge sold in the USA. Besides clear and concise writing that clarifies the complexities of ballistics coefficients and energy versus momentum, this revised edition covers 160-plus calibers from the .17 Mach2 to the .700 Nitro Express. It contains information on rifle and handgun calibers, and it covers manufacturer, bullet weight, type, and construction. There are over 2,200 tables with ballistic data for every caliber and every load for all commercially loaded hunting ammunition sold in the United States. Tables include velocity, energy, wind drift, bullet drop, and ballistic coefficient up to 1,000 yards. Manufacturers include A-Square, Aguila, Black Hills, CCI/Speer, Cor-Bon Bullet, Dakota Arms, Eley Ltd., Federal Cartridge, Fiocchi, Hirtenberger, Hornady, Patria Lapua Oy, Lazzeroni, Kynoch (Kynamco Ltd.), MagTech, Norma, PMC (Eldorado Cartridge Corp.), Remington, Dynamit Nobel-RWS Inc., Sellier and Bellot, Ultramax, Weatherby, and Winchester. Book jacket.
Table of Contents
Foreword
vii
Acknowledgments
ix
Introduction
x
Author's Notes
xi
How to Select Ammunition
xi
Energy vs. Momentum---The ``Great'' Debate
xii
Ballistics and Trajectory
xiv
Maximum Effective and Point-Blank Ranges
xv
There Is Always a Trade-Off
xviii
Caution and Warning
xix
How to Use This Book
xx
Conversion Charts
xxii
Disclaimer
xxiv
Figuring the Angles and Other Problems
1
(9)

| | |
| --- | --- |
| | Data for Small and Medium Rifle Cartridges |

10
(1)
11
(1)
12
(2)
14
(1)
15
(1)
16
(4)
20
(1)
21
(13)
34
(5)
39
(1)
40
(1)
41
(2)

| | |
| --- | --- |
| | .223 Winchester Super Short Magnum (WSSM) |

43
(1)
44
(7)
51
(2)

| | |
| --- | --- |
| | .243 Winchester Super Short Magnum (WSSM) |

53
(1)

| | |
| --- | --- |
| | 6.17mm (.243) Lazzeroni Spitfire |

54
(1)
55
(2)
57
(1)
58
(1)
59
(1)
60
(2)

| | |
| --- | --- |
| | .25 Winchester Super Short Magnum (WSSM) |

62
(1)
63
(4)

| | |
| --- | --- |
| | 6.53mm (.257) Lazzeroni Scramjet |

67
(1)
68
(2)

| | |
| --- | --- |
| | 6.5x54 MS (Mannlicher-Schoenauer) |

70
(1)
71
(2)
73
(5)
78
(2)

| | |
| --- | --- |
| | 6.71mm (.264) Lazzeroni Phantom |

80
(1)
81
(1)
82
(1)
83
(9)

| | |
| --- | --- |
| | .270 Winchester Short Magnum |

92
(3)
95
(2)
97
(1)
98
(3)
101
(5)
106
(1)
107
(2)
109
(4)
113
(10)

| | |
| --- | --- |
| | 7mm Winchester Short Magnum |

123
(1)

| | |
| --- | --- |
| | 7mm Remington Short Action Ultra Magnum |

124
(1)

| | |
| --- | --- |
| | 7mm Remington Ultra Magnum |

125
(1)
126
(2)
128
(1)

| | |
| --- | --- |
| | 7mm STW (Shooting Times Westerner) |

129
(3)

| | |
| --- | --- |
| | 7.21mm (.284) Lazzeroni Firebird |

132
(1)
133
(2)
135
(3)
138
(4)
142
(2)

| | |
| --- | --- |
| | .308 Winchester (7.62mm NATO) |

144
(16)
160
(1)
161
(17)

| | |
| --- | --- |
| | 7.82mm (.308) Lazzeroni Patriot |

178
(1)
179
(1)

| | |
| --- | --- |
| | .300 Remington Short Action Ultra Magnum |

180
(2)

| | |
| --- | --- |
| | .300 Winchester Short Magnum |

182
(3)
185
(10)
195
(2)
197
(4)

| | |
| --- | --- |
| | .300 Remington Ultra Magnum |

201
(2)

| | |
| --- | --- |
| | 7.82mm (.308) Lazzeroni Warbird |

203
(1)
204
(1)
205
(3)
208
(1)
209
(1)
210
(2)

| | |
| --- | --- |
| | .325 Winchester Short Magnum |

212
(1)
213
(1)
214
(4)
218
(2)
220
(1)

| | |
| --- | --- |
| | .338 Remington Ultra Magnum |

221
(2)

| | |
| --- | --- |
| | 8.59mm (.338) Lazzeroni Titan |

223
(1)
224
(2)
226
(1)
227
(1)
228
(1)

| | |
| --- | --- |
| | Data for Small and Medium Centerfire Rifle Cartridges (continued) |

229
(1)
230
(1)
231
(1)
232
(1)
233
(2)
235
(1)

| | |
| --- | --- |
| | .375 Holland & Holland Magnum |

236
(4)
240
(1)

| | |
| --- | --- |
| | .375 Remington Ultra Magnum |

241
(1)
242
(1)
243
(1)
244
(2)
246
(1)
247
(1)
248
(1)
249
(1)

| | |
| --- | --- |
| | .44 Remington Magnum (Rifle Data) |

250
(2)
252
(1)
253
(2)
255
(7)

| | |
| --- | --- |
| | Rifles for Dangerous Game |

256
(6)

| | |
| --- | --- |
| | Data for Cartridges Suitable for Dangerous Game |

| | |
| --- | --- |
| | .400 A-Square Dual Purpose Magnum (DPM) |

262
(1)
263
(1)
264
(2)
266
(2)
268
(1)
269
(1)

| | |
| --- | --- |
| | 10.57mm (.416) Lazzeroni Meteor |

270
(1)
271
(3)
274
(1)
275
(1)
276
(1)
277
(1)
278
(2)

| | |
| --- | --- |
| | .475 Nitro Express Number 2 |

280
(1)
281
(1)

| | |
| --- | --- |
| | .500 Nitro Express 3-Inch |

282
(1)
283
(1)
284
(1)

| | |
| --- | --- |
| | .505 Rimless Magnum (Gibbs) |

285
(1)

| | |
| --- | --- |
| | .577 Nitro Express 3-Inch |

286
(1)
287
(1)
288
(1)
289
(9)

| | |
| --- | --- |
| | Defense Guns IV: Big Bore Handgun Cartridges |

290
(8)

| | |
| --- | --- |
| | Data for Pistol and Revolver Cartridges |

298
(3)
301
(1)
302
(1)
303
(1)
304
(3)
307
(1)

| | |
| --- | --- |
| | .32 Auto (7.65mm Browning) |

308
(4)
312
(11)
323
(5)

| | |
| --- | --- |
| | .380 Auto (9mm Browning Short) |

328
(5)
333
(2)

| | |
| --- | --- |
| | 9mm Luger (9mm Parabellum) (9x19mm) |

335
(16)
351
(1)
352
(1)
353
(1)
354
(1)
355
(1)

| | |
| --- | --- |
| | .38 Special (.38 Smith & Wesson Special) |

356
(15)
371
(9)
380
(5)
385
(2)
387
(1)

| | |
| --- | --- |
| | .44 Smith & Wesson Special |

388
(3)

| | |
| --- | --- |
| | .44 Remington Magnum (Pistol Data) |

391
(7)

| | |
| --- | --- |
| | .45 GAP (Glock Automatic Pistol) |

398
(3)
401
(10)

| | |
| --- | --- |
| | .45 Smith & Wesson Schofield |

411
(1)

| | |
| --- | --- |
| | .45 Colt (Often Called .45 Long Colt) |

412
(3)
415
(1)
416
(2)
418
(1)
419
(1)
420
(1)

| | |
| --- | --- |
| | .500 Smith & Wesson Special |

421
(1)

| | |
| --- | --- |
| | .500 Smith & Wesson Magnum |

422
(8)
424
(6)

| | |
| --- | --- |
| | Data for Rimfire Ammunition |

430
(1)
431
(1)

| | |
| --- | --- |
| | .17 Hornady Magnum Rimfire (HMR) |

432
(2)
434
(2)
436
(1)

| | |
| --- | --- |
| | .22 Standard Velocity and Match Ammunition |

437
(9)

| | |
| --- | --- |
| | .22 Long Rifle High Velocity and Hyper Velocity |

446
(5)

| | |
| --- | --- |
| | .22 Winchester Magnum Rimfire (WMR) |

451
(3)
454