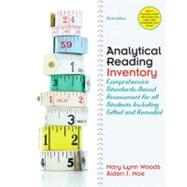 Analytical Reading Inventory : Comprehensive Standards-Based Assessment for All Students Including Gifted and Remedial
by
Woods, Mary Lynn
;
Moe, Alden J.
Questions About This Book?
What version or edition is this?
This is the 9th edition with a publication date of 5/24/2010.
What is included with this book?
The Used copy of this book is not guaranteed to include any supplemental materials. Typically, only the book itself is included.
Summary
Students, education professors, K-12 classroom teachers, reading specialists, school psychologists and staff developers alike will find this resource a valuable instrument for measuring the reading progress of typical, remedial, and gifted readers. A thorough, diagnostic, research-based informal reading inventory ;with clear, step-by-step instructions for administration ; Analytical Reading Inventoryoffers everything needed for classroom assessment and direct, relevant advice about instructional intervention. Included is a Readers' Passages booklet and a DVD that includes Lecture Visuals (Show it!), Audio Clips (Listen to it!), Templates (Type or write on it!), and Video Clips (Watch it!).
Author Biography
Mary Lynn Woods has been an on-site language arts staff development consultant for over 20 years, working directly with K-12 teachers and administrators facilitating study groups and conducting in-classroom demonstration lessons, observations, and debriefing sessions. She also teaches language arts and reading diagnostic courses for the University of Indianapolis. Mary Lynn served as a classroom teacher for 18 years, teaching grades K-8.
Table of Contents
Section I: Introduction
What is an Informal Reading Inventory (IRI)?
Description of the Analytical Reading Inventory (ARI)
What Features Distinguish the ARI from Some Other IRIs?
Who Uses the Analytical Reading Inventory (ARI)?
Which Students Should Be Given the ARI?
When Can the ARI Be Administered?
How Is ARI Data Reported?
Why Should ARI Data BE Kept in an Academic File?
Description of ARI 9th Edition, Section-by-Section
Informal Reading Inventory Background Knowledge
What is the Difference Between Examiner Behaviors During Assessment
And Teacher Behaviors During Instruction?
What Do You Need To Know About Oral and Silent Reading?
How Does the ARI Assess Fluency and Reading Pace?
Do Readers Comprehend Narrative Passages Better Than Expository Passages?
What Do You Need to Know About Quantitative & Qualitative Analysis?
Section II: ARI Examiner's Passage Layout: A Distinguished Feature
Examiner's Passage Layout: For the Importance of Context…
Examiner's/Reader's Passage Line-for-Line Match…
Textbox and Grid Layout: Easy to Record, Summarize, and Report…
Part A: Sample Examiner's Passage
Part B: Sample Examiner's Passage
Part C: Sample Examiner's Passage
Section III: ARI Case Study
ARI Case Study Profile Record: Reader Summary
Word Lists for Initial Placement
Narrative Passages Independent — Listening Levels
Science and Social Study Passages at Grade Level
Case Study Narration
Section IV: ARI Basics
Step-by-Step Directions: Short Form…
Step-by-Step Directions
Step 1: Establish rapport and IRI Assessment Tone…
Practice Example: Rapport, Assessment Tone, ARI Reader Interview
Step 2: Record Responses to Reading Interview…
ARI Profile Record: Reader Interview…
Step 3: Record Word List Responses/Establish Initial Passage Placement…
Practice Example: Word Lists…
Step 4: Record Prior Knowledge/Prediction…
Practice Example: Prior Knowledge/Prediction…
Step 5: Code Oral reading Miscues…
ARI Examiner's Chart: Miscue Codes…
ARI Examiner's Chart: Q &Q Data…
Step 6: Record Fluency…
Practice Example: Fluency, Pace, Qualitative Factors…
Step 7: Record Retelling/Summary Statement…
Practice Example: Retelling/Summary Statement…
Step 8: Record Comprehension Question Response/RTR…
Practice Example: ARI Comprehension Question Types…
Step 9: Record Scoring Guide Summary Data…
Practice Example: Scoring Guide Summary…
Step 10: Determine Silent Reading Level…
Step 11: Determine Listening Level…
Practice Example: Silent Reading and Listening Levels…
Step 12: Determine Reading Level for Science & Social Studies Passages…
Practice Example: Expository Text Elements
Step 13A: Fill Out Cueing Systems Grid…
Practice Example: Cueing Systems…
Step 13B: Fill Out Talking-Data-Through…
Practice Example: Talking-Data-Through…
ARI Profile Record: Talking-Data-Through…
Step 13C: Fill Out ARI Profile Records
ARI Profile Card: Reader's Instructional Level
ARI Profile Record: Reader Summary…
ARI Profile Record: Class Summary…
Section V: ARI Advanced
Quantitative & Qualitative Data:
Examiner's Chart: Q & Q Data…
Five Readers' Q Factors Summary…
Reader Control of Qualitative Factors…
Definite & Transitional Instructional Levels…
ARI Quick Assessment…
ARI Profile Record: Quick Reader Summary…
Section VI: ARI Progress Monitoring System
Description of the ARI Progress Monitoring System
Passage Selection
Progress Monitoring Directions
ARI Progress Monitoring Sample Templates…
Examiner's Passage…
Retelling/Summary Statement…
Data Summary…
Section VII: ARI Transition to Instruction
Like Basketball, Like Reading…
ARI Transition to Instructional Intervention…
Intervention: Prior Knowledge/Prediction…
Intervention: Oral Reading Miscues…
Intervention: Fluency…
Intervention: Retelling…
Intervention: Say Something Stems…
Section VIII: ARI Examiner's Passages
Form A: Word Lists and Narrative Passages, Preprimer- Nine
Form B: Word Lists and Narrative Passages, Preprimer- Nine
Form C: Word Lists and Narrative Passages, Preprimer- Nine
Form S: Expository Science Passages, One-Nine
Form SS: Expository Social Science Studies Passages, One-Nine
Section IX: ARI Development and Validation
ARI Coverage of National Standards and Indicators
Content Selection for Readers' Passages
Readability and Vocabulary Diversity Results
Field Testing
Illustrations at Preprimer, Primer, and Level 1
Inter-Scorer Reliability Study
Section X: Appendix
Answer Keys…
References…