Note: Supplemental materials are not guaranteed with Rental or Used book purchases.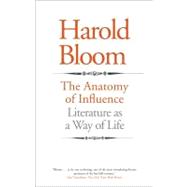 The Anatomy of Influence; Literature as a Way of Life
by
Harold Bloom
Summary
For more than half a century, Harold Bloom has shared his profound knowledge of the written word with students and readers. In this, his most comprehensive and accessible study of influence, Bloom leads us through the labyrinthine paths that link the writers and critics who have informed and inspired him for so many years. The result is "a critical self-portrait," a sustained meditation on a life lived with and through the great works of the "Western canon. Featuring extended analyses of Blooms most cherished poets- Shakespeare, Whitman, and Crane-as well as inspired appreciations of Emerson, Tennyson, Browning, Yeats, Ashbery, and others, The Anatomy of Influence adapts Blooms classic work The Anxiety of Influence to show us what great literature is, how it comes to be, and why it matters. Book jacket.
Author Biography
Harold Bloom is Sterling Professor of the Humanities at Yale University. He lives in New Haven, CT.
Table of Contents
Praeludium
p. ix
The Point of View for My Work as a Critic
Literary Love
p. 3
Sublime Strangeness
p. 16
The Influence of a Mind on Itself
p. 25
Shakespeare, the Founder
Shakespeare's People
p. 35
The Rival Poet: King Lear
p. 48
Shakespeare's Ellipsis: The Tempest
p. 62
Possession in Many Modes: The Sonnets
p. 78
Hamlet and the Art of Knowing
p. 87
Milton's Hamlet
p. 94
Joyce … Dante … Shakespeare … Milton
p. 109
Dr. Johnson and Critical Influence
p. 126
The Skeptical Sublime
Anxieties of Epicurean Influence: Dryden, Pater, Milton, Shelley, Tennyson, Whitman, Swinburne, Stevens
p. 133
Leopardi's Lucretian Swerve
p. 162
Shelley's Heirs: Browning and Yeats
p. 172
Whose Condition of Fire? Merrill and Yeats
p. 194
Whitman and the Death of Europe in the Evening Land
Emerson and a Poetry Yet to Be Written
p. 209
Whitman's Tally
p. 218
Death and the Poet: Whitmanian Ebbings
p. 235
Notes Toward a Supreme Fiction of the Romantic Self
p. 248
Near the Quick: Lawrence and Whitman
p. 255
Hand of Fire: Hart Crane's Magnificence
p. 266
Whitman's Prodigals: Ashbery, Ammons, Merwin, Strand, Charles Wright
p. 294
Coda
p. 334
Acknowledgments
p. 337
Credits
p. 338
Index
p. 341
Table of Contents provided by Ingram. All Rights Reserved.