Note: Supplemental materials are not guaranteed with Rental or Used book purchases.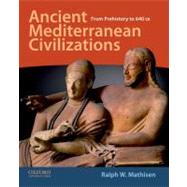 Ancient Mediterranean Civilizations From Prehistory to 640 CE
ISBN13:
9780195378382
by
Mathisen, Ralph W.
Questions About This Book?
What version or edition is this?
This is the edition with a publication date of 2/18/2011.
What is included with this book?
The Used copy of this book is not guaranteed to include any supplemental materials. Typically, only the book itself is included.
Summary
Challenging the stereotypes and myths that typically characterize students' understanding of antiquity,Ancient Mediterranean Civilizations: From Prehistory to 640 CEfocuses oncontinuityandconnections,along withcultural diffusionandcultural diversity,to show how history is a cumulative process and that numerous themes recur in different times and places. The text alsoexplores sensitive issues and debatesincluding attitudes toward race, ethnicity, and tolerance; gender issues and roles; slavery; social mobility; religion; political evolution; the nature of government; and imperialism. FEATURES: * "A Picture Is Worth a Thousand Words":Illustrations of distinctive material artifacts--buildings, frescoes, pots, statues, and more--accompanied by brief essays explaining how nonliterary material can shed light on ancient cultures * "History Laboratory":Concise observations on how historians use different methodologies to interpret historical evidence--including mysterious objects like the "Ice Man" and the Antikythera device--and to debunk pseudoscience * "In Their Own Words":Extended quotations (from literary or epigraphical texts) that exemplify each chapter's main themes and show how various types of written documents can help students learn about history * "Mysteries of History":Selections that address puzzling and intriguing aspects of the past (i.e., "Cleopatra, The Legend and the Reality") * "Historical Controversy":Reflections that explore conflicting modern interpretations of such ancient phenomena as Noah's Flood, "Black Athena," Athenian democracy, and Alexander the Great's character * Stunning Interior Design:More than 200 maps and illustrations--including an eight-page color portfolio--offer the richest and most pedagogical art program of any comparable text available Image Bank CDcontaining more than 100 PowerPoint-based slides and approximately forty maps, organized to accompany the text. Available to adopters of the text.
Author Biography

Ralph W. Mathisen has appointments in History, Classics, and Medieval Studies at the University of Illinois at Urbana-Champaign. His research interests include ecclesiastical history, barbarian studies, late Latin literature, prosopography, numismatics, and the society, culture, and religion of Late Antiquity. He has authored, coauthored, or edited thirteen books and has published more than ninety scholarly articles. He is Editor of the Journal of Late Antiquity and Oxford Studies in Late Antiquity, Director of the Biographical Database for Late Antiquity Project, and a Fellow of the American Numismatic Society.

Table of Contents

Special Features
Preface
Note on Spelling and Pronunciation
About the Author
PRELUDE TO HISTORY
1. The Origins of History: Civilization Before Civilization (2,000,000-3000 BCE)
PART I: THE CRADLE OF CIVILIZATION: THE ANCIENT NEAR EAST
2. Mesopotamia and the Bronze Age (6000-1200 BCE)
3. Egypt and the Bronze Age (8000-1200 BCE)
4. Coastal Civilizations of the Eastern Mediterranean (2500-800 BCE)
5. Iron Age Empires: Assyria, Babylonia, and Persia (850-500 BCE)
PART II: THE GLORY THAT WAS GREECE
6. Greece in the Dark and Archaic Ages (1100-500 BCE)
7. Sparta, Athens, and the Classical Age (500-387 BCE)
8. Alexander the Great and the Hellenistic Age (387-31 BCE)
PART III: THE GRANDEUR THAT WAS ROME
9. The Rise of Rome and the Roman Republic (753-121 BCE)
10. The Decline of the Republic and the Founding of the Principate (149-21 BCE)
11. The Roman Peace (27 BCE-92 CE)
PART IV: THE WORLD OF LATE ANTIQUITY
12. Crisis and Recovery: The Formation of the Late Roman Empire (192-337)
13. The Christian Empire and the Late Roman World (337-476)
14. The End of Antiquity (476-640)
Glossary
Illustration Credits
Index