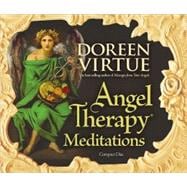 Angel Therapy Meditations
by
Virtue, Doreen
This title is currently not available.
Summary
This calming CD allows you to open up to the miraculous power of the angels. Doreen Virtue leads you through a powerfully healing Angel Therapy session. You'll work with archangels to release old blocks and toxins; cut cords of fear; heal past-life issues; and gain confidence, courage, and clarity about your life's purpose and relationships.
Author Biography
Doreen Virtue, Ph.D., is a doctor of psychology who works with the angelic realm. She's the author of Archangels & Ascended Masters and Healing with the Angels, among other works. Doreen has appeared on Oprah, The View, Good Morning America, CNN, and other programs; she presents workshops around the world; and she also has a weekly call-in talk show on HayHouseRadio.com«.