Note: Supplemental materials are not guaranteed with Rental or Used book purchases.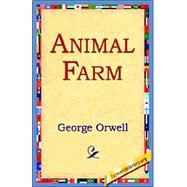 Summary
Purchase one of 1st World Library's Classic Books and help support our free internet library of downloadable eBooks. Visit us online at www.1stWorldLibrary.ORG - - Mr. Jones, of the Manor Farm, had locked the henhouses for the night, but was too drunk to remember to shut the pop-holes. With the ring of light from his lantern dancing from side to side, he lurched across the yard, kicked off his boots at the back door, drew himself a last glass of beer from the barrel in the scullery, and made his way up to bed, where Mrs. Jones was already snoring. As soon as the light in the bedroom went out there was a stirring and a fluttering all through the farm buildings. Word had gone round during the day that old Major, the prize Middle White boar, had had a strange dream on the previous night and wished to communicate it to the other animals. It had been agreed that they should all meet in the big barn as soon as Mr. Jones was safely out of the way. Old Major (so he was always called, though the name under which he had been exhibited was Willingdon Beauty) was so highly regarded on the farm that everyone was quite ready to lose an hour's sleep in order to hear what he had to say.
Table of Contents
Editor's Note
p. vii
Introduction
p. 1
Northrop Frye Orwell and Marxism
p. 3
Robert A. Lee Animal Farm
p. 7
Richard I. Smyer Animal Farm: the Burden of Consciousness
p. 25
Bernard Crick the Making of Animal Farm
p. 29
Daphne Patai Political Fiction and Patriarchal Fantasy
p. 45
Patrick Reilly the Utopian Shipwreck
p. 61
Robert Solomon Ant Farm: an Orwellian Allegory
p. 91
Laraine Fergenson George Orwell's Animal Farm: a Twentieth-Century Beast Fable
p. 109
V.C: Letemendia Revolution on Animal Farm: Orwell's Neglected Commentary
p. 119
Michael Peters 'Animal Farm' Fifty Years On
p. 131
Chronology
p. 135
Contributors
p. 139
Bibliography
p. 141
Acknowledgments
p. 143
Index
p. 145
Table of Contents provided by Publisher. All Rights Reserved.