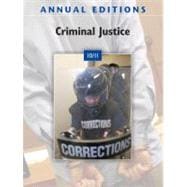 List Price: $47.93

More New and Used
from Private Sellers
Related Products
Summary
Annual Editions is a series of over 65 volumes, each designed to provide convenient, inexpensive access to a wide range of current articles from some of the most respected magazines, newspapers, and journals published today. Annual Editions are updated on a regular basis through a continuous monitoring of over 300 periodical sources. The articles selected are authored by prominent scholars, researchers, and commentators writing for a general audience. The Annual Editions volumes have a number of common organizational features designed to make them particularly useful in the classroom: a general introduction; an annotated table of contents; a topic guide; an annotated listing of selected World Wide Web sites; and a brief overview for each section. Each volume also offers an online Instructor's Resource Guide with testing materials. Using Annual Editions in the Classroom is the general instructor's guide for our popular Annual Editions series and is available in print (0073301906) or online. Visit www.mhcls.com for more details..
Table of Contents
Preface
Correlation Guide
Topic Guide
Internet References
Crime and Justice in America
Unit Overview
What Is the Sequence of Events in the Criminal Justice System?, Report to the Nation on Crime and Justice, Bureau of Justice Statistics, January 1998
Plugging Holes in the Science of Forensics
Does Proximity to Schools Tempt Former Sex Offenders?
Stereotype, Then and Now
The Death of the War on Drugs
Of Crime and Punishment: Experts Explore Issues in the Legal Limelight
Serving Life for Providing Car to Killers
Victimology
Unit Overview
Do Batterer Intervention Programs Work?: Two Studies
Telling the Truth about Damned Lies and Statistics
Identity Theft Trends: Abuse of Social Security Numbers
Violence and the Remaking of a Self
Understanding Stockholm Syndrome
Judge Steven Leifman Advocates for the Mentally Ill
Victim Satisfaction with the Criminal Justice System, National Institute of Justice, NIJ Journal No. 253, January 2006
The Police
Unit Overview
Policing in Arab-American Communities after September 11
Racial Profiling and Its Apologists
Our Oath of Office: A Solemn Promise
Stress Management . . . and the Stress-Proof Vest
Judging Honesty by Words, Not Fidgets
Law Enforcement Perspective on the Use of Force: Hands-On, Experiential Training for Prosecuting Attorneys
The Judicial System
Unit Overview
Illegal Globally, Bail for Profit Remains in U.S.
Avoiding Sixth Amendment Suppression: An Overview and Update
When Our Eyes Deceive Us
Abandoning Places
When Evidence Is Ignored: Residential Restrictions for Sex Offenders
When the Poor Go to Court
Justice & Antonin Scalia: The Supreme Court's Most Strident Catholic
Juvenile Justice
Unit Overview
America's Imprisoned Kids
The 21st Century Juvenile Justice Work Force
Teens Caught in the Middle: Juvenile Justice System and Treatment, The Brown University Child and Adolescent Behavior Letter, January 2006
Jail Time Is Learning Time
Lifers as Teenagers, Now Seeking Second Chance
Violence in Adolescent Dating Relationships
Mentally Ill Offenders Strain Juvenile System
Punishment and Corrections
Unit Overview
Inmate Count in U.S. Dwarfs Other Nations'
Felon Fallout
Asking about Family Can Enhance Reentry
The Ex-Con Next Door
Prison Inmates Meet Socrates
One Clique: Why Rivals on the Streets Become Allies behind Bars
The Professor Was a Prison Guard
Supermax Prisons
The Results of American Incarceration
Partnering with Law Enforcement
Test-Your-Knowledge Form
Article Rating Form
Table of Contents provided by Publisher. All Rights Reserved.