Note: Supplemental materials are not guaranteed with Rental or Used book purchases.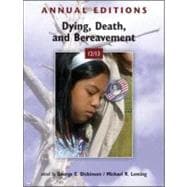 Questions About This Book?
Why should I rent this book?
Renting is easy, fast, and cheap! Renting from eCampus.com can save you hundreds of dollars compared to the cost of new or used books each semester. At the end of the semester, simply ship the book back to us with a free UPS shipping label! No need to worry about selling it back.
How do rental returns work?
Returning books is as easy as possible. As your rental due date approaches, we will email you several courtesy reminders. When you are ready to return, you can print a free UPS shipping label from our website at any time. Then, just return the book to your UPS driver or any staffed UPS location. You can even use the same box we shipped it in!
What version or edition is this?
This is the 13th edition with a publication date of 10/21/2011.
What is included with this book?
The New copy of this book will include any supplemental materials advertised. Please check the title of the book to determine if it should include any CDs, lab manuals, study guides, etc.
The Used copy of this book is not guaranteed to include any supplemental materials. Typically, only the book itself is included.
The Rental copy of this book is not guaranteed to include any supplemental materials. You may receive a brand new copy, but typically, only the book itself.
Summary
The Annual Editionsseries is designed to provide convenient, inexpensive access to a wide range of current articles from some of the most respected magazines, newspapers, and journals published today. Annual Editionsare updated on a regular basis through a continuous monitoring of over 300 periodical sources. The articles selected are authored by prominent scholars, researchers, and commentators writing for a general audience. The Annual Editionsvolumes have a number of common organizational features designed to make them particularly useful in the classroom: a general introduction; an annotated table of contents; a topic guide; an annotated listing of selected World Wide Web sites; and a brief overview for each section. Each volume also offers an online Instructor's Resource Guidewith testing materials. Using Annual Editions in the Classroomis a general guide that provides a number of interesting and functional ideas for using Annual Editionsreaders in the classroom. Visit www.mhhe.com/annualeditions for more details.
Table of Contents
Annual Edition: Dying, Death, and Bereavement 12/13, Thirteenth Edition
Preface
Series
Correlation Guide
Topic Guide
Internet References
Unit 1: Issues in Dying and Death
Unit Overview
1. Grief in the Age of Facebook, Elizabeth Stone, The Chronicle Review, March 5, 2010
Technology gives us a new way to express grief following a death: Facebook.
2. The Proliferation of Postselves in American Civic and Popular Cultures, Michael C. Kearl, Mortality, February 2010
Discusses some curious phenomena in popular and civic cultures that indicate an increasing presence of the dead in everyday life.
3. Roadside Memorial Policies in the United States, George E. Dickinson and Heath C. Hoffmann, Mortality, May 2010
A survey of the 50 U.S. states regarding roadside memorials revealed that 23 have a policy, yet all tend to be sensitive to the role which roadside memorials play in expressing survivors' grief and try to balance those needs with any safety hazards that memorials may pose.
4. Brain Death Guidelines Vary at Top US Neurological Hospitals, Susan Jeffrey, Medscape Medical News, 2008
A recent survey reveals widespread brain death guidelines in U.S. hospitals.
5. Criteria for a Good Death, Edwin Shneidman, Suicide and Life-Threatening Behavior, 2007
The late Edwin Shneidman outlines 10 criteria for a good death.
Unit 2: Dying and Death across the Life Cycle
Unit Overview
6. Death in Disney Films: Implications for Children's Understanding of Death, Meredith Cox, Erin Garrett, and James A. Graham, Omega, 2004–2005
Examines the potential influence of Disney films on children's concepts of death, using a content analysis of Disney animated films.
7. Teaching Children about Death and Grief: Children Can Learn about Grief and Dying from Teachable Moments, Kirsti A. Dyer, Help a Child Cope with Loss or Death, Suite101.com
Presents teachable moments regarding children and death.
8. Helping Military Kids Cope with Traumatic Death, Linda Goldman, TAPS, Fall 2008
Practical advice for dealing with children and the death of a significant other in the military.
9. Needs of Elderly Patients in Palliative Care, Helle Wijk and Agneta Grimby, American Journal of Hospice and Palliative Medicine, April/May 2008
A pilot study of elderly patients' end-of-life needs in a Swedish geriatric palliative care unit concluded that elimination of physical pain was a primary need of the patients.
10. End-of-Life Concerns and Care Preferences: Congruence Among Terminally Ill Elders and their Family Caregivers, Daniel S. Gardner and Betty J. Kramer, Omega, 60 (3), 2009–2010
An examination of end-of-life issues and care preferences of terminally ill older persons and their caregivers.
Unit 3: The Dying Process
Unit Overview
11. Dying on the Streets: Homeless Persons' Concerns and Desires about End-of-Life Care, John Song et al., Journal of General Internal Medicine: Official Journal of the Society for Research and Education in Primary Care Internal Medicine, April 2007
In-depth interviews with 53 homeless individuals in Minnesota regarding end-of-life care concluded that they worry about dying and end-of-life care.
12. Death and Dying across Cultures, Gihan ElGindy, MinorityNurse.com., 2010
Talks about the importance of nurses' being sensitive to unique religious and cultural needs of patients with terminal illnesses.
13. Are They Hallucinations or Are They Real? The Spirituality of Deathbed and Near-Death Visions, L. Stafford Betty, Omega, 2006
Do the living really see the dead? The author looks into this "twilight zone" to determine if this is real or a mere hallucination.
14. A Spreading Appreciation for the Benefits of Hospice Care, Kerry Hannon, U.S. News & World Report, December 15/December 22, 2008
Discusses types of hospice programs and the pros and cons of hospice in today's world.
15. When Death Strikes without Warning, Jennifer Couzin, Science, July 4, 2008
Presents information about the devastating effect of epilepsy and sudden death.
Unit 4: Suicide
Unit Overview
16. Self-Harming Behavior and Suicidality: Suicide Risk Assessment, Mark J. Goldblatt and John T. Maltsberger, Suicide and Life-Threatening Behavior, April 2011
A case report is discussed and emphasizes the importance of a thorough suicide risk assessment and the importance of considering a broad overview of the patient's presentation.
17. Effects of Race and Precipitating Event on Suicide Versus Nonsuicide Death Classification in a College Sample, Rheeda L. Walker and Kelci C. Flowers, Suicide and Life-Threatening Behavior, February 2011
A sample of 109 black and white college students were randomly assigned to read three vignettes involving premature death and to determine what happened, suicide or otherwise.
18. Ethical, Legal, and Practical Issues in the Control and Regulation of Suicide Promotion and Assistance over the Internet, Brian L. Mishara and David N. Weisstub, Suicide and Life-Threatening Behavior, February 2007
How much control is needed regarding suicide websites? How far can society go in allowing the Internet to help individuals take their lives via suicide?
19. Why We Need Qualitative Research in Suicidology, Heidi Hjelmeland and Birthe Loa Knizek, Suicide and Life-Threatening Behavior, February 2010
The authors argue that quantitative methodology focuses on explanations, whereas an increased focus on understanding through qualitative methodology is needed in research on suicides.
20. A Search for Death: How the Internet Is Used as a Suicide Cookbook, Rheana Murray, Chrestomathy, 2008
Through Internet interviews the author examines the role that suicide websites play toward suicides. What methods are recommended for suicide on these cookbookoriented sites?
Unit 5: Animals and Death
Unit Overview
21. Good Mourning, George Dickinson, College of Charleston Magazine, Spring 2011
The article discusses the role of a veterinarian in the death of a pet and also the seriousness that should be given by everyone to the death of a child's companion animal.
22. When a Cherished Pet Dies, New York Presbyterian, The University Hospitals of Columbia and Cornell, 2006
Addresses the death of pets among the elderly and how they might react and then cope.
23. An Examination of the Potential Role of Pet Ownership, Human Social Support and Pet Attachment in the Psychological Health of Individuals Living Alone, Nikolina M. Duvall Antonacopoulos and Timothy A. Pychyl, Anthrozoos, 2010
Pet ownership, emotional attachment, and human social support were examined to predict scores on measures of loneliness and depression.
24. Veterinary Hospice: Ways to Nurture Our Pets at the End of Life, Amy Souza, Best Friends Magazine, July/August 2009
Not only are hospice programs developing for humans, but these programs are also cropping up for pets, though somewhat sparingly, around the United States.
Unit 6: Ethical Issues of Dying and Death
Unit Overview
25. What Living Wills Won't Do: The Limits of Autonomy, Eric Cohen, The Weekly Standard, April 18, 2005
Also inspired by the Terri Schiavo case, this article discusses the limitations of living wills and durable powers of attorney for health care.
26. When Students Kill Themselves, Colleges May Get the Blame, Ann H. Franke, The Chronicle of Higher Education, June 24, 2004
Suicide among college students has always been a nightmare for parents; now it has become a risk management issue for college administrators and professors. This article addresses the issue of responsibility for suicides among college students and how and when students are at risk.
27. Cannabis Use in Long-Term Care: An Emerging Issue for Nurses, Roxanne Nelson, American Journal of Nursing, April 2011
When dealing with patients in end-of-life care and marijuana, many nurses' protocol is "don't ask, don't tell."
28. Ethics and Life's Ending: An Exchange, Robert D. Orr and Gilbert Meilaender, First Things, August/September 2004
This article provides a point-counterpoint discussion of the quality of life arguments for passive euthanasia and the right to die. Knowledge from both points of view challenge the student who is attempting to formulate an understanding of the complex issues surrounding this controversy.
29. I Was a Doctor Accustomed to Death, but Not His, Marc Agronin, Salon, Saturday, February 5, 2011
Medical doctor son tells his story of dealing with his own father as patient. It was the best lesson in caring for the dying.
Unit 7: Funerals
Unit Overview
30. The Contemporary American Funeral, Michael R. Leming and George E. Dickinson, Understanding Dying, Death, and Bereavement, Wadsworth-Cengage, 2011
This article provides an overview of the present practice of funeralization in American society, including the traditional and alternative funeral arrangements. The functions of funerals relative to the sociological, psychological, and theological needs of adults and children are also discussed.
31. How Different Religions Pay Their Final Respects, William J. Whalen, U. S. Catholic, September 1990.
This article discusses the way in which obituaries announce to the world that someone has died. Actually many do not die, they "suddenly" or "peacefully" or "courageously" or "quietly" or "unexpectedly" disappear.
32. Building My Father's Coffin, John Manchester. Salon.com, June 4, 2010
"My body is to be placed in a plain pine box. I would like my children to make the box." William Manchester knows that grief work is best when done as a family.
33. Dealing with the Dead, Jennifer Egan, The New Yorker, October 11, 2010
It is possible to facilitate our grieving by remembering dead relatives by wearing clothes and jewelry that once belonged to them to their funerals.
Unit 8: Bereavement
Unit Overview
34. The Grieving Process, Michael R. Leming and George E. Dickinson, Understanding Dying, Death, and Bereavement, Wadsworth-Cengage, 2011
This article discusses the seven basic coping strategies related to the bereavement process (shock and denial, disorganization, volatile emotions, guilt, loss and loneliness, relief, and reestablishment) and the four tasks of bereavement (accepting the reality of the loss, experiencing the pain of grief, adjusting to an environment in which the deceased is missing, and the withdrawing of emotional energy and reinvesting it in other relationships).
35. Disenfranchised Grief, Kenneth J. Doka, Disenfranchised Grief: Recognizing Hidden Sorrow, Lexington Books, 1989
Kenneth Doka discusses the unique situation of bereaved survivors whose loss is not, or cannot be, openly acknowledged, publicly mourned, or socially supported.
36. Challenging the Paradigm: New Understandings of Grief, Kenneth J. Doka, 2007
Kenneth Doka describes five significant ways in which earlier understandings or paradigms of grief have been challenged. He also discusses three current challenges to the field of thanatology and two others that are likely to occur in the not-too-distant future.
37. Enhancing the Concept of Disenfranchised Grief, Charles A. Corr, Omega, 1998/1999
This article enhances and broadens the concept of disenfranchised grief in significant ways as it indicates that there are aspects of most losses that are indeed disenfranchised.
38. We've Been Misled about How to Grieve. Nicholas Köhler, Maclean's Magazine, February 21, 2011
This article discusses much of the misinformation most people assume about grieving.
39. The Increasing Prevalence of Complicated Mourning: The Onslaught Is Just Beginning, Therese A. Rando, Omega, 1992/1993
This article operationalizes complicated mourning and identifies its seven high-risk factors. The author argues that the prevalence of complicated mourning is increasing today due to a number of contemporary sociocultural and technological trends, with problems in both the mental health profession and the field of thanatology that are preventing or interfering with requisite treatment. New treatment policies and models are now mandated for intervention in complicated mourning.
40. Rituals of Unburdening, Mark R. Mercurio, Hastings Report, March/April 2008.
This article provides an understanding of the special issues related to the care of parents who have lost a child in neonatal death.
41. 11 Ways to Comfort Someone Who's Grieving, Harvard Medical School, HealthBeat August 24, 2010
If you find yourself tongue-tied or uncertain of what to do in the face of someone's loss, here are some steps you might try.
Test-Your-Knowledge Form
Article Rating Form