Note: Supplemental materials are not guaranteed with Rental or Used book purchases.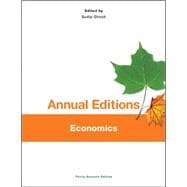 Annual Editions: Economics, 37/e
ISBN13:
9780073369181
by
Ghosh, Sudip
Related Products
Summary
The Annual Editions series is designed to provide convenient, inexpensive access to a wide range of current articles from some of the most respected magazines, newspapers, and journals published today. Annual Editions are updated on a regular basis through a continuous monitoring of over 300 periodical sources. The articles selected are authored by prominent scholars, researchers, and commentators writing for a general audience. Each Annual Editions volume has a number of features designed to make them especially valuable for classroom use: an annotated Table of Contents, a Topic Guide, an annotated listing of supporting websites, Learning Outcomes and a brief overview for each unit, and Critical Thinking questions at the end of each article. Go to the McGraw-Hill Create™ Annual Editions Article Collection at www.mcgrawhillcreate.com/annualeditions to browse the entire collection. Select individual Annual Editions articles to enhance your course, or access and select the entire Ghosh: Annual Editions: Economics, 37/e ExpressBook for an easy, pre-built teaching resource by clicking here. An online Instructor's Resource Guide with testing material is available for each Annual Editions volume. Using Annual Editions in the Classroom is also an excellent instructor resource. Visit the Create Central Online Learning Center at www.mhhe.com/createcentral for more details.
Table of Contents
Preliminary TOC
Annual Editions: Economics, 9e
Preface
Correlation Guide
Topic Guide
Internet References
UNIT 1: Introduction
Unit Overview
1. Can Medicare Costs be Tamed?, Mark Trumbull The Christian Science Monitor Weekly, April 8, 2013
Since 2010, the US spent about $8,233 per-person on medical cost which is more than double that of other developed nations such as Germany, Canada, and Japan. As baby boomers continue to retire rising medical costs seems unsustainable given the fiscal crisis we are in. To contain costs one has to find ways to nudge prices down, incentivize the health care delivery system, engage consumer participation, and use antitrust law to boost competition by improving both quality and reducing costs.
2. After $75,000, Money Can't Buy Day-to-Day Happiness, Jenifer Goodwin Bloomberg Business Week, September 7, 2010
A recent study shows that emotional happiness increases along with annual household incomes up to about $75,000. However earning more than has not effect on day-to-day happiness. Although social scientists and psychologists have long grappled with how to measure happiness its findings are consistent with lot of other studies. On the other hand, as income drops the happiness declines and increase sadness and stress.
3. The Economics of Teeth, and Other Beauty Premiums, Stephen J. Dubner Freakonomics.com, May 26, 2008
In this article the author talks about the importance of teeth as found in a working paper co-authored by Glied and Neidell. In their work, Glied and Neidell shows that individuals drinking fluorinated water on an average earn 4 % more than that drink non-fluorinated water. Along the same theme Professor Daniel S. Hamermesh showed that "Beauty Pays," where the author compared a group of above average good looking people with a group of ugly people within the same cohort.
UNIT 2: Microeconomics
Unit Overview
4. College Tuition High, but Cost of Not Going is Higher, Elizabeth Fuller The Christian Science Monitor, September, 2010
Although the college tuition is skyrocketing, having a college degree still pays off. During recession, college graduates not only make more money than a high school graduate who hasn't attended college, they're more likely to be employed. But one has to weigh the cost of student loans and find ways to effectively pay them off.
5. America's Greatest Health Threat: Obesity, Catherine Amst Bloomberg BusinessWeek, November 17, 2009
Obesity has become a national epidemic. One in four American is considered obese and the number keeps rising. According to health care experts, if the issue of obesity is not addressed properly, preventable chronic illness will escalate medical costs substantially. The rising rate of the uninsured will become a big impediment for any policy success.
6. Shortchanged, Peter Coy and Elizabeth Dwoskin Bloomberg Businessweek, June 25-July1 2012
Statistics show that men get paid more than women for equal work. For same work, women earned only 77 % of what men earned in 2010. Since Kennedy administration, attempts had been made to lessen pay discrimination with not much success. The Paycheck Fairness Act was signed into law by Obama in 2009. But critics of the law questioned the data on fair pay. By re-grouping employees in different ways such as gender, job title, and so on, expert witnesses in lawsuits brought against Boeing, Wal-Mart etc., have drawn opposite conclusion.
7. The Coast is Not Clear, Peter Coy Bloomberg Businessweek, August 2010
Though the BP oil spill's impact is much less severe than feared, long-term threats remain; wetlands destruction, dead zones, and climate change. They make the spill look almost minor Long-term threats persisted even before the BP oil spill. Overfishing, loss of wetlands, and the impact of global climate change already wrecked a havoc on the Gulf ecosystem The BP oil spill added fuel to the fire. The cleanup efforts came at an enormous cost and how to minimize effects of chemical dispersants of the food chain remains to be seen.
8. America's Green Innovation Problem, Rob Atkinson and Devon Swezey Bloomberg Businessweek, March 2010
As clean energy technology has globalized, innovation has followed. Government officials need to pay attention Although clean technology has grown considerably in the U.S. over the last decade it came with a cost. Between 2000 and now, large U. S. multinationals such as GM, Dow Chemical, Intel etc. have constructed high-tech research labs in China. The U.S. government should find ways to facilitate the development of clean energy clusters within U.S. and become pioneer rather than rely on energy sources produced abroad and invented there, too.
UNIT 3: The Economics of Work and Income
Unit Overview
9. Virtual Health Care Gaining Ground, Carol Gorga Williams USA Today Newspaper, May 6, 2013
According to the Centers for Disease Control and Prevention data, 72 percent of office-based physicians used electronic medical record. Technology such as making online appointments, or using Skype, Facetime, email shows inroads in medical field. Further, what we perceive as a typical visit to doctor's office will change forever. According to experts, the more radical applications of Telemedicine are probably ten years away that will change the way medical services are provided in states and regions that are largely rural.
10. Outsized Offshore Outsourcing, John Miller Dollars and Sense, September/October 2007
"Offshore outsourcing" (the shipping of jobs overseas to take advantage of low wages) has led some economists and businessmen to question the value of "free trade." John Miller maintains that there is no guarantee that unfettered international trade will leave participants better off in the long run.
11. The New Suburban Poverty, Eyal Press The Nation, April 23, 2007
A study by the Brookings Institution shows that from Las Vegas to Boise to Houston, suburban poverty has been growing in recent years. For the first time ever, more poor Americans live in the suburbs than in all U.S. cities combined.
12. Can We End Hunger by Eating Bugs?, Stewart M. Patrick How the real caveman diet will help meet our global food needs. Council on Foreign Relations, May 20, 2013
The author provides an eclectic range of delectable bugs. Several travel channels and its hosts have made travelling to exotic destinations and enjoying the local delicacy very appealing to the public. Most insect eaters live in less developed nations as identified by the U.N.'s Food and Agriculture Organization. If designed strategically, eating bugs could be a solution to end hunger and enjoy protein for the poorest of the poor in this world.
13. Gender Pay and Leadership Gaps Are Real—and Impact Our Economy, Ilene H. Lang USA Today, April 4, 2010
The author observes that despite the recent equality of women pay—woman still face workplace challenges where 4,100 women and men with international MBA degrees from Europe, Asia, Canada and the U.S. were interviewed. The study shows that the earnings gap between men and women still looms at 23%. Only 3% of the Fortune 500 companies have woman CEOs while 14% are board members.
14. Are Young Women Earning More Than Their Boyfriends? Yes, but only because they're better educated, Heather Boushey Slate, September 7, 2010
Is this true? One needs to be cautious of how we interpret women success. Typically gender pay gap is a good yardstick of workplace fairness. We ask whether equally skilled men and women with similar jobs receive the same pay. Further, do women with similar credentials with similar jobs earn as much pay as their male counterpart? The answer still remains no. However, young women are earning more than men because they are acquiring more skills.
15. Reaching Out to Dropouts, Stacy Teicher Khadaroo The Christian science Monitor Weekly, January31 2013
The author concludes that high school diploma still mattes. In recent years, dropout prevention has been in the spotlight where school districts are realizing that they can do more to encourage students (dropped out) into the fold using different strategies. High School Graduation Initiative introduced in 2010 is designed to achieve such goal which is targeting at risk students to succeed. It is providing new opportunities for them to receive college credits while finishing their high school diplomas.
16. The GED Test Gets a Makeover, Stacy Teicher Khadaroo The Christian science Monitor Weekly, January31 2013
GED-holders tend to fare about as well as high school dropouts with no GED stirring controversy. Therefore, GED is getting a makeover where test-takers will be required to solve real-world problems from what they have learned thus adding a layer of complexity. Concerns have been raised about new cost structures and involvement of a private company in the new makeover.
UNIT 4: Macroeconomics
Unit Overview
17. Misplaced Incentives Were the Rot at the Core of the Financial Crisis, Peter Cohan Daily Finance, An AOL Money & Finance Site, September 2010
The financial meltdown was caused mainly by inability of the credit rating agencies to evaluate these Mortgage Backed securities (MBS). Few big banks hired other firms to monitor MBS and share the findings with credit rating agencies which never occurred. The rating agencies were primarily interested in making quick money ended up rating most MBS as AAA.
18. The "Inflation" in Inflation Targeting, Richard Dennis Economic Letter, FRBSF, June 2010
The Fed conduct monetary policy using an inflation targeting framework, where some measure of inflation is chosen as the target. One approach would be to use an index of goods and services whose market prices are not subject to frequent changes. That could be an index based on the personal consumption expenditures prices of services and durable goods but distinct from the U.S. core personal consumption expenditures price index.
19. Fixing the Tax System, William G. Gale Opportunity 08: Independent Ideas for America's Next President, February 28, 2007
A good tax system raises the revenues needed to finance government spending in a manner that is as simple, stable, and conducive to economic growth as possible. William Gale examines the challenges for the next President to make reform work.
20. The Changing Landscape of Community Banking, Gary S. Corner Central Banker (Federal Reserve Bank of St. Louis), Fall 2010
The trend of consolidation in the banking industry for the last 30 years has reduced the number of community banks despite continued demand for the products and services offered by them. Advances in technology, innovations, regulatory costs and standardized loan products have hurt their market share and profitability.
21. Is the Border Secure?, Lourdes Medrano The Christian Science Monitor Weekly, March 11, 2013
Author questions the success of US Border patrol in the light of new immigration reform. Anecdotal evidence show that surge of border patrol agents during George W. Bush's administration has helped reduce influx of illegal immigrants to the US. As Washington gets ready to overhaul the immigration system once again the focus is on the border patrol. Others disagree they say now is the time to turn attention inward toward the estimated eleven million people living illegally in the US and pay more attention on bus stations, airports etc.
22. Inflation: The Great New Divide, Peter Coy Bloomberg Businessweek, August 2010
In the last five decades, U.S. always pulled the global economy out of recession, now the tides have turned, emerging market nations is helping the U.S. Inflation is soaring in emerging markets due to rapid expansion and generating asset-price bubbles partly stoked by capital flow from developed nations. Near-deflation still persists in developed nations. This divergence between inflation and near-deflation can be a potential threats to the global expansion.
23. RPT-Obamacare is on the horizon, but will enough people sign up?, David Morgan Barrons Business News, May 6, 2013
Democrats worry as fall enrollment period draws near. Potential repercussions for Congress, Obama presidency. Frustration over lack of details on public outreach. With the `Affordable Care Act' looming, Democrats are nervous because success of `Obmamcare' is contingent upon the number of Americans sign up at exchanges. Exchanges will offer private coverage at federally subsidized rates to individuals and families with low-to-moderate incomes, with enrollment set to begin Oct. 1.Some of the law's main advocates fear moral hazard problem where new insurance plans may not be attractive to young, healthy consumers who will avoid registering but would encourage only elderly and infection prone age group to enroll. Once instituted, the law is expected to cover 15 million Americans next year through the exchanges and an expansion of Medicaid. The overall number is forecast to jump to 38 million by 2022.
24. Interest Rates: The Zero Percent Solution, Mark Gilbert Bloomberg Businessweek, September 2010
Maintaining rates low for an extended period of time comes at a cost. Keeping rates too low for too long damages the recovery by "raising asset prices and incentivizing investment in riskier assets," according to Raghuram Rajan. Moreover, savers of fixed income is earning near-zero returns. However, the U.S. economic performance continues to be anemic and raising rates at this time will be a terrible mistake which will once again dislocate any chances of recovery.
25. Countdown to a Meltdown, James Fallows The Atlantic, July/August 2005
James Fallows imagines what the U.S. economy might look like in 2016. He creates a scenario to pinpoint the challenges the country must deal with now to meet the future.
26. Interest in Pot Revenue at New High, Joel Connelly Seattle Post-Intelligencer, March 28, 2013
The author highlights the potential of raising hundreds of millions of tax revenue from marijuana tax . Even the Washington Times, a conservative capital paper published by followers of the Rev. Sun Myung Moon, is writing about marijuana's tax potential. However, critics are skeptical about marijuana tax because it is seen as a gateway drug to more severe forms of addiction. To others, the revenue potential is rather limited when social cost of addiction is taken into account.
27. Outsourcing Jobs: The Myths and Realities, Martin N. Baily and Diana Farrell Milken Institute Review, 2004
The authors maintain that the debate over outsourcing is misplaced because the issue is not globalization, but instead the way nations allocate the benefits of economic integration. They suggest various ways in which public policy can help disadvantaged workers.
28. Who Lives Longest? - Healthy, wealthy—and famous, Kent Sepkowitz Newsweek Global, April 26, 2013
The author shows the importance of obituaries and its importance in the social diaspora. Two Australian researchers used 999 consecutive obituaries from New York Times between 2009 and 2011 and provided vital statistics of this famous bunch. This study reveals a larger truth about health care: famous men in the study lived significantly longer—about four years—than "normal" men.
UNIT 5: The Changing Global Economy
Unit Overview
29. Austerity on the Side: EU Hits Restaurateurs with Olive Oil Law, Robert Bridge RT.com (Russia Today), May 20, 2013
The author highlights how Brussels is trying to micro-manage eateries in European Union. Instead of tackling pressing economic issues in EU nations the ministers are planning to prohibit eateries from serving olive oil in the traditional glass jugs to be replaced by pre-sealed, non-refillable non- recycled containers due to health concern. However, Europe once led world in setting the standards on environmental issues; is acting like an unruly child to the annoyance of the EU residents.
30. The Effect of Immigrants on U.S. Employment and Productivity, Giovanni Peri FRBSF Economic Letter (Federal Reserve Bank of San Francisco), August 30, 2010
There is no consensus among economists if immigrants shrink the job opportunities of U.S. born workers born or fill essential jobs that are shunned by other workers. Results show that immigrants expand the economy's productive capacity and promote specialization. This produces efficiency gains and boosts income per worker.
31. Consumer Trends in Three Different "Worlds," Andy Hines The Futurist, July—August 2008
What are the top 20 trends affecting consumer life around the world? In this article, Andy Hines, a business-trend watcher and a professional futurist, looks at the major developments in demography, money, and consumerism that will shape the world in the next decade.
32. Eliminating Child Labor, Miriam Wasserman Regional Review, Second Quarter 2000
Much of the developing world continues to rely on child labor. Miriam Wasserman asks: Can we learn from the U.S. experience about what is required for its elimination?
33. Should China Worry About a GDP Slowdown?, Matt Schiavenza The Atlantic, April 17, 2013
Growth in China seems to be slowing. Will political instability rise? The author provides interesting perspectives to recent economic slowdown in China. Starting in 2012, the Chinese economy grew at a modest 7.8% rate with 2013:Q1 numbers lower yet. To make matters worse, some economists are questioning these numbers which would make these numbers even lower. First, decline in working age population adds to the slowdown. If anything, a bigger risk to political stability in China is sudden economic collapse mimicking the recent US financial crisis could unleash far more public anger than a slight drop in GDP growth. On the bright side, GDP slowdown will allow the Chinese government to tackle a number of pressing issues that threaten China's long-term health—income inequality and environmental concerns.
34. Not All Bubbles Present a Risk to The Economy, Frederic Mishkin The Financial Times Limited, November, 2009
A tight monetary policy during "a credit boom bubble", in which exuberant expectations about economic prospects or structural changes in financial markets lead to a credit boom, is very dangerous. However, "pure irrational exuberance bubble", is benign in nature and use of tight monetary policy is unreasonable.
35. Is `Amnesty' a Possibility Now?, David Grant Christian Science Monitor Weekly, December 31, 2012
In 2013, Congress is considering comprehensive immigration reform, but the task is not easy because it involves weighing the wishes of different types of industries ranging from agriculture to high-tech especially at a time when US unemployment is at historical highs. With Democrats at the driver's seat where the Latino advocacy groups and labor unions are joining hands for immigration reform to move forward by 2013.