Note: Supplemental materials are not guaranteed with Rental or Used book purchases.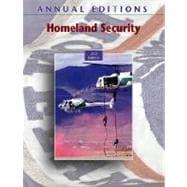 Annual Editions: Homeland Security, 2/e
ISBN13:
9780073397306
by
Badey, Thomas
Related Products
Summary
This Second Edition of ANNUAL EDITIONS: HOMELAND SECURITY provides convenient, inexpensive access to current articles selected from the best of the public press. Organizational features include: an annotated listing of selected World Wide Web sites; an annotated table of contents; a topic guide; a general introduction; brief overviews for each section; a topical index; and an instructor's resource guide with testing materials. USING ANNUAL EDITIONS IN THE CLASSROOM is offered as a practical guide for instructors. ANNUAL EDITIONS titles are supported by our student website, www.mhcls.com/online.
Table of Contents
Unit 1 The Concept of Homeland Security 1. 45194 Homeland SecurityBenjamin M. Friedman, Foreign Policy , July/August 2005 In this article, Benjamin Friedman argues that the Department of Homeland Security "should focus more on what is probable and less on what is possible." His article discredits many of the common myths surrounding the security of the United States, especially in regard to terrorism. 2. 45195 Terrorism: How Much Are We Willing to Take?Amanda Ripley, Time , August 21, 2006 Despite efforts to improve security after September 11, 2001, we still "walk in the shadow of risk." Amanda Ripley discusses the improvements that have been made in homeland security, especially as they relate to travel. 3. 45196 Lethal FantasiesSharon Ghamari-Tabrizi, Bulletin of the Atomic Scientists , January/February 2006 Sharon Ghamari-Tabrizi argues that while the United States is focused on a "universal adversary," it has failed to prepare for "foreseeable catastrophes." 4. 45197 Why We Don't PrepareAmanda Ripley, Time , August 28, 2006 While the United States prepares for another terrorist attack, the country is left vulnerable from other, more probable threats. Amanda Ripley articulates the dangers posed by natural disasters, such as floods, hurricanes, and wildfires, and the lack of general preparedness in the United States. Unit 2 The Department of Homeland Security 5. 45198 Are We Ready for the Next 9/11?Veronique de Rugy, Reason , March 2006 Veronique de Rugy identifies four major reasons why, despite increased homeland security spending, the United States remains vulnerable to attack. She argues that to be effective, Congress must overcome its self-interests. 6. 45199 Revisiting Homeland SecurityTim Starks, CQ Weekly , June 26, 2006 Tim Starks argues that the forced merger of various agencies, poor management, and the lack of resources has made the Department of Homeland Security a bureaucratic joke. Starks examines the potential effectiveness of reforms debated in Congress. 7. 45200 Shifting Priorities: Congressional Incentives and the Homeland Security Granting ProcessPatrick S. Roberts, The Review of Policy Research , July 2005 Patrick Roberts believes that "Congress has funded counterterrorism initiatives without serious risk analysis." He offers a number of solutions to increase the efficiency and effectiveness of the funding process. 8. 45201 Airport Security Screening: Privatize or Federalize?Keith Mew, Public Works Management and Policy , July 2005 Despite new rules and procedures implemented by the Transportation Security Administration, airport security remains ineffective. Keith Mew examines the implications of privatizing airport security. Unit 3 The Federal Government and Homeland Security 9. 45202 The Doom BoomDavid Von Drehle, Washington Post National Weekly Edition , April 17-23, 2006 September 11th created an economic boom in Washington D.C. As security, technology, and military supply firms thrive under lucrative new government contracts, David Von Drehle questions if the spending craze has truly made Americans any safer.