Note: Supplemental materials are not guaranteed with Rental or Used book purchases.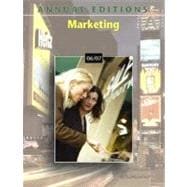 Annual Editions: Marketing 06/07
ISBN13:
9780073528366
by
RICHARDSON
Summary
This twenty-eighth edition of ANNUAL EDITIONS: MARKETING provides convenient, inexpensive access to current articles selected from the best of the public press. Organizational features include: an annotated listing of selected World Wide Web sites; an annotated table of contents; a topic guide; a general introduction; brief overviews for each section; a topical index; and an instructor's resource guide with testing materials. USING ANNUAL EDITIONS IN THE CLASSROOM is offered as a practical guide for instructors. ANNUAL EDITIONS titles are supported by our student website, www.dushkin.com/online.
Table of Contents
Preface
iv
Topic Guide
x
Internet References
xiv

| | |
| --- | --- |
| | UNIT 1 Marketing in the 2000s and Beyond |

xvi

| | |
| --- | --- |
| | Part A. Changing Perspectives |

2
(5)
7
(4)

| | |
| --- | --- |
| | The Vanishing Mass Market |

11
(6)

| | |
| --- | --- |
| | Power at Last, Crowned at Last |

17
(5)
22
(4)

| | |
| --- | --- |
| | Choosing the Right Green Marketing Strategy |

26
(6)

| | |
| --- | --- |
| | Part B. The Marketing Concept |

| | |
| --- | --- |
| | Marketing Myopia (With Retrospective Commentary) |

32
(10)

| | |
| --- | --- |
| | Why Customer Satisfaction Starts With HR |

42
(4)
46
(2)

| | |
| --- | --- |
| | From Understanding to Action |

48
(5)
53
(6)

| | |
| --- | --- |
| | Part C. Services & Social Marketing |

| | |
| --- | --- |
| | Surviving in the Age of Rage |

59
(6)
65
(4)

| | |
| --- | --- |
| | Part D. Marketing Ethics & Social Responsibility |

69
(3)
72
(5)
77
(5)

| | |
| --- | --- |
| | UNIT 2 Research, Markets, and Consumer Behavior |

80
(2)
82
(3)

| | |
| --- | --- |
| | Eight Tips Offer Best Practices for Online MR |

85
(2)

| | |
| --- | --- |
| | Part B. Markets and Demographics |

87
(2)
89
(3)
92
(4)

| | |
| --- | --- |
| | Marketing Surprise: Older Consumers Buy Stuff, Too |

96
(3)

| | |
| --- | --- |
| | Part C. Consumer Behavior |

| | |
| --- | --- |
| | Defining Moments: Segmenting by Cohorts |

99
(5)
104
(6)

| | |
| --- | --- |
| | UNIT 3 Developing and Implementing Marketing Strategies |

108
(2)

| | |
| --- | --- |
| | The Very Model of a Modern Marketing Plan |

110
(9)
119
(3)
122
(4)

| | |
| --- | --- |
| | In Praise of the Purple Cow |

126
(6)
132
(8)
140
(6)
146
(5)

| | |
| --- | --- |
| | The Old Pillars of New Retailing |

151
(6)
157
(4)

| | |
| --- | --- |
| | Got Advertising That Works? |

161
(4)
165
(4)

| | |
| --- | --- |
| | Stronger Sales in Just 28 Minutes |

169
(5)
172
(2)

| | |
| --- | --- |
| | Segmenting Global Markets: Look Before You Leap |

174
(5)

| | |
| --- | --- |
| | International Marketing Research: A Management Briefing |

179
(9)
188
(5)
193
(5)
Glossary
198
(5)
Index
203
(3)
Test Your Knowledge Form
206
(1)
Article Rating Form
207