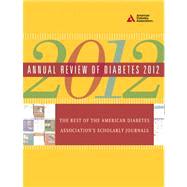 Annual Review of Diabetes 2012 : The Best of the American Diabetes Association's Scholarly Journals
by
American Diabetes Association, ADA
American Diabetes Association
This title is currently not available.
Summary
The American Diabetes Association is the authoritative voice in diabetes research and standards of care. For nearly 60 years, the ADA has published groundbreaking, vital, and timely articles in its scholarly journals, Diabetes, Diabetes Care, Diabetes Spectrum, and Clinical Diabetes, to help researchers and care providers achieve the best patient outcomes. Annual Review of Diabetes 2012 contains more than 40 of the ADA's finest articles published in 2011. Get the year's most current and important research in this one comprehensive book. Articles are categorized in the following sections: Epidemiology and PathogenesisTreatmentComplications
Author Biography
The American Diabetes Association is the nation's leading voluntary health organization supporting diabetes research, information, and advocacy and the leading publisher of comprehensive diabetes information. It is based in Alexandria, VA.