Note: Supplemental materials are not guaranteed with Rental or Used book purchases.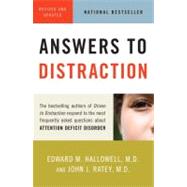 Questions About This Book?
What version or edition is this?
This is the edition with a publication date of 1/12/2010.
What is included with this book?
The New copy of this book will include any supplemental materials advertised. Please check the title of the book to determine if it should include any CDs, lab manuals, study guides, etc.
Customer Reviews
Very useful!
April 21, 2011
by





Answers To Distraction's format helped put the information you want/need into real life situations. It made it practical and extremely useful. It is very insightful. Easy to read as well. A MUST READ for any person with ADHD and their loved ones! As for me, I'm very happy to deal with ecampus. This used textbook looks as if it is new and the price was good. Thanks.

Flag Review
---
Answers to Distraction

:
stars based on
1
user reviews.
Summary
The book that answers your questions about ADDŚnow revised and updated
After decades of being unfairly diagnosed, children and adults with attention deficit disorder are now recognized as having a common and treatable neurological condition. Drs. Hallowell and Ratey answer the questions most frequently asked at their nationwide workshops and seminars, resulting in an easy-to-read reference that covers every aspect of the disorder: from identifying symptoms and diagnosis, to the latest treatment options, as well as practical day-to-day advice on how you or a loved one can live a normal life with ADD.
Whether you are a patient, parent, teacher, or health-care professional, Answers to Distraction will help those whose ADD has caused persistent problems in school, at work, and in relationships.
Q&As include:
What is the single most important scientific finding about ADD in the last decade?
How early can ADD be diagnosed?
Where can a parent get support for dealing with a child who has ADD?
What advances in the field of medication have taken place since the original version of this book was published?
This companion book to "Driven to Distraction" provides practical solutions to the dilemmas of Attention Deficit Disorder or ADD. This user's guide to ADD is presented in question-and-answer format, ideal for even the most distractible reader.
Author Biography
Edward M. Hallowell, M.D., is in private practice in adult and child psychiatry and has offices in both the Boston area and New York City. He lives with his wife, Sue, and children, Lucy, Jack, and Tucker. 
 
John J. Ratey, M.D. is a Clinical Associate Professor of Psychiatry at Harvard Medical School and is in private practice. He lives in the Boston area.
Table of Contents
Preface
p. ix
You Mean There's Actually a Name for It?: Toward a Definition of ADD
p. 3
To Be Here, and There, and Everywhere: ADD in Children
p. 18: Parents'
Making or Breaking the Spirit of the Child: Teachers and ADD
p. 72
The Pleasures (and Pains) of Sudden Wonder: ADD in Adults
p. 92
Work Smarter, Not Just Harder: ADD and Work
p. 113
Perchance to Dream: ADD in Women
p. 131
Making Up Tour Mind: New Tips on the Nonmedication Treatment of Adult ADD
p. 141
You Are My Sunshine: ADD in Couples
p. 148
Taming the Big Struggle: ADD and the Family
p. 167
The Unfinished Symphony: ADD and Creativity
p. 176
Fact or Fad?: The Diagnosis of ADD
p. 186
The Brain's Behind It: The Biology of ADD
p. 206
Whence It Came: The Genetic Basis of ADD
p. 227
What's in a Pill?: Treating ADD with Medication
p. 231
A Wretched Excess: ADD and Addiction
p. 260
The Gemlike Flame: Aggression and Anger in ADD
p. 268
The Doctors' Dilemmas: Questions from Health Professionals on the Treatment of ADD
p. 285
New Questions and Answers
p. 293
Appendixes
Fifty Tips on the Management of Adult ADD
p. 317
Twenty-Five Tips on the Management of ADD in Families
p. 326
Twenty-Five Tips on the Management of ADD in Couples
p. 332
Where To Go for Help
p. 337
Table of Contents provided by Ingram. All Rights Reserved.
Excerpts
1
You Mean There's Actually a Name for It?
Toward a Definition of ADD
Q: Can you tell me in brief what I need to know about ADD?
A: I can try. ADD is a neurological syndrome that is usually genetically transmitted. It is characterized by distractibility, impulsivity, and restlessness. In ADD these symptoms are present from childhood on, and with a much greater intensity than in the average person, so that they interfere with everyday functioning. Diagnosis is made primarily by reviewing one's history; there is no foolproof "test" for ADD. Great care must be taken to make an accurate diagnosis and to look for other problems that may occur along with ADD, such as low self-esteem, depression, substance abuse, or family turmoil.
Treatment includes education, structure, coaching, and medication. With treatment, the prognosis is usually good.
Both diagnosis and treatment should always be done under medical supervision. ADD is a tricky diagnosis and the treatment is not always simple. You should never diagnose or treat yourself.
Q: Are there any advantages to having ADD?
A: Yes. There are many.
To the extent that there is such a thing as the ADD personality--and I believe that there is--it has its pluses and its minuses. The pluses are not usually discussed much because books and articles about ADD naturally tend to focus on problems and solutions rather than advantages. But the advantages deserve prominent mention. They include:
• High energy
• Creativity
• Intuitiveness
• Resourcefulness
• Tenacity
• Hardworking, never-say-die approach
• Warmheartedness
• Trusting attitude (sometimes too much so)
• Forgiving attitude (sometimes too much so)
• Sensitivity (often can hurt as well as serve the person)
• Ability to take risks (again, a double-edged sword)
• Flexibility
• Good sense of humor
• Loyalty
Lest the skeptic think this sounds more like the Boy Scouts' oath than a legitimate list of traits, let me hasten to add that not all people with ADD have all these qualities, nor can I prove the scientific validity of the list itself. However, based upon my experience with thousands of individuals with ADD, and based upon my conversations with many other authorities in the field, this list of positive qualities does fairly describe the advantageous side of the ADD personality.
People with ADD do tend to be warm, creative, flexible, loyal, innovative, hardworking, and the rest of the qualities on that list. However, the problems their ADD causes can be so severe that these positive qualities never gain full expression or recognition. The negative qualities can be so toxic and self-defeating that the strengths are wasted.
Once the person gets proper treatment, the negative aspects of ADD recede, and the positive can flourish.
People with ADD remind me of the bumblebee. The bumblebee should not be able to fly. Its body is too big and its wings are too short. Scientists say it should not be able to fly. Aerodynamically, it should be impossible. The physicists agree--the design of the bumblebee is incompatible with flight. Its balance should be all off. So how does the bumblebee fly? We don't know. But it does fly. That much we do know.
Q: Is there a hallmark of ADD, a single core trait that defines it best?
A: In our opinion, yes there is. It is a relative lack of inhibition. People with ADD tend to be more spontaneous than the average person. They speak freely, at times too much so. They think freely, at times creatively, at other times chaotically. They act unpredictably: often even they do not know what they're going to do next. They do not inhibit their responses as stringently as most people do. They often lack the intermediate reflec
---

Excerpted from Answers to Distraction by Edward M. Hallowell, John J. Ratey
All rights reserved by the original copyright owners. Excerpts are provided for display purposes only and may not be reproduced, reprinted or distributed without the written permission of the publisher.