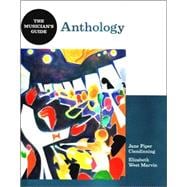 List Price: $51.15
Usually Ships in 2-3 Business Days
Questions About This Book?
What version or edition is this?
This is the edition with a publication date of 12/1/2004.
What is included with this book?
The Used copy of this book is not guaranteed to inclue any supplemental materials. Typically, only the book itself is included.
Summary
This wide-ranging music resource features sixty-two complete works and movements organized alphabetically by composer. Selections represent a uniquely diverse variety of styles-from popular song to German, from piano rags to minimalism, from marches for bands to anthems for choirs-with over one-third of the selections from the twentieth century. The Anthology can be accompanied by an exceptional three-CD set that includes professional recordings of all Anthology pieces.
Table of Contents
| | |
| --- | --- |
| | Anonymous: Minuet in D minor, from the Anna Magdalena Bach Notebook |

1
(1)

| | |
| --- | --- |
| | Johann Sebastian Bach: Brandenburg Concerto No. 4 in G Major, second movement |

2
(9)

| | |
| --- | --- |
| | ``Aus meines Herzens Grunde'' (No. 1) |

6
(1)

| | |
| --- | --- |
| | ``O Haupt voll Blut und Wunden'' (No. 74) |

7
(1)
8
(3)

| | |
| --- | --- |
| | Bach: Invention in D minor |

11
(2)

| | |
| --- | --- |
| | Bach: Prelude in C Major, from The Well-Tempered Clavier, Book I |

13
(2)

| | |
| --- | --- |
| | Bach: Chaconne, from the Violin Partita No. 2 in D minor |

15
(6)

| | |
| --- | --- |
| | Bela Bartok: Bagatelle, Op. 6, No. 2 |

21
(2)

| | |
| --- | --- |
| | Bartok: ``Bulgarian Rhythm,'' from Mikrokosmos (No. 115) |

23
(2)

| | |
| --- | --- |
| | Bartok: ``Song of the Harvest,'' for two violins |

25
(12)

| | |
| --- | --- |
| | Ludwig van Beethoven: Piano Sonata in C minor, Op. 13 (Pathetique) |

26
(4)
30
(7)

| | |
| --- | --- |
| | Beethoven: Piano Sonata in C Major, Op. 53 (Waldstein), first movement |

37
(15)

| | |
| --- | --- |
| | Beethoven: Sonatina in F Major, Op. Posth., second movement |

52
(2)

| | |
| --- | --- |
| | Johannes Brahms: ``Die Mainacht'' |

54
(5)

| | |
| --- | --- |
| | John Barnes Chance: Variations on a Korean Folk Song (measures 1--52, 199--end), short score |

59
(10)

| | |
| --- | --- |
| | Jeremiah Clarke: Trumpet Voluntary (Prince of Denmark's March) |

69
(7)

| | |
| --- | --- |
| | Muzio Clementi: Sonatina in C Major, Op. 36, No. 1, first movement |

76
(2)

| | |
| --- | --- |
| | Archangelo Corelli: Allemanda, from Trio Sonata in A minor, Op. 4, No. 5 |

78
(3)

| | |
| --- | --- |
| | John Corigliano: ``Come now, my darling,'' from The Ghosts of Versailles |

81
(6)

| | |
| --- | --- |
| | Luigi Dallapiccola: ``Die Sonne kommt,'' from Goethe-lieder, for voice and clarinets |

87
(1)

| | |
| --- | --- |
| | George Gershwin: ``I Got Rhythm'' |

88
(6)

| | |
| --- | --- |
| | Gershwin: ``'S Wonderful!'' |

94
(5)
99
(1)

| | |
| --- | --- |
| | George Frideric Handel: Chaconne in G Major, from Trois Lecons |

100
(7)

| | |
| --- | --- |
| | Handel: ``Rejoice greatly,'' from Messiah |

107
(10)

| | |
| --- | --- |
| | Franz Joseph Haydn: Piano Sonata No. 9 in F Major, third movement |

117
(1)

| | |
| --- | --- |
| | Fanny Mendelssohn Hensel: ``Nachtwanderer'' |

118
(4)

| | |
| --- | --- |
| | Hensel: ``Neue Liebe, neues Leben'' |

122
(5)

| | |
| --- | --- |
| | Scott Joplin: ``Pine Apple Rag'' |

127
(4)
131
(4)

| | |
| --- | --- |
| | Wofgang Amadeus Mozart: Piano Sonata in G Major, K. 283, first movement |

135
(4)

| | |
| --- | --- |
| | Mozart: Piano Sonata in D Major, K. 284, third movement |

139
(18)

| | |
| --- | --- |
| | Mozart: Piano Sonata in C Major, K. 545 |

149
(3)
152
(3)
155
(2)

| | |
| --- | --- |
| | Mozart: String Quartet in D minor, K. 421, third movement |

157
(2)

| | |
| --- | --- |
| | Mozart: ``Voi, che sapete,'' from The Marriage of Figaro |

159
(6)

| | |
| --- | --- |
| | Mozart: Variations on ``Ah, vous dirai-je, Maman'' |

165
(8)

| | |
| --- | --- |
| | ``My Country, 'Tis of Thee'' (``America'') |

173
(1)

| | |
| --- | --- |
| | Krzysztof Penderecki: Threnody for the Victims of Hiroshima (to rehearsal 25) |

174
(9)

| | |
| --- | --- |
| | Henry Purcell: ``Music for a While'' |

183
(4)

| | |
| --- | --- |
| | Steve Reich: Piano Phase (patterns 1--32) |

187
(2)

| | |
| --- | --- |
| | Arnold Schoenberg: Klavierstuck, Op. 33a |

189
(5)

| | |
| --- | --- |
| | Franz Schubert: ``Der Lindenbaum,'' from Winterreise |

194
(5)

| | |
| --- | --- |
| | Schubert: ``Du bist die Ruh'' |

199
(4)
203
(7)

| | |
| --- | --- |
| | Clara Schumann: ``Liebst du um Schonheit'' |

210
(4)

| | |
| --- | --- |
| | Robert Schumann: ``Ich grolle nicht,'' from Dichterliebe |

214
(3)

| | |
| --- | --- |
| | Schumann: ``Im wunderschonen Monat Mai,'' from Dichterliebe |

217
(2)

| | |
| --- | --- |
| | Schumann: ``Trallerliedchen,'' from Album for the Young, Op. 68, No. 3 |

219
(11)

| | |
| --- | --- |
| | John Philip Sousa: ``The Stars and Stripes Forever'' |

220
(4)
224
(6)

| | |
| --- | --- |
| | Igor Stravinsky: ``Bransle Gay,'' from Agon |

230
(2)

| | |
| --- | --- |
| | Stravinsky: ``Lento,'' from For the Five Fingers |

232
(1)

| | |
| --- | --- |
| | John Tavener: ``The Lamb'' |

233
(5)

| | |
| --- | --- |
| | Edgard Varese: Density 21.5, for solo flute |

238
(2)

| | |
| --- | --- |
| | Anton Webern: ``Dies ist ein Lied,'' from Funf Lieder aus ``Der siebente Ring,'' Op. 3, No. 1 |

240
(5)

| | |
| --- | --- |
| | Webern: String Quartet, Op. 5 |

242
(2)
244
(1)

| | |
| --- | --- |
| | Webern: Variations for Piano, Op. 27, second movement |

245
(1)

| | |
| --- | --- |
| | Meredith Willson: ``Till There Was You,'' from The Music Man |

246
(7)
CD Tracks and Performers
253
(4)
Index of Teaching Points
257