Note: Supplemental materials are not guaranteed with Rental or Used book purchases.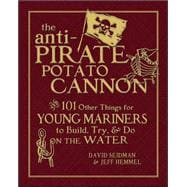 The Anti-Pirate Potato Cannon And 101 Other Things for Young Mariners to Build, Try, and Do on the Water
ISBN13:
9780071628372
by
Seidman, David
;
Hemmel, Jeff
International Marine/Ragged Mountain Press
Questions About This Book?
What version or edition is this?
This is the 1st edition with a publication date of 5/31/2010.
What is included with this book?
The New copy of this book will include any supplemental materials advertised. Please check the title of the book to determine if it should include any CDs, lab manuals, study guides, etc.
The eBook copy of this book is not guaranteed to include any supplemental materials. Typically only the book itself is included.
Summary
Spark a passion for sailng and the outdoors in your childEver since humankind began seafaring, boats and shoreline adventures have produced sturdy, independent, creative, self-reliant kids. From the author of the bestsellingComplete Sailorand proud father of a boy mariner, here is the book for all parents who want to introduce their kids to the world of boats, boating, sailing, the shore, and the sea. It provides dozens of adventures and activities for kids, and a plethora of projects for you and your kids to do together.Topics range from how-to to fanciful, in random organization so that each excursion into the book turns up unrelated gems on facing pages.The Anti-Pirate Potato Cannonencourages your kid to get outdoors and on the water, to build things, to try things, to cultivate their curiosity, to learn self-reliance, and to get a giant dose of the magic of seaside adventure. Loaded with things for kids to do--build a rope ladder; build a Huck Finn raft from PVC pipe; catch and fillet a fish; go crabbing; skip a stone; body surf; waterski on bare feet; chart a cove; learn the great sea battles; build a sandcastle; navigate; win a sailboat race; paddle a sea kayak; and a whole lot more. Designed to cultivate a kid's curiosity about the natural world.Topics include: Where's the wind coming from; How high is that wave; An anti-pirate potato cannon; Brew your own biofuel; Make a dugout canoe; Build a Huck Finn raft from PVC pipe; Skip a stone; Build a sandcastle; Carve a paddle; Row a boat Escape a rip current; Go kite sailing; Navigate by the stars; Carve a half-hull model; What's on the bottom; A journey to the abyss; Don't wrestle an alligator; A dinghy camper; How to dive with mask and snorkel; Build a motorboat from cardboard tubes; Body surf; Recognize ships; Discipline in the Age of Sail: cat-o-nine tails, hanging from the yardarms; Steer without a rudder; Chapter 25. Tie up to a dock; Reading a lines drawing; Whatever floats your boat; Play nautical capture the flag; Paddle a sea kayas; Build a rowboat; Signal across the water; Capture plankton in a net; Tie knots and splices; Make a rope ladder; Make a chart of your favorite cove; Throw your own beach clam bake; Make a catboat-race weather vane; Fight off a shark; Heave a monkey's fist; Ski on your own bare feet; Fillet a fish... and cook it on your engine; Your own ditty bag; A proper sailor's knife; How to stand up on a PWC; How to get up on a wakeboard; Go clamming; Build a human pyramid on water skis; How to poop in a boat: How marine heads work; Diver's tube raft; Submarine a PWC; Survive a sinking; Finding east or west All you need is the north star; The bosun's pipe; Ships in a bottle; Five sea battles that changed history; Use the five secrets of winning a sailboat race; Make a viewing bucket to see underwater; Cast a fly; Survive a hurricane; The Eskimo roll; Stow that chart; Goggles from a soda bottle; Find fish fast; Repair a sail; Whalewatching; Go on a plastics hunt; Don't be left in the dark; Pets at sea: how to train your cat or dog for boating; The green and clean boat; Ride the disk; Go crabbing; Careers at sea; Pass your boating license exam; Origins of sea terms; The best way to coil rope; Carve a slalom turn; Keeping watch; Throwing a cast net; Keep what you catch - start an aquarium; Heroes of the Sea: Shackleton, Slocum, Day, Knox-Johnston, Heyerdahl, etc.; Books & Stories (Three Men in a Boat, Crunch and Des, Riddle of the Sands, Swallows and Amazons); Stage paintball sea battles; Read the messages in clouds; Get unlost in the fog: sager forecaster; Know how to handle waves; Semaphore signals; Glacier surfing; Great voyages by young mariners; Make a weather station
Author Biography
David Seidman got into boats when he was nine and has been hooked ever since. He has designed and built his own boats and sailed the world in others. The first person to reach Bermuda from the U.S. in an outboard-powered boat, Seidman has also crossed the Bering Strait on a personal watercraft, holds the world record for distance traveled in a boat on a gallon of gas (103 miles), has followed the route of Lewis and Clark, crossed the country twice by boat, and has traveled by boat up the Amazon and down the Yangtze and Mississippi rivers. Equally fascinated by power, sail, and paddle, he is an accomplished sea kayaker and has sailed across the Atlantic. He is the former executive editor of Boating, the world's largest powerboat magazine, and is the author of The Complete Sailor, a bestselling sailing instructional guide. Most relevant of all, however, David is the proud father of a 6-year-old boy who he hopes will share his love of boats and the sea. The Anti-Pirate Potato Cannon and 101 Other Things for Young Mariners to Build, Try, and Do on the Water is David's attempt to ensure that happens.Jeff Hemmel, like David, is crazy about boats and his kid--in his case a daughter. A boating journalist, Jeff heads to sea from Tampa Bay whenever he gets the chance.
Table of Contents
LEARN TO BODY SURF;ESCAPE A RIP CURRENT;MAKE A SODA-BOTTLE WEATHERGLASS; WE SAY, THEY SAY;FIND FISH FAST;MAKE A SHIP IN A BOTTLE; STOCK YOUR DITTY BAG;THE SEA AND YOUR SENSES;BIG VOYAGES IN SMALL BOATS;WHAT'S ON THE BOTTOM? MAKE A COLLECTING DREDGE;CLEAN AND FILLET A FISH;CATCH A WORLD-RECORD FISH;HEAVE-HO: HOW NOT TO GET SEASICK;CREW (OR YOU) OVERBOARD;KNOTS: THE BIG FOUR; PLAY A BOSUN'S PIPE;DOGS ABOARD;BUILD AN ANTI-PIRATE POTATO CANNON;A HANGING AT SEA;LET'S GO CLAMMING;SUPERIOR STONE SKIPPING;HOW BOATS ARE DESIGNED; BUILD A HALF-HULL MODEL; WHY BOATS FLOAT; READ THE CLOUDS;MAKE A DIVER'S TUBE RAFT; NAME THAT WIND; LEARN TO WATER-SKI;DRIVE A 100 MPH BOAT;MAKE A VIEWING BUCKET;HOW BIG ARE THOSE WAVES?; RUN A SMALL BOAT THROUGH THE SURF;HOW TO HANDLE WAVES;WRESTLE AN ALLIGATOR;FELINE FORECASTING; WHERE'S THE WIND, SAILOR?;CATCH AND RELEASE A FISH;PLAY IN TRAFFIC;YOU'RE NEVER TOO YOUNG;BUILD A BOAT;WEAVE A SAILORS' BRACELET;NAVIGATE BY SATELLITE;HAVE A BEACH CLAMBAKE;GET UP ON A WAKEBOARD;REPAIR A SAIL;CAPSIZED!; WHEN DOES THE SUN SET?;GO SHARK WATCHING—SAFELY;SIGNAL WITH A CD;WHAT'S OVER THE HORIZON?; PADDLE A SEA KAYAK; HOW DOES IT FEEL TO BE . . .; BE ON THE LOOKOUT FOR POLLUTION; RIDE A STAND-UP WATERCRAFT;SUBMARINE A JET SKI;PASS YOUR BOATING EXAM;SEND A MESSAGE IN A BOTTLE; KNOW YOUR BINOCULARS;MAKE A PLANKTON NET; A PROPER SAILOR'S KNIFE;ALL YOU NEED IS THE NORTH STAR;A BOATERS' OLYMPICS;PADDLE A CANOE;IS IT GOING TO RAIN?; THE BEST WAY TO COIL A LINE;FIVE SEA BATTLES YOU SHOULD KNOW;ROLL LIKE AN ESKIMO; HOW FIBERGLASS BOATS ARE BUILT;SAILBOATS RACE ON THE ROOF;HOW DEEP IS IT?; SEND SEMAPHORE SIGNALS;A WALK TO THE ABYSS;ROW A BOAT;HOW FAST ARE YOU GOING?; BOATERS' PAINTBALL;IDENTIFY LARGE SEA LIFE;NAVIGATE LIKE ANCIENT MARINERS;WIN A SAILBOAT RACE;NAVIGATE WITH A KAMAL;MAKE YOUR OWN CHART;ARE YOU NEARING LAND?; DINGHY CRUISING;CAREERS AT SEA;MAKE A PADDLE; THE YOUNG MARINER'S FILM LIBRARY;DEEPWATER SLALOM SKI START;KEEP WATCH;FEND OFF A SHARK;COOK LUNCH ON YOUR ENGINE;A HOME FOR YOUR BOAT: MAKE A MOORING;FIND THAT "LOST" BUOY; THE YOUNG MARINER'S READING LIST; SURVIVE AN AIR-SEA RESCUE;PUT YOUR SAILBOAT TO BED; CARVE A COOL SLALOM TURN;MATCH YOUR SAILS TO THE WIND; ON-WATER PHOTOGRAPHY;MAKE HUCK FINN'S PVC PIPE RAFT;AVOID BAD LUCK;THAT FARAWAY LOOK: ESTIMATE DISTANCE OFF;THROW A CAST NET;BUILD A DUGOUT CANOE;GO CRABBING;BUILD A WATERFRONT SWING;WHO NEEDS A RUDDER?; BEGINNER-FRIENDLY WATER SKIS;GPS GAMES;BAREFOOT WATERSKIING;CAST A FLY;KNOT TRICKS;A WATERSKIING PYRAMID;BUILD A PAPER BOAT;MAKE VIEWING GOGGLES FROM A SODA BOTTLE; BREW YOUR OWN BIOFUEL;KEEP YOUR BOAT GREEN AND CLEAN;LEARN TO SCULL;USEFUL WEATHER RHYMES;SURVIVE A HURRICANE AT SEA; MAKE A ROPE LADDER; HEAVE A LINE AND MAKE A MONKEY'S FIST; A COMPASS IN YOUR HAND; RIDE A DISK; FIND YOUR WAY WITH HELP FROM THE SUN;SEAGOING TOILETS; EYE-SPLICE A LINE; TIE UP TO A DOCK; WIND FROM THE LAND AND SEA; WIN A COOL BET;A SEA OF WORDS;Credits;Index