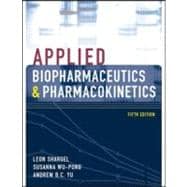 Questions About This Book?
Why should I rent this book?
Renting is easy, fast, and cheap! Renting from eCampus.com can save you hundreds of dollars compared to the cost of new or used books each semester. At the end of the semester, simply ship the book back to us with a free UPS shipping label! No need to worry about selling it back.
How do rental returns work?
Returning books is as easy as possible. As your rental due date approaches, we will email you several courtesy reminders. When you are ready to return, you can print a free UPS shipping label from our website at any time. Then, just return the book to your UPS driver or any staffed UPS location. You can even use the same box we shipped it in!
What version or edition is this?
This is the 5th edition with a publication date of 8/19/2004.
What is included with this book?
The New copy of this book will include any supplemental materials advertised. Please check the title of the book to determine if it should include any CDs, lab manuals, study guides, etc.
The Rental copy of this book is not guaranteed to include any supplemental materials. You may receive a brand new copy, but typically, only the book itself.
Related Products
Summary
The most comprehensive text on the practical applications of biopharmaceuticals and pharmacokinetics! The required text for the biopharmaceuticals and/or pharmacokinetics course sequence, this text emphasizes the application and understanding of concepts. Thoroughly revised, this edition continues to help students gain skills in problem solving and features examples, practice problems, and solutions.
Author Biography
Leon Shargel, PhD is vice president of biopharmaceutics at Eon Labs, Inc. Wilson, NC., Susanna Wu-Pong, PhD, RPh is an associate professor in the department of pharmaceutics at Virginia Commonwealth University, Richmond, Virginia, Andrew B.C. Yu,PhD, RPh, formerly a professor at the Albany College of Pharmacy, is currently with the FDA in Rockville, MD.
Table of Contents
Preface
xv
Glossary
xvii

| | |
| --- | --- |
| | 1. INTRODUCTION TO BIOPHARMACEUTICS AND PHARMACOKINETICS |

1
(20)
1
(2)
3
(1)

| | |
| --- | --- |
| | Clinical Pharmacokinetics |

3
(1)
4
(1)

| | |
| --- | --- |
| | Toxicokinetics and Clinical Toxicology |

4
(1)

| | |
| --- | --- |
| | Measurement of Drug Concentrations |

5
(4)

| | |
| --- | --- |
| | Basic Pharmacokinetics and Pharmacokinetic Models |

9
(9)
18
(1)
18
(3)

| | |
| --- | --- |
| | 2. MATHEMATIC FUNDAMENTALS IN PHARMACOKINETICS |

21
(30)
21
(1)

| | |
| --- | --- |
| | Estimation and the Use of Calculators and Computers |

22
(5)
27
(3)
30
(7)

| | |
| --- | --- |
| | Units in Pharmacokinetics |

37
(1)

| | |
| --- | --- |
| | Measurement and Use of Significant Figures |

38
(1)

| | |
| --- | --- |
| | Units for Expressing Blood Concentrations |

39
(1)
39
(3)

| | |
| --- | --- |
| | Rates and Orders of Reactions |

42
(5)

| | |
| --- | --- |
| | Frequently Asked Questions |

47
(1)
48
(2)
50
(1)
50
(1)

| | |
| --- | --- |
| | 3. ONE-COMPARTMENT OPEN MODEL: INTRAVENOUS BOLUS ADMINISTRATION |

51
(22)

| | |
| --- | --- |
| | Elimination Rate Constant |

52
(1)

| | |
| --- | --- |
| | Apparent Volume of Distribution |

53
(4)
57
(6)

| | |
| --- | --- |
| | Calculation of K from Urinary Excretion Data |

63
(6)

| | |
| --- | --- |
| | Frequently Asked Questions |

69
(1)
69
(3)
72
(1)
72
(1)

| | |
| --- | --- |
| | 4. MULTICOMPARTMENTAL MODELS: INTRAVENOUS BOLUS ADMINISTRATION |

73
(32)

| | |
| --- | --- |
| | Two-Compartment Open Model |

75
(18)

| | |
| --- | --- |
| | Three-Compartment Open Model |

93
(2)

| | |
| --- | --- |
| | Determination of Compartment Models |

95
(6)

| | |
| --- | --- |
| | Frequently Asked Questions |

101
(1)
102
(3)
105
(1)
105
(1)
105
(26)

| | |
| --- | --- |
| | One-Compartment Model Drugs |

108
(4)

| | |
| --- | --- |
| | Infusion Method for Calculating Patient Elimination Half-Life |

112
(3)

| | |
| --- | --- |
| | Loading Dose Plus IV Infusion: One-Compartment Model |

115
(7)

| | |
| --- | --- |
| | Estimation of Drug Clearance and VD from Infusion Data |

122
(1)

| | |
| --- | --- |
| | Intravenous Infusion of Two Compartment Model Drugs |

122
(1)

| | |
| --- | --- |
| | Loading Dose Plus IV Infusion: Two-Compartment Model |

123
(4)

| | |
| --- | --- |
| | Frequently Asked Questions |

127
(1)
127
(2)
129
(1)
129
(2)

| | |
| --- | --- |
| | 6. DRUG ELIMINATION AND CLEARANCE |

131
(30)
131
(1)
132
(4)
136
(3)
139
(3)
142
(2)
144
(5)

| | |
| --- | --- |
| | Determination of Renal Clearance |

149
(6)

| | |
| --- | --- |
| | Relationship of Clearance to Elimination Half-Life and Volume of Distribution |

155
(2)

| | |
| --- | --- |
| | Frequently Asked Questions |

157
(1)
158
(1)
159
(1)
159
(2)

| | |
| --- | --- |
| | 7. PHARMACOKINETICS OF ORAL ABSORPTION |

161
(24)

| | |
| --- | --- |
| | Pharmacokinetics of Drug Absorption |

161
(2)

| | |
| --- | --- |
| | Zero-Order Absorption Model |

163
(1)

| | |
| --- | --- |
| | First-Order Absorption Model |

164
(17)

| | |
| --- | --- |
| | Significance of Absorption Rate Constants |

181
(1)

| | |
| --- | --- |
| | Frequently Asked Questions |

182
(1)
182
(2)
184
(1)
184
(1)

| | |
| --- | --- |
| | 8. MULTIPLE DOSAGE REGIMENS |

185
(34)
185
(5)

| | |
| --- | --- |
| | Repetitive Intravenous Injections |

190
(7)

| | |
| --- | --- |
| | Intermittent Intravenous Infusion |

197
(4)

| | |
| --- | --- |
| | Estimation of k and VD of Aminoglycosides in Clinical Situations |

201
(1)

| | |
| --- | --- |
| | Multiple-Oral-Dose Regimen |

202
(3)
205
(2)

| | |
| --- | --- |
| | Determination of Bioavailability and Bioequivalance in a Multiple-Dose Regimen |

207
(1)
208
(2)
210
(5)

| | |
| --- | --- |
| | Frequently Asked Questions |

215
(1)
215
(1)
216
(1)
217
(2)

| | |
| --- | --- |
| | 9. NONLINEAR PHARMACOKINETICS |

219
(32)

| | |
| --- | --- |
| | Saturable Enzymatic Elimination Processes |

221
(3)

| | |
| --- | --- |
| | Drug Elimination by Capacity-Limited Pharmacokinetics: One-Compartment Model, Intravenous Bolus Injection |

224
(15)

| | |
| --- | --- |
| | Equations for Drugs Distributed as One-Compartment Model and Eliminated by Nonlinear Pharmacokinetics |

239
(4)

| | |
| --- | --- |
| | Bioavailability of Drugs That Follow Nonlinear Pharmacokinetics |

243
(1)

| | |
| --- | --- |
| | Nonlinear Pharmacokinetics Due to Drug-Protein Binding |

243
(3)

| | |
| --- | --- |
| | Frequently Asked Questions |

246
(1)
246
(2)
248
(1)
248
(3)
10. PHYSIOLOGIC DRUG DISTRIBUTION AND PROTEIN BINDING
251
(52)

| | |
| --- | --- |
| | Physiologic Factors of Distribution |

251
(8)

| | |
| --- | --- |
| | Apparent Volume Distribution |

259
(8)
267
(8)

| | |
| --- | --- |
| | Relationship of Plasma Drug-Protein Binding to Distribution and Elimination |

275
(4)

| | |
| --- | --- |
| | Determinants of Protein Binding |

279
(1)

| | |
| --- | --- |
| | Kinetics of Protein Binding |

280
(2)

| | |
| --- | --- |
| | Determination of Binding Constants and Binding Sites by Graphic Methods |

282
(4)

| | |
| --- | --- |
| | Clinical Significance of Drug-Protein Binding |

286
(10)

| | |
| --- | --- |
| | Modeling Drug Distribution |

296
(1)

| | |
| --- | --- |
| | Frequently Asked Questions |

297
(1)
298
(1)
299
(2)
301
(2)
11. HEPATIC ELIMINATION OF DRUGS
303
(52)

| | |
| --- | --- |
| | Route of Drug Administration and Extrahepatic Metabolism |

303
(5)
308
(8)

| | |
| --- | --- |
| | Anatomy and Physiology of the Liver |

316
(3)

| | |
| --- | --- |
| | Hepatic Enzymes Involved in the Biotransformation of Drugs |

319
(2)

| | |
| --- | --- |
| | Pathways of Drug Biotransformation |

321
(11)
332
(8)

| | |
| --- | --- |
| | Hepatic Clearance of a Protein-Bound Drug: Restrictive and Nonrestrictive Clearance from Binding |

340
(4)

| | |
| --- | --- |
| | Biliary Excretion of Drugs |

344
(4)

| | |
| --- | --- |
| | Frequently Asked Questions |

348
(1)
348
(3)
351
(2)
353
(2)
12. PHARMACOGENETICS
355
(16)
356
(3)
359
(2)

| | |
| --- | --- |
| | Adverse Drug Reactions Attributed to Genetic Differences |

361
(1)

| | |
| --- | --- |
| | Genetic Polymorphism in Drug Metabolism: Cytochrome P-450 Isozymes |

361
(3)

| | |
| --- | --- |
| | Genetic Polymorphism in Drug Transport: P-Glycoprotein and Multidrug Resistance |

364
(1)

| | |
| --- | --- |
| | Genetic Polymorphism in Drug Targets |

365
(1)

| | |
| --- | --- |
| | Pharmacokinetics Pharmacodynamics (PK PD) Considerations and Pharmacogenetics Pharmacogenomics (PGt PGx) |

366
(1)

| | |
| --- | --- |
| | Frequently Asked Questions |

367
(1)
368
(1)
369
(2)
13. PHYSIOLOGIC FACTORS RELATED TO DRUG ABSORPTION
371
(40)

| | |
| --- | --- |
| | Route of Drug Administration |

371
(2)
373
(2)

| | |
| --- | --- |
| | Passage of Drugs Across Cell Membranes |

375
(7)
382
(14)

| | |
| --- | --- |
| | Methods for Studying Factors That Affect Drug Absorption |

396
(5)

| | |
| --- | --- |
| | Effect of Disease States on Drug Absorption |

401
(4)

| | |
| --- | --- |
| | Frequently Asked Questions |

405
(1)
405
(1)
406
(2)
408
(3)
14. BIOPHARMACEUTIC CONSIDERATIONS IN DRUG PRODUCT DESIGN
411
(42)

| | |
| --- | --- |
| | Rate-Limiting Steps in Drug Absorption |

413
(1)

| | |
| --- | --- |
| | Pharmaceutic Factors Affecting Drug Bioavailability |

413
(2)

| | |
| --- | --- |
| | Physicochemical Nature of the Drug |

415
(3)

| | |
| --- | --- |
| | Formulation Factors Affecting Drug Dissolution |

418
(3)

| | |
| --- | --- |
| | Dissolution and Drug Release Testing |

421
(3)

| | |
| --- | --- |
| | Compendial Methods of Dissolution |

424
(4)

| | |
| --- | --- |
| | Meeting Dissolution Requirements |

428
(1)

| | |
| --- | --- |
| | Alternative Methods of Dissolution Testing |

429
(1)

| | |
| --- | --- |
| | Problems of Variable Control in Dissolution Testing |

430
(1)

| | |
| --- | --- |
| | In-Vitro-In-Vivo Correlation |

431
(5)

| | |
| --- | --- |
| | Biopharmaceutic Considerations |

436
(1)

| | |
| --- | --- |
| | Pharmacodynamic Considerations |

437
(1)
437
(1)

| | |
| --- | --- |
| | Drug Product Considerations |

438
(1)
439
(1)

| | |
| --- | --- |
| | Route of Drug Administration |

439
(10)

| | |
| --- | --- |
| | Frequently Asked Questions |

449
(1)
450
(1)
450
(1)
451
(2)
15. BIOAVAILABILITY AND BIOECTIVALENCE
453
(48)
453
(3)

| | |
| --- | --- |
| | Purpose of Bioavailability Studies |

456
(1)

| | |
| --- | --- |
| | Relative and Absolute Availability |

457
(3)

| | |
| --- | --- |
| | Methods for Assessing Bioavailability |

460
(5)
465
(2)

| | |
| --- | --- |
| | Design and Evaluation of Bioequivalence Studies |

467
(3)
470
(3)
473
(2)
475
(3)

| | |
| --- | --- |
| | Study Submission and Drug Review Process |

478
(4)

| | |
| --- | --- |
| | The Biopharmaceutics Classification System (BCS) |

482
(3)
485
(1)

| | |
| --- | --- |
| | Clinical Significance of Bioequivalence Studies |

486
(1)

| | |
| --- | --- |
| | Special Concerns in Bioavailability and Bioequivalence Studies |

487
(2)
489
(2)

| | |
| --- | --- |
| | Frequently Asked Questions |

491
(1)
492
(6)
498
(1)
498
(3)
16. IMPACT OF DRUG PRODUCT QUALITY AND BIOPHARNIACEUTICS ON CLINICAL EFFICACY
501
(14)
501
(3)
504
(2)

| | |
| --- | --- |
| | Scale-Up and Postapproval Changes (SUPAC) |

506
(5)
511
(2)

| | |
| --- | --- |
| | Frequently Asked Questions |

513
(1)
513
(1)
514
(1)
17. MODIFIED-RELEASE DRUG PRODUCTS
515
(38)

| | |
| --- | --- |
| | Examples of Modified-Release Oral Dosage Forms |

516
(2)
518
(3)
521
(1)

| | |
| --- | --- |
| | Advantages and Disadvantages of Extended-Release Products |

521
(2)

| | |
| --- | --- |
| | Kinetics of Extended-Release Dosage Forms |

523
(2)

| | |
| --- | --- |
| | Pharmacokinetic Simulation of Extended-Release Products |

525
(2)

| | |
| --- | --- |
| | Types of Extended-Release Products |

527
(15)

| | |
| --- | --- |
| | Considerations in the Evaluation of Modified-Release Products |

542
(5)

| | |
| --- | --- |
| | Evaluation of In-Vivo Bioavailability Data |

547
(2)

| | |
| --- | --- |
| | Frequently Asked Questions |

549
(1)
549
(1)
550
(1)
551
(2)
18. TARGETED DRUG DELIVERY SYSTEMS AND BIOTECHNOLOGICAL PRODUCTS
553
(22)
554
(8)

| | |
| --- | --- |
| | Drug Carriers and Targeting |

562
(5)
567
(2)

| | |
| --- | --- |
| | Pharmacokinetics of Biopharmaceuticals |

569
(2)

| | |
| --- | --- |
| | Bioequivalence of Biotechnology-Derived Drug Products |

571
(1)

| | |
| --- | --- |
| | Frequently Asked Questions |

571
(1)
572
(1)
572
(1)
573
(2)
19. RELATIONSHIP BETWEEN PHARMACOKINETICS AND PHARMACODYNAMICS
575
(38)

| | |
| --- | --- |
| | Pharmacodynamics and Pharmacokinetics |

575
(2)

| | |
| --- | --- |
| | Relation of Dose to Pharmacologic Effect |

577
(3)

| | |
| --- | --- |
| | Relationship between Dose and Duration of Activity (t3ff), Single Intravenous Bolus Injection |

580
(2)

| | |
| --- | --- |
| | Effect of Both Dose and Elimination Half-Life on the Duration of Activity |

582
(1)

| | |
| --- | --- |
| | Effect of Elimination Half-Life on Duration of Activity |

582
(5)

| | |
| --- | --- |
| | Rate of Drug Absorption and Pharmacodynamic Response |

587
(1)

| | |
| --- | --- |
| | Drug Tolerance and Physical Dependency |

588
(1)

| | |
| --- | --- |
| | Hypersensitivity and Adverse Response |

589
(1)

| | |
| --- | --- |
| | Drug Distribution and Pharmacologic Response |

590
(3)
593
(15)

| | |
| --- | --- |
| | Frequently Asked Questions |

608
(1)
608
(1)
609
(1)
610
(3)
20. APPLICATION OF PHARMACOKINETICS IN CLINICAL SITUATIONS
613
(60)

| | |
| --- | --- |
| | Individualization of Drug Dosage Regimens |

613
(1)

| | |
| --- | --- |
| | Therapeutic Drug Monitoring |

614
(9)

| | |
| --- | --- |
| | Design of Dosage Regimens |

623
(1)

| | |
| --- | --- |
| | Conversion from Intravenous Infusion to Oral Dosing |

624
(2)
626
(2)

| | |
| --- | --- |
| | Effect of Changing Dose and Dosing Interval on Cinfinity max, Cinfintiy min, and Cinfinity av |

628
(1)

| | |
| --- | --- |
| | Determination of Frequency of Drug Administration |

629
(1)

| | |
| --- | --- |
| | Determination of Both Dose and Dosage Interval |

630
(1)

| | |
| --- | --- |
| | Nomograms and Tabulations in Designing Dosage Regimens |

631
(2)

| | |
| --- | --- |
| | Determination of Route of Administration |

633
(1)

| | |
| --- | --- |
| | Dosing of Drugs in Infants and Children |

634
(2)

| | |
| --- | --- |
| | Dosing of Drugs in the Elderly |

636
(4)

| | |
| --- | --- |
| | Dosing of Drugs in the Obese Patient |

640
(2)

| | |
| --- | --- |
| | Pharmacokinetics of Drug Interactions |

642
(3)

| | |
| --- | --- |
| | Inhibition of Drug Metabolism |

645
(2)

| | |
| --- | --- |
| | Inhibition of Biliary Excretion |

647
(1)

| | |
| --- | --- |
| | Induction of Drug Metabolism |

648
(1)

| | |
| --- | --- |
| | Altered Renal Reabsorption Due to Changing Urinary pH |

648
(1)

| | |
| --- | --- |
| | Inhibition of Drug Absorption |

649
(1)

| | |
| --- | --- |
| | Effect of Food on Drug Disposition |

649
(1)

| | |
| --- | --- |
| | Adverse Viral Drug Interactions |

649
(1)

| | |
| --- | --- |
| | Population Pharmacokinetics |

650
(14)

| | |
| --- | --- |
| | Regional Pharmacokinetics |

664
(1)

| | |
| --- | --- |
| | Frequently Asked Questions |

665
(1)
665
(3)
668
(2)
670
(3)
21. DOSE ADJUSTMENT IN RENAL AND HEPATIC DISEASE
673
(44)
673
(1)

| | |
| --- | --- |
| | Pharmacokinetic Considerations |

673
(2)

| | |
| --- | --- |
| | General Approaches for Dose Adjustment in Renal Disease |

675
(2)

| | |
| --- | --- |
| | Measurement of Glomerular Filtration Rate |

677
(1)

| | |
| --- | --- |
| | Serum Creatinine Concentration and Creatinine Clearance |

678
(5)

| | |
| --- | --- |
| | Dose Adjustment for Uremic Patients |

683
(13)

| | |
| --- | --- |
| | Extracorporeal Removal of Drugs |

696
(9)

| | |
| --- | --- |
| | Effect of Hepatic Disease on Pharmacokinetics |

705
(7)

| | |
| --- | --- |
| | Frequently Asked Questions |

712
(1)
713
(1)
714
(1)
715
(2)
22. PHYSIOLOGICAL PHARMACOKINETIC MODELS, MEAN RESIDENT TIME, AND STATISTICAL MOMENT THEORY
717
(40)

| | |
| --- | --- |
| | Physiologic Pharmacokinetic Models |

718
(13)
731
(5)

| | |
| --- | --- |
| | Statistical Moment Theory |

736
(15)

| | |
| --- | --- |
| | Selection of Pharmacokinetic Models |

751
(3)

| | |
| --- | --- |
| | Frequently Asked Questions |

754
(1)
754
(1)
755
(1)
756
(1)
Appendix A Statistics
757
(18)
Appendix B Applications of Computers in Pharmacokinetics
775
(16)
Appendix C Ethical Considerations
791
(66)
Appendix D Solutions to Frequently Asked Questions (FAQ) and Learning Questions
857
(6)
Appendix E Popular Drugs and Pharmacokinetic Parameters
863
(6)
Index
869