Note: Supplemental materials are not guaranteed with Rental or Used book purchases.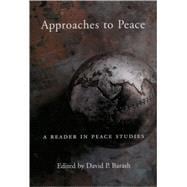 Approaches to Peace A Reader in Peace Studies
ISBN13:
9780195123869
by
Barash, David P.
Related Products
Summary
Approaches to Peace provides a unique and interdisciplinary sampling of classic articles and short literary selections focusing on the diverse aspects of peace and conflict studies. Readings cover the causes of war and proposed means of preventing it, so called negative peace, and also reflectupon the universal concern for positive peace. The material examines nonviolence movements, peace movements, religious inspirations, and our future prospects for peace. Contributors include Johan Galtung, Kenneth Boulding, Elise Boulding, and Alva Mydral. Contemporary pieces by Jonathan Schell,Richard Falk, Betty Reardon, and Vaclav Havel, and timeless classics from Leo Tolstoy, the Bhagavad Gita, Martin Luther King, Jr., Gandhi, and Thoreau are included as well. The book's balanced and unbiased approach makes it easily adaptable to both general discussions of peace and conflict as wellas the rapidly changing issues of the moment. Approaches to Peace is able to stand on its own as a foundation text in any introductory peace studies course. It is also compact enough to use as a supplement with more specialized readings, allowing instructors to assign additional readings consistentwith their own particular orientation. Each selection is prefaced by a short introduction highlighting the author's background, the work's historical context, and the selection's significance in terms of the "big picture." Study questions and a list of suggested readings at the end of each selectionalso provide a useful resource for students.
Table of Contents
Introduction
Approaches to War
Why War?
On Aggression
Warfare is Only an Invention - Not a Biological Necessity
War and Other Essays
The Guns of August
Victims of Groupthink
The Causes of War
A Structural Theory of Imperialism
National Images and International Systems
Glamorized Nationalism: Some Examples in Poetry
Redefining Security: The New Global Schisms
Study Questions
Suggested Reading
Building ""Negative Peace""
The Moral Equivalent of War
Getting to YES
Disarmament Demands GRIT
The Conduct of Just and Limited War
The Game of Disarmament
The Gift of Time
Finding the Future: The Rolse of Economic Conversion in Shaping the Twenty-First Century
International Law
The Evolution of United National Peacekeeping
Perpetual Peace
Study Questions
Suggested Readings
Building ""Positive Peace""
The Land Ethic
Human Rights
The Pedagogy of the Oppressed
An Agenda for Change
Letter From a Birmingham Jail
Study Questions
Suggested Readings
Nonviolence
Civil Disobedience
Letter to Ernst Howard Crosby
Conscientious Objector
Neither Victims Nor Executioners
Ahimsa, or the Way of Nonviolence
Civilian Resistance as a National Defense
Study Questions
Suggested Readings
Religious Inspiration
The Bhagavad Gita
Tao De Ching
Being Peace: Richt Nhat Hanh
The Old Testament
The New Testament
Holy Disobedience
A Devout Meditation on Behalf of Adolf Eichmann
A Christian's View of the Arms Race
Study Questions
Suggested Readings
Peace Movements, Transformations, and the Future
Peace Movements in History
Building Utopias in History
On Humane Governance
Sexism and the War System
The Politics of Responsibility
A Few Poetic Visions
Study Questions
Suggested Readings
Table of Contents provided by Publisher. All Rights Reserved.