Note: Supplemental materials are not guaranteed with Rental or Used book purchases.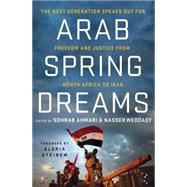 Summary
During the Arab Spring, the world saw a long-suppressed group in the Middle East - young people - assert itself and demand its rights. But this youthful dissent did not appear overnight; for decades it has been simmering beneath the surface in countries from Saudi Arabia to Yemen, from Iran to Egypt. In Arab Spring Dreams , young Middle Easterner activists describe their experiences with the region's laws and cultural mores, including the crime of holding hands before marriage, discrimination and harassment over religious beliefs, and young women fighting for the right to complete their educations. They also discuss how previous uprisings, particularly the American civil rights movement of the 1960s, might be channeled to effect change in their own countries. Beautifully written and profoundly moving, these stories present a decisive call for change at a crucial point in the evolution of the Middle East.
Author Biography
Nasser Weddady is the civil rights outreach director of the American Islamic Congress. He has helped design and administer the Dream Deferred essay contest, from which the essays in this anthology are culled. Sohrab Ahmari is an Iranian-American journalist. His columns, feature stories, and reviews have appeared in The Wall Street Journal, the Boston Globe, The New Republic, and The Chronicle of Higher Education, among others.
Table of Contents
"A slim volume that successfully presents 'treasures, surprises, and rewards.'" --Kirkus Reviews
"You are now holding an exceptional book. It is particularly now when the eyes of the whole world are anxiously set on the Middle East that I am so eagerly looking forward to getting to know the stories which often do not make themselves heard among the brouhaha in the media. The essays collected here are a particularly important testimony and close to my heart as they are written by young courageous people who dare to dream of the things their parents never dreamt of. The book clearly demonstrates that no matter where we live or what religion we follow, certain fundamental values are universal."—Lech Walesa, Nobel Peace Prize recipient, and the former President of Poland
"This is a wonderful book, and a stirring testament to the truth that the desire for freedom and democracy transcends the boundaries of nationalities, religion, ethnicity, race and gender."--Azar Nafisi, author of Reading Lolita in Tehran
"For too long, American readers have looked to unreliable intermediaries to learn what's on the minds of the Arab youth. But now two of the most promising young thinkers from the region have offered up a gem, Arab Spring Dreams, giving us access to their generation's most authentic voices. To further their worthy plight for freedom, let us begin by lending an ear to their moving narratives."--Roya Hakakian, author of Journey from the Land of No and Assassins of the Turquoise Palace