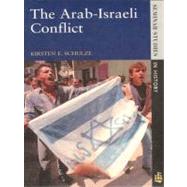 Summary
A concise and accessible introduction to a highly complex subject. Following the opening chapter on the origins of the Arab-Israeli conflict, Dr Schulze takes the reader through the causes, course, and consequences of all the major conflicts, concluding with a chapter on the Middle East peace process in the 1990s. As well as analysing the events themselves, the author also considers the historiographical debates on nationalism, revisionism and post-revisionism. An excellent introduction providing a clear and readable account for students of postwar international history, Middle Eastern Studies and politics.
Author Biography
Kirsten E. Schulze is Lecturer in International History at the London School of Economics.
Table of Contents
An introduction to the series
Note on referencing system
List of maps
Acknowledgements
The Origins of the Arab-Israeli Conflict
p. 1
Zionism and Arab Nationalism
p. 1
The Impact of the First World War
p. 3
British Policy and the Palestine Mandate
p. 5
The Inter-war Period
p. 6
The Impact of the Second World War
p. 8
The British Withdrawal from Palestine
p. 11
The 1948 War
p. 13
The First Arab-Israeli War
p. 13
The Palestinian Refugee Problem
p. 15
The Historiographical Debate
p. 17
Peace Negotiations
p. 19
The 1956 Suez-Sinai Campaign
p. 23
The 1952 Egyptian Coup
p. 23
Israeli-Egyptian Tensions
p. 24
The Israeli Foreign and Defence Policy Debate
p. 26
British-French-Israeli Collaboration
p. 28
The Results of the War
p. 31
The 1967 Six Day War
p. 33
The Creation of the Palestine Liberation Organisation
p. 34
On the Brink of War
p. 35
The Six Day War
p. 37
The Aftermath of War
p. 39
The 1973 October War
p. 42
The War of Attrition
p. 42
The Palestinian Revival and Black September
p. 43
Syro-Egyptian Plans for War
p. 44
The 'Surprise' Attack
p. 46
Consequences of the War
p. 49
The Egyptian-Israeli Peace Process
p. 52
Disengagement
p. 52
The 1977 Likud Victory
p. 54
The Camp David Accords
p. 57
Implications of Peace
p. 58
The 1982 Lebanon War
p. 61
The Lebanese Civil War
p. 61
Limited Israeli Intervention
p. 63
Operation Peace for Galilee
p. 64
The Failures of Operation Peace for Galilee
p. 67
The 1983 May 17th Agreement
p. 68
Repercussions of the Invasion
p. 69
The Intifada
p. 71
The PLO after 1982
p. 71
The Intifada
p. 74
Israeli Reaction
p. 77
The Creation of Hamas
p. 79
The Middle East Peace Process
p. 82
The Gulf War
p. 82
The Madrid Conference and Framework for Peace
p. 84
The Oslo Process and Israeli-Palestinian Negotiations
p. 85
Peace with Jordan
p. 87
Negotiations with Syria and Lebanon
p. 88
Obstacles to Negotiations
p. 90
Towards Conflict Resolution
p. 92
Documents
p. 97
Chronology of Events
p. 122
Cast of Characters
p. 127
Glossary
p. 132
Bibliography
p. 137
Index
p. 144
Table of Contents provided by Blackwell. All Rights Reserved.