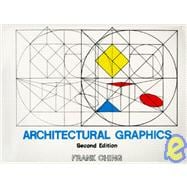 Summary
The completely updated, illustrated bestseller on architectural graphics with over 500,000 copies sold Architectural Graphics presents a wide range of basic graphic tools and techniques designers use to communicate architectural ideas. Expanding upon the wealth of illustrations and information that have made this title a classic, this Fourth Edition provides expanded and updated coverage of drawing materials, multiview drawings, paraline drawings, and perspective drawings. Also new to this edition is the author's unique incorporation of digital technology into his successful methods. While covering essential drawing principles, this book presents: approaches to drawing section views of building interiors, methods for drawing modified perspectives, techniques for creating accurate shade and shadows, expert styles of freehand sketching and diagramming, and much more.
Author Biography
Francis D.K. Ching is a registered architect and professor of architecture at the University of Washington
Table of Contents
Preface
p. vii
Drawing Tools & Materials
p. 1
Architectural Drafting
p. 13
Architectural Drawing Systems
p. 23
Multiview Drawings
p. 37
Paraline Drawings
p. 73
Perspective Drawings
p. 87
Rendering Tonal Values
p. 125
Rendering Context
p. 157
Architectural Presentations
p. 171
Freehand Drawing
p. 185
Index
p. 211
Table of Contents provided by Syndetics. All Rights Reserved.