Note: Supplemental materials are not guaranteed with Rental or Used book purchases.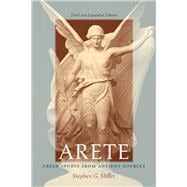 Questions About This Book?
What version or edition is this?
This is the 3rd edition with a publication date of 4/29/2004.
What is included with this book?
The eBook copy of this book is not guaranteed to include any supplemental materials. Typically only the book itself is included.
Summary
From the informal games of Homer's time to the highly organized contests of the Roman world, Miller has compileda trove of ancient sources: Plutarch on boxing, Aristotle on the pentathlon, Philostratos on the buying and selling of victories, Vitruvius on literary competitions, and Xenophon on female body building. Arete offers readers an absorbing lesson in the culture of Greek athletics from the greatest of teachers, the ancients themselves, and demonstrates that the concepts of virtue, skill, pride, valor, and nobility embedded in the word arete are only part of the story from antiquity.
Table of Contents
Abbreviations
vii
Introduction
ix
I. THE EARLIEST DAYS OF GREEK ATHLETICS: 1-2
1
(15)
II. NUDITY AND EQUIPMENT: 3-19
16
(7)
III. THE EVENTS AT A COMPETITION
23
(40)
23
(4)
27
(5)
32
(5)
37
(2)
39
(11)
50
(7)

| | |
| --- | --- |
| | g. Herald and Trumpeter: 73-74 |

57
(1)
58
(1)

| | |
| --- | --- |
| | i. Poetry and Prose Composition: 77-78 |

59
(2)
61
(1)
61
(2)
IV. ORGANIZATION OF A PANHELLENIC FESTIVAL
63
(18)

| | |
| --- | --- |
| | a. Preparations at the Site: 81-82 |

63
(2)

| | |
| --- | --- |
| | b. Preparations of the Athletes: 83-86 |

65
(2)
67
(2)

| | |
| --- | --- |
| | d. Preliminaries: Registration and Certification: 90-94 |

69
(1)

| | |
| --- | --- |
| | e. Schedule, Heats, and Pairings: 95-99 |

70
(3)

| | |
| --- | --- |
| | f. Prohibitions and Penalties: 100-104 |

73
(2)
75
(1)

| | |
| --- | --- |
| | h. Rewards for Victory: 110-118 |

76
(5)
V. LOCAL FESTIVALS
81
(8)

| | |
| --- | --- |
| | a. The Panathenaic Games of Athens: 119-123 |

81
(5)

| | |
| --- | --- |
| | b. The Eleutheria of Larissa in Thessaly: 124-126 |

86
(2)

| | |
| --- | --- |
| | c. The Bomonikai of Sparta: 127 |

88
(1)
VI. THE ROLE OF THE GAMES IN SOCIETY: 128-148
89
(16)
VII. WOMEN IN ATHLETICS: 149-162
105
(6)
VIII. ATHLETES AND HEROES: 163-175
111
(9)
IX. BALL PLAYING: 176-178
120
(6)
X. GYMNASION, ATHLETICS, AND EDUCATION: 179-189
126
(27)
XI. THE SPREAD OF GREEK ATHLETICS IN THE HELLENISTIC PERIOD: 190-199
153
(7)
XII. GREEK ATHLETICS IN THE ROMAN PERIOD: 200-204
160
(5)
XIII. AMATEURISM AND PROFESSIONALISM: 205-223
165
(16)
XIV. NATIONALISM AND INTERNATIONALISM: 224-231
181
(11)

| | |
| --- | --- |
| | a. Relations between the Panhellenic Sanctuaries: 232-236 |

184
(2)

| | |
| --- | --- |
| | b. Relations between City-States and the Panhellenic Sanctuaries: 237-242 |

186
(4)

| | |
| --- | --- |
| | c. Relations between City-States at the Panhellenic Sanctuaries: 243-247 |

190
(2)
XV. BEAUTY AND REALITY: 248-256
192
(9)
Appendix: The Olympian and Pythian Programs
201
(2)
Select Bibliography
203
(6)
Index and Glossary
209
(26)
Sources for the Chapter-Opening Sketches
235