Note: Supplemental materials are not guaranteed with Rental or Used book purchases.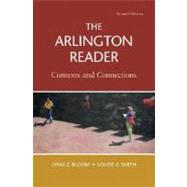 The Arlington Reader: Contexts and Connections
ISBN13:
9780312448844
by
Bloom
;
Smith
Questions About This Book?
What version or edition is this?
This is the 2nd edition with a publication date of 12/20/2007.
What is included with this book?
The New copy of this book will include any supplemental materials advertised. Please check the title of the book to determine if it should include any CDs, lab manuals, study guides, etc.
Summary
Because textbooks tend to uproot readings from the conversations that prompted them, students are often left without much of the original context that would help them understand and interpret a text. Those additional voices are important, particularly when students are working with complex material.The Arlington Reader,Second Edition, offers class-proven readings and fresh and exciting new selections along with many of those voices brought back into the conversation. Each of the 9 thematic chapters includes essays plus related material such as reviews, response essays, quotations, photographs, and interviews. For instance, N. Scott Momaday's "The Way to Rainy Mountain" is followed by photos of Momaday and Rainy Mountain, excerpts from Momaday's other writings, and a piece by Paula Gunn Allen. This allows students to get a sense of the context from which these essays sprung and to make thematic connections of their own. It also brings fresh perspectives to instructors. In addition, each chapter includes linked readings in order to show students the importance of learning to distinguish and relate ideas, all at a very affordable low price.
Author Biography
LYNN Z. BLOOM is Board of Trustees Distinguished Professor and holder of the Aetna Chair of Writing at the University of Connecticut. Previously, she taught and directed writing programs at Butler University, the University of New Mexico, and the College of William and Mary, and she chaired the English department at Virginia Commonwealth University. Lynn Bloom's publications include composition studies, biography, autobiography, creative nonfiction, poetry, reviews, articles, book chapters, and textbooks.

LOUISE Z. SMITH is Professor emeritus of English at the University of Massachusetts, Boston, and former Dean of the College of Arts and Sciences. A member of the faculty there since 1974, she also served as the Director of Freshman English; Chair of English; Director of the Tutoring Program; and Director, Core Curriculum. In addition to the many articles and book chapters she has written for publication, Louise Smith was the editor of College English from 1991 to 1999.
Table of Contents
1. Writing, Reading, and Speaking: Words that Make Us Human

]David Hanover, The Work of Writing [photograph]

Stephen King, Write or Die

]John Kennedy, The Purpose of Poetry

Eudora Welty, Listening

LINKED READINGS: Our Mothers' Voices
Amy Tan, Mother Tongue
]Amy Borkowsky, Amy's Answering Machine

]Marjorie Agos'n, Always Living in Spanish

Sherman Alexie, The Joy of Reading and Writing: Superman and Me

LINKED READINGS: Why Read?
Gloria Naylor, The Love of Books
Richard Wright, Fighting Words
Anne Fadiman, Marrying Libraries

LINKED READINGS: Understanding Text and Context
]Scott McCloud, Reading the Comics [graphic essay]
]Deborah Franklin, 'Informed Consent'-What Information? What Consent?

Georgina Kleege, Up Close, In Touch

Joan Didion, On Keeping a Notebook

Contexts for On Keeping a Notebook


Why I Write; Tom Wolfe, The New Journalism, Last Words, Interview (1999); Wendy Bishop, Revision is a Recursive Process; Katherine Anne Porter, You Do Not Create a Style. You Work. . .

]Garrison Keillor, The Anthem: If Famous Poets Had Written 'The Star-Spangled Banner'

]Dennis Baron, The New Technologies of the Word

]Roz Chast, The IMs of Romeo and Juliet [cartoon]

Brief Takes on Writing: How to Do It


Roger Rosenblatt, Never Correct Anybody's English; James Thurber, Telling Stories; Rita Mae Brown, Kissing Off Ma Bell; Ernest Hemingway, Write Every Morning; Peter Elbow, Freewriting; Anne Lamott, Getting Started; Donald M. Murray, Creating a Design; Jane Kenyon, Have Good Sentences in Your Ears

2. Identity with Attitude: Who We Are and How We Got that Way

]Franz Boas and George Hunt, An 'Authentic' Indian [photograph]

]John Henley, The Graduates [photograph]

Eric Liu, Notes of a Native Speaker

LINKED READINGS: Race and Identity
James Baldwin, Stranger in the Village
W.E.B. Du Bois, The 'Veil' of Self-Consciousness

Esmerelda Santiago, J'bara

Bobbie Ann Mason, Being Country

]Art Spiegelman, Mein Kampf (My Struggle) [graphic essay]

]Sherman Alexie, What Sacagawea Means to Me

N. Scott Momaday, The Way to Rainy Mountain

Contexts for The Way to Rainy Mountain


Rainy Mountain [photograph]; East of My Grandmother's House; I Invented History; Disturbing the Spirits; The Native Voice; The Whole Journey; Three Voices; Paula Gunn Allen, Voice of the Turtle: American Indian Literature, 1900-1970; Portrait of N. Scott Momaday [photograph]

]Gloria Anzaldœa, from Beyond Traditional Notions of Identity

Thomas Jefferson, George Washington

]Paul Starobin, Misfit America

Deirdre N. McCloskey, Yes, Ma'am

Brief Takes on Creativity: Interviews


Alice Walker, Eudora Welty: An Interview; Kenneth A. Brown, Steve Wozniak: Inventing the PC; ] Dave Roberts, An Interview with Accidental Movie Star Al Gore; ] Frances Mayes on Writing Under the Tuscan Sun; ] Calvin Trillan: Writing about Family

]3. Relationships and Life Choices: Where We Live and What We Live For

LINKED READINGS: Thoreau's Choices
Henry David Thoreau, Where I Lived and What I Lived For
Henry David Thoreau, from Civil Disobedience

E.B. White, Once More to the Lake

Contexts for Once More to the Lake

E. B. White at Belgrade Lake [photograph]; Brian Doyle, from Joyas Voladoras; Chang-Rae Lee, from Coming Home Again; Scott Russell Sanders, The Inheritance of Tools

LINKED READINGS: Lost Parents
Scott Russell Sanders, Under the Influence
]Anna Quindlen, Anniversary

]David Sedaris, Old Faithful

]LINKED READINGS: Families, Together and Apart
Stephanie Coontz, Blaming the Family for Economic Decline
]Kate Zernike, Why Are There So Many Single Americans?
]David Brooks, The Elusive Alter
]Judith Wallerstein, The Legacy of Divorce

Walker Evans, Ford River Rouge Plant, Michigan, 1947 [photograph]

Barbara Ehrenreich, Serving in Florida

]LINKED READINGS: Coming to an Understanding
Malcolm Gladwell, The Physical Genius
]Perri Klass, The One-in-a-Thousand Illness You Can't Afford to Miss
]Nancy Andreasen, The Creative Mind

]Evan Eisenberg, Dialogue Boxes You Should Have Read More Carefully [graphic essay]

Brief Takes on Travel: Reports from Other Places


Kyoko Mori, Date Stamp; Paul Theroux, Every Trip is Unique; Mark Twain, Learning the River; Annie Proulx, Travel is . . . an Unnerving Experience; Ryszard Kapuscinski, The Truck: Hitchiking through Hell; Mary Morris, My First night Alone in Mexico

4. Education and The American Character: Issues of Economics, Politics, and Culture

Jonathan Kozol, The Human Cost of an Illiterate Society

Shirley Brice Heath, Literate Traditions

LINKED READINGS: Native American Perspectives
Leslie Silko, Language and Literature from a Pueblo Indian Perspective
]Zitkala Sa, from The School Days of an Indian Girl

Stephanie Maze, Literacy in Progress [photograph]

Richard Rodriguez, Aria: Memoir of a Bilingual Childhood

Contexts for Aria: Memoir of a Bilingual Childhood


Rodriguez at Eighteen [photograph]; Interview Excerpt Slouching towards Los Angeles; Octavio Paz, The Labyrinth of Solitude; Rodrigues as a Mask [photograph]; Jose Antonio Villarreal, Pocho; Richard Hoggart, The Uses of Literacy; Paul Zweig, The Child of Two Cultures Interview (1999)

Natalie Behring, The Entrance Exam [photograph]

Plato, The Allegory of the Cave

]LINKED READINGS: Measuring Intelligence
Howard Gardner, Who Owns Intelligence?
]Sara Ivry, Entrance Exams, Deconstructed
]American Institutes for Research, American College Grads-Barely Literate, and Beyond

Brief Takes on the Upright Life: Good Advice

Benjamin Franklin, Arriving at Moral Perfection; ] Ben Stein, Birds and Bees? No, Let's Talk About Dollars and Cents; ] Theodore Roosevelt, What College Graduates Owe America; ] Jackie Spinner, The Only Thing You Should Be Advocating Is the Truth; Jacob Neusner, The Speech the Graduates Didn't Hear; ] David Sedaris, What I Learned/And What I Said at Princeton; ] Anonymous, How Many Virginia University Students Does it Take to Change a Lightbulb?

5. History: What Really Happened? How Do We Know, and Decide What It Means?

Dorothea Lange, Migrant Mother [photograph]

Alice Walker, In Search of Our Mothers' Gardens

Contexts for In Search of Our Mothers' Gardens

James Baldwin, Autobiographical Notes; Amiri Baraka, The Myth of Negro Literature; Daniel Patrick Moynihan, The Negro Family: The Case for National Action; Looking to the Side, and Back; My Grandmother Takes in Washing [poster]; Interview (1983); Toni Morrison, The Pain of Being Black

Thomas Jefferson, The Declaration of Independence

Sojourner Truth, Ain't I a Woman?

Elizabeth Cady Stanton, Declaration of Sentiments

George Orwell, Shooting an Elephant

Contexts for Shooting an Elephant

Blair in 1923 [photograph]; Rudyard Kipling, The White Man's Burden; John Kaye, History of the Indian Mutiny of 1857-8; Alok Rai, Orwell and the Politics of Despair; Stephen Spender (1950); Christopher Sykes (1950); Edmund Wilson (1951); Robert Pearce, Orwell Now

Linda Simon, The Naked Source

Will Counts, Central High School, Little Rock, Arkansas, September 4, 1957 [photograph]

]LINKED READINGS: Difficult Images
]Susan Sontag, Looking at the Unbearable
]Francisco Goya, from The Disasters of War [paintings]

H. Bruce Franklin, From Realism to Virtual Reality: Images of American Wars

Brief Takes on War and Peace: Diaries and Memoirs


Walt Whitman, A Night Battle; Mary Chesnut, Slavery a Curse to Any Land; Art Spiegelman, from Maus [graphic essay]; Anne Frank, We Live in a Paradise Compared to the Jews Who Aren't in Hiding

6. Society and Politics: Human Rights, Social Class

Maxine Hong Kingston, No Name Woman

Contexts for No Name Woman


Interview (1982); Maxine Hong Kingston [photograph]; Sara Blackburn, Review of The Woman Warrior Interview (1998); Interview (1982); Frank Chin, Come All Ye Asian American Writers of the Real and Fake; Imagined Life; Paula Rabinowitz, Eccentric Memories: A Conversation with Maxine Hong Kingston

]Lynda Barry, Hate [graphic essay]

Harriet Jacobs, The Slaves' New Year's Day

Frederick Douglass, Resurrection

]Kenji Yoshino, The Pressure to Cover

]Bob Daemmrich, Nobody Knows I'm Gay [photograph]

Jonathan Swift, A Modest Proposal

Wole Soyinka, Every Dictator's Nightmare

]Richard A. Posner, Security versus Civil Liberties

]Elaine Scarry, Acts of Resistance

Mary Ellen Mark, The Damm Family in Their Car, Los Angeles, 1987 [photograph]

Brief Takes from Insiders: Codes, Conversations, Conventions


Richard Rodriguez, Family Values; Cathy Davidson, Laughing in English; Henry Louis Gates Jr., Signifying; Beth Kephart, Playing for Keeps; Robert Coles, Two Languages, One Soul

7. Science and Technology: Discovery, Invention, and Controversy

Ellen Goodman, Cure or Quest for Perfection?

]Bill McKibben, Designer Genes

Henry Groskinsky, Replaceable You [photograph]

Stephen Jay Gould, Evolution as Fact and Theory

Contexts for Evolution as Fact and Theory


Knight Takes Bishop?; Thomas Henry Huxley, Evolution and Ethics; Nonoverlapping Magisteria; Phillip E. Johnson, The Unraveling of Scientific Materialism; Interview (1998); James Gleick, Stephen Jay Gould, Breaking Tradition with Darwin; Stephen Jay Gould and Niles Eldredge, Punctuated Equilibrium at the Third Stage

Charles Darwin, Understanding Natural Selection

Edward O. Wilson, Microbes 3, Humans 2

]Stanley Fish, Academic Cross-Dressing: How Intelligent Design Gets its Arguments from the Left

Natalie Angier, Men, Women, Sex, and Darwin

]LINKED READINGS: Bad Science
]Norimitsu Onishi, In a Country That Craved Respect, Stem Cell Scientist Rode a Wave of Korean Pride
]Robert L. Park, The Seven Warning Signs of Bogus Science

]David Dobbs, Trial and Error

Brief Takes on Technology: Writing Humor


James Thurber, The Wild-Eyed Edison's Dangerous Experiments; Erma Bombeck, Technology's Coming . . . Technology's Coming; Bailey White, Flying Saucer; Fran Leibowitz, The Sound of Music: Enough Already; Umberto Eco, Ideal Operating Instructions

8. Ethics: Principles and Actions

Martin Luther King, Jr., Letter from Birmingham Jail

Contexts for Letter from Birmingham Jail


Brooks Hays, A Southern Moderate Speaks; Eight Clergymen's Statement; King and Abernathy Under Arrest [photograph]; King and Abernathy [photograph]; T. Olin Binkley, Southern Baptist Seminaries; Will Herberg, A Religious 'Right' to Violate the Law?; Boycotts Will Be Used; Martin Luther King, Jr. Defines 'Black Power'

Leonard Freed, Martin Luther King Jr. after Receiving the Nobel Peace Prize, Baltimore, 1963 [photograph]

John Donne, Meditation 17 (For Whom the Bell Tolls)

Jeffrey Wattles, The Golden Rule-One or Many, Gold or Glitter?

Anna Quindlen, Uncle Sam and Aunt Samantha

Peter Singer, The Singer Solution to World Poverty

George Will, Life and Death at Princeton

Wendy Simonds, Talking with Strangers: A Researcher's Tale

]Kelly Ritter, The Economics of Authorship: Online Paper Mills, Student Writers, and First-Year Composition

]G. Anthony Gorry, Steal This MP3 File: What Is Theft?

]Michael J. Bugeja, Facing the Facebook

]Frank Gannon, Pre-Approved for Platinum

Brief Takes on Ethical Codes: Prescriptions for the Good Life

Confucius, from The Analects; The Ten Commandments Fundamentals of Islam; Society of Professional Journalists Code of Ethics

]9. The Twenty-First-Century World: Issues of Ecology, War and Peace, Spirituality

Annie Dillard, Heaven and Earth in Jest

Contexts for Heaven and Earth in Jest

Henry David Thoreau, from Journal; From the Koran, Al-Mu; Menoon (The Believers) 23. Verses 112-116; Blaise Pascal, from Pensees; Nikos Kazantzakis, Report to Greco; Wendell Berry, A Secular Pilgrimage

Keith Carter, Fireflies [photograph]

Linda Hogan, Hearing Voices

Terry Tempest Williams, The Clan of One-Breasted Women

]Rachel Carson, The Obligation to Endure

LINKED READINGS: Geography and Ecology
Barry Lopez, The American Geographies
Sandra Postel, Troubled Waters
]Kim Warp, Rising Sea Levels — An Alternative Theory [cartoon]

William E. Rees, Life in the Lap of Luxury as Ecosystems Collapse

Margaret Mead, Warfare Is Only an Invention-Not a Biological Necessity

]Jim MacMillan, Family and Soldiers in Iraq [photograph]

Abraham Lincoln, The Gettysburg Address

]Pope John XXIII, Disarmament

]LINKED READINGS: Nobel Peace Prize Speeches
]Rigoberta Menchœ, Five Hundred Years of Mayan Oppression
]The Dalai Lama (Tenzin Gyatso), Inner Peace and Human Rights

]Karen Armstrong, Does God Have a Future?

]Paul Bloom, Is God an Accident?

]David Owen, Your Three Wishes: F.A.Q.



] new to this edition