Note: Supplemental materials are not guaranteed with Rental or Used book purchases.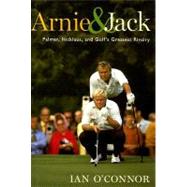 Arnie & Jack
ISBN13:
9780618754465
by
O'Connor, Ian
Houghton Mifflin Harcourt
Summary
Surprisingly, one of sport's most contentious, complex, and defining clashes played out not in the boxing ring or at the line of scrimmage but on the genteel green fairways of the world's finest golf courses. Arnie and Jack. Palmer and Nicklaus. Their fifty-year duel, in both the clubhouse and the boardroom, propelled each to the status of American icon and pushed modern golf to the heights and popularity it enjoys today. Yet for all the ink that has been spilled on these two essential golf figures individually, no one has ever examined their relationship in this way. Arnie was the cowboy, with rugged good looks, Popeye-like forearms, a flailing swing, and charm enough to win fans worldwide. Jack was scientific, precise, conservative, aloof, even fat and awkward. Ultimately, Nicklaus got the better of Palmer on the course, beating him in major victories, 18-7. But Palmer bested Nicklaus almost everywhere else, especially in the hearts of the public and in endorsement dollars -- Palmer was the top-grossing athlete for thirty years, until Michael Jordan surpassed him. With dogged reporting and crisp, colorful storytelling, the award-winning sports columnist Ian O'Connor explores this heated professional and personal battle in fascinating, intimate, and revelatory detail. Drawing on unique and exclusive access to Palmer and Nicklaus, and informed by some two hundred new interviews, O'Connor illuminates the two men's extreme differences and sprawling influence through mini-dramas, such as their little-known first meeting on the course at the topsy-turvy U.S. Open in 1962, their early involvement with marketing and a small agency called IMG, and their intense competition for golf-course designs in their later years. By the end of this page-turning narrative, which spans five remarkable decades, we see that each man wanted what the other had: Arnold had the adoring fans but wanted the trophies. Jack had the trophies but wanted the love.
Author Biography
Ian O'Connor is a nationally recognized sports columnist, twice named the number-one sports columnist in America in his circulation category by the Associated Press sports editors. He is the author of The Jump: Sebastian Telfair and the High-Stakes Business of High-School Ball.
Table of Contents
Introduction
p. ix
Prologue: Athens
p. 1
Poor Boy
p. 17
Stardom
p. 33
Rich Kid
p. 45
Cherry Hills
p. 60
Oakmont
p. 76
Augusta
p. 101
Back to Back
p. 118
Master of Disaster
p. 137
Baltusrol
p. 147
Transformation
p. 161
Pebble Beach
p. 174
Last Dance
p. 183
Oakmont Revisited
p. 195
Gamesmanship
p. 204
Reunion
p. 212
Separation
p. 221
King for a Day
p. 231
Cold War
p. 243
Honoree
p. 250
Winnie and Barbara
p. 259
The King and the Bear
p. 274
Ceremonial
p. 288
Opportunity Lost
p. 293
Last Rounds
p. 303
Acknowledgments
p. 319
Arnold Palmer's Record
p. 322
Jack Nicklaus's Record
p. 325
Notes
p. 329
Bibliography
p. 341
Index
p. 345
Table of Contents provided by Publisher. All Rights Reserved.
Excerpts
Prologue

Athens THE ELDERS AT the Athens Country Club had cobbled together a big day to honor one of their own, Dow Finsterwald, and needed to fill the last slot on their VIP list. They wanted a man and settled for a boy instead.
Fred Swearingen, club president, had been struck by a sudden thought. He would call up this hot-shot kid in Columbus and ask him if he would care to play eighteen holes of golf with Finsterwald, the brand-new winner of the PGA Championship, and Dow's good friend Arnold Palmer, brand-new winner of the Masters.
Swearingen found a listing for Charlie Nicklaus's drugstore. Charlie answered the phone.
"Is your boy interested in playing with the PGA champ and the Masters champ?" Swearingen asked.
"I'm sure he is," Charlie said. "He's right here. I'll put him on." Without blinking, Jack Nicklaus told Swearingen he'd be happy to bring his game to the southeast corner of the state. "I'll get my dad to take me," Jack said.
He was eighteen years old in September of 1958, and his father would drive him to his first face-to-face encounter with Palmer, who was just days removed from his twenty-ninth birthday and just months removed from his first victory at Augusta National, the one that hinted at the dawn of a new era in professional golf.
This wouldn't be the first time young Nicklaus had seen Palmer in the flesh. At the 1954 Ohio amateur championship outside Toledo, Jackie was a fourteen-year-old qualifier who stumbled upon a dark, solitary figure on the Sylvania Country Club driving range, raging at ball after ball in a biblical rain.
Nicklaus didn't know the man's identity; he was mesmerized all the same. Under cover, from about forty yards away, Nicklaus stared at the stranger in the rain suit for forty-five minutes.
Palmer was western Pennsylvania born and bred, made eligible for the Ohio event by his time in Cleveland as a member of the coast guard and, of all things, the fraternity of frustrated paint salesmen. He was pounding his nine-irons, making them turn right to left, commanding them with a musculature that belonged to a middleweight fighter. In his mind's eye Nicklaus saw a relentless series of angry line drives that never rose more than six feet off the ground.
This was two days before the start of the state championship, and Nicklaus was the only other competitor on the course. The storms hadn't let up. Jackie was soaked, but he couldn't tear himself away from a scene that could've been cut right out of a Tiger Woods credit-card ad nearly half a century later.
There are no rainy days.
Palmer didn't even know young Nicklaus was there. Arnold was unwittingly giving the heir to his future throne a lesson in hard-earned royalty. Nicklaus loved the raw commitment, the brute strength. He had never seen anyone attack a golf ball quite like this.
Finally, Jackie stepped inside the clubhouse. "Who is that guy out on the driving range?" he asked. "Man, is he strong." A voice identified Palmer as the defending state champ.
Palmer would make it two in a row long after Nicklaus lost to someone named Dale Bittner on the nineteenth hole. Bittner was a fleeting thought, gone just like that. Nicklaus went home to tell friends and neighbors all about the golfer swinging in the rain, the carnival strongman who crushed opponents with his frighteningly large hands.
Four years later, when Charlie Nicklaus made the seventy-five- mile drive with his growing boy for the date with Palmer, Jack had left his awe back at home, left it there in a closet cluttered with everything else he'd outgrown.
"The guy had basically just started winning majors," Nicklaus said. "Did I know Arnold Palmer was a good player? You're darn right. But was I ever in awe of what he did? Probably not." No, the teenage Nicklaus wasn't short on confidence. He had built himself a remarkable youth record.
He'd won the Ohio State Open as a sixteen-year-old competing against pros. He'd already played in two U.S. Opens, making the cut at Southern Hills in Tulsa. He'd won a national Jaycees championship, and he'd contended in his first pro tour event, standing one shot off the lead after two rounds of the 1958 Rubber City Open before placing twelfth.
Jack wasn't about to make any fuss over Palmer, who had "only" one major professional championship to his name to go with the one U.S. Amateur title he captured in 1954. Nicklaus would let the people of Athens do the fussin' for him.
Palmer was quite a catch for a community in the Appalachian foothills, a college town of fifteen thousand residents, about half of them students at Ohio University. To the coal miners and farmers of the depressed pockets surrounding the sanctuary of higher edducation, Palmer's arrival, according to George Strode, sports editor of the Athens Messenger, "was like the second coming of Christ." The son of an Attttthens attorney, Finsterwald was the one who booked the main attraction. His friendship with Palmer was born of the matches they played as college rivals, Dow a star at Ohio U., Arnold a star at Wake Forest.
Palmer shot 29 across the first nine holes they shared. In one Ohio-Wake match, with Arnold and Dow tied at the turn, Palmer declared, "I'll bet you a tub of beer I shoot 32 or better on the back side." Palmer shot 31. The pecking order in their relationship established forevermore, Palmer and Finsterwald became what one pro described as "asshole buddies." Dow told everyone to count Arnold in. "Give him a call," Swearingen said.
"Hell, give him a call yourself," Finsterwald responded. "Here's his number. He's there right now." Sure enough, Arnold was home in Latrobe, Pennsylvania, and eager to participate in a day to honor Athens's favorite son. Swearingen told Palmer he'd send him a plane ticket, fly him into Columbus, and pick him up at the airport for the drive into town.
"You've got an airport in Athens, don't you?" Palmer asked.
"Well, we've got a landing strip at the university," Swearingen answered.
"I don't need a ticket then. I'll fly right in." If Palmer hadn't chosen golf as his vocation, he likely would've become a commercial pilot. At first he was scared to death to fly. He was an amateur golfer en route to Chattanooga on a DC-3 once when he was startled by a ball of fire rolling up and down the aisle. "I immediately found out it was static electricity," Palmer said, "and that's when I decided I would learn to fly and learn to understand what was happening." He overcame his fear of flying out of necessity—he wanted to spend as much time at home with his family as he could, and driving from tour stop to tour stop was no way to accomplish that.
So he earned his pilot's license. Over time the only thing Palmer loved as much as the sight of his ball soaring toward the green was the sight of a plane streaking through the sky.
He flew into Athens with his wife, Winnie, and Swearingen picked them up in his station wagon and tossed Palmer's Wilson bag into the back of the car. He drove Arnold and Winnie to the home of Jean Sprague, Finsterwald's cousin, where they would spend the night and then rise early on the morning of September 25, 1958, so Arnold could pay tribute to his best friend and play golf with Jack Nicklaus for the very first time.
Swearingen would plan the day around a parade and a match involving two-man teams. The fourth competitor was a local amateur, Howard Baker Saunders, a six-time Southeastern Ohio Golfing Association champ out of Gallipolis and a lead player on the Ohio State team fifteen years before Nicklaus filled the same role. Saunders would've turned pro if he hadn't suffered from osteomyelitis, an infection of the bone that left him with a bad limp. With one leg shorter than the other, Saunders wore one shoe with a five- inch heel to level his playing field.
He would ride along in the Finsterwald parade. Court Street was packed for the morning festivities, as Swearingen celebrated his own birthday with a gift to Dow: a July Fourth supply of marching bands. The route was less than a mile long and yet stamped by so many monuments to Americana—a family department store, a courthouse, an armory, a car dealership, a bookstore, Swearingen's sporting goods store, and the bars forever kept busy by hard-partying Ohio U. boys and girls.
This could've been a homecoming football parade. Finsterwald, Palmer, Nicklaus, and Saunders rode in their own convertibles, tops down, waving like returning war heroes at a delirious crowd of twelve hundred. The mayor presented Finsterwald with a key to the city. Speeches were given, autographs were signed, pictures were taken. Michael DiSalle, busy running a successful campaign for the governorship of Ohio, joked that he had picked the wrong day to be in Athens.
No politician could match the golfers' star power. And nobody cared that more people had come to see Arnold than to see Dow.
When the hourlong ceremony was complete, Swearingen had the golfers go fishing before it was time to head to the club. He grabbed some rods out of his store; gave them to Finsterwald, Palmer, and Nicklaus; and steered them to a pond full of catfish.
Finsterwald and Palmer knew their way around the hills and streams of Appalachia, "but Jack was a city boy," Swearingen said.
Jack cast his line over the hillside and got it caught in some rocks. He refused to go down and loosen it: he was afraid a snake or two might be waiting for him.
"No, Jack wasn't roaming any hills in Columbus," Swearingen said. "The only hills he ever roamed were at Scioto Country Club in that real nice suburb of his, Upper Arlington." Over time Nicklaus would grow sensitive to any talk that he was a rich little daddy's boy, especially when the talk was inspired by Palmer's past. Arnold was the son of a greenskeeper, the sod-stained child on the other side of the country club glass. People adored his Horatio Alger tale and assumed Nicklaus never spent a day of his youth with any tool in his hands that didn't come out of a shiny new golf bag.
But as an eighteen-year-old prodigy driven by blind ambition, Nicklaus carried something of a pauper's chip on his shoulder. Remarkably enough, the kid refused to treat his first meeting with Palmer as a brush with uncommon skill and fame. He merely saw the reigning king of Augusta National as just another hurdle to clear, just another guy to beat.
"I don't think he was so excited to play [Palmer]," Swearingen said.
Nestled atop a sun-splashed hill, five miles from the parade route, Athens Country Club was a playground for the university professors and administrators, and for the doctors, dentists, and businessmen who had them as patients and clients. Theirs was a simple nine-hole Donald Ross course, with alternate tees used for scoring on the second nine. When the layout was doubled up, the test measured 6,382 yards and a par of 72.
The course was lined with pine trees and graced by the acoustic charm of chirping birds. With a single dirt road running into the club, barely wide enough for two cars passing in opposite directions, Athens hardly looked like the center of the golf universe.
But with the heart of the tour season already accounted for, this was the biggest game on the schedule. The skies were benign and the temperatures were in the upper sixties. Somehow, some way, a gallery of about fifteen hundred fans poured onto the scene. Fans parked along the seventh fairway. In fact, they parked in the yards of everyone who lived just off the golf course.
The sides were picked, and Palmer—considered the strongest player—was paired with Nicklaus—considered the weakest, if only because of his age. The four participants were warming up when the mischievous forces of fate intervened.
Nicklaus and Palmer would go head-to-head after all.
As Palmer and Finsterwald were swatting practice drives from the elevated tee on the 321-yard first hole, Nicklaus and Saunders were sent to the nearby ninth green to hit balls toward the ninth tee. Jack swung away with all his teenage might and immediately caused a stir.
A witness approached Kermit Blosser, the Ohio U. golf coach and de facto master of ceremonies. "Hey," the man told Blosser, "you ought to get that Nicklaus kid to hit against Arnold on number one. He's really moving it down there." Blosser knew all about Jack; he'd tried and failed to sign him to play for Ohio U. Charlie Nicklaus had already locked in on a vision for his son's future. Jack was attending Ohio State, Charlie told Blosser, because he wanted his boy in OSU's pharmacology program.
Blosser figured he'd send Jack to the school of hard knocks instead. He summoned Nicklaus to the first tee, where Palmer was flexing his comic book arms. The golf coach had a microphone, and he was about to become a play-by-play man. A short, precise driver known for his cautious, anti-Arnold game, Finsterwald stepped to the side as Palmer accepted the good-natured challenge. This was a heavyweights-only fight, and Finsterwald didn't make the cut.
The fairways were dry and running hard, allowing the mad bombers to add an extra fifteen or twenty yards to their prodigious drives. Palmer and Nicklaus took a few warm-up swings. Jack's technically sound form appeared torn from the pages of a manual, with one exception: his right elbow flew away from his side, like that of a free-throw shooter gone awry, and Palmer couldn't help but notice the flaw.
Arnold wasn't in any position to mock another player's mechanics. His swing was punctuated by the least aesthetically pleasing follow-through in golf. In the immediate wake of impact, Palmer abruptly jerked his club above his head and appeared to begin wrestling with a rattlesnake, a gushing water hose, or both.
Nicklaus, meanwhile, enjoyed a full follow-through that featured none of Palmer's gyrations. Their games were as different as their backgrounds and body types. Nicklaus came from German stock, Palmer from Scotch, Irish, and English. Nicklaus had thighs that looked like redwood trunks; Palmer had hands that could crush a watermelon.
On this day in Athens, Palmer showed up tan and fit. As always, he was distracting the ladies with his rugged, man-of-the-earth looks.
Palmer carried himself with a John Wayne swagger and an Errol Flynn flair. He didn't walk to his tee shots; he marched. After surveying his target and flicking his cigarette to the grass, Palmer approached his ball as if he were a cowboy loading up at the O.K. Corral.
He'd hitch up his pants, puff out his chest, and defy the smooth and effortless strokes of the greats before him. Palmer wasn't interested in the sweet science of Sam Snead's swing, nor was he hoping to match Ben Hogan's relentless quest for technical perfection.
He was just trying to land his ball on the moon.
Nicklaus? He looked like an extra on Palmer's movie set. "A little plump kid with real short hair," Swearingen said. The blond Nicklaus walked around with a God-awful buzz cut, and his pale skin could blotch up in the summertime; it would never accommodate Palmer's even tan.
Arnold and Jack both stood about five feet ten, so they looked each other squarely in the eye when they shook hands on a tee box for the first time. For all of Palmer's smoky, leading-man looks, Nicklaus might've had an advantage here: even as a kid his piercing blue eyes had already cut through many a foe on the first tee.
Blosser had arranged for four of his Ohio U. players to serve as caddies, and he had Dow Reichley, Bill Santor, Larry Snyder, and Charlie Vandlik make their way down to the first green to shag the driving-contest balls. "I know they had a bet," Reichley said of Palmer and Nicklaus. "I don't know how much it was for." Something more important than a few bucks was on the line here. Palmer was a pro, Nicklaus an amateur. Palmer was a man, Nicklaus a boy.
Hundreds of fans closed in around the first tee box, giving it the feel of a boxing ring. The golfers and fans looked out from their elevated perch at a hole that turned slightly left to right. On the right side of the fairway, rows of pine trees stretched out toward the green. Two bunkers were lurking to the left of the putting surface, one about thirty yards short of the fringe.
The third green sat thirty-five downhill yards behind the first green. Nobody in his right mind believed either competitor could drive his ball there, not with the equipment in play—persimmon clubs and balata balls.
Nicklaus took the honors, and his first drive was a monster. "He hit it so high," Santor said, "you could barely see it up in the sky." The ball cleared the first green and stopped rolling only after it had traveled 356 yards. Santor picked up Nicklaus's ball on the third green.
The caddie knew a thing or two about Jack's tape-measure power. As an entering high school senior in 1955, Santor had played in the same field with Nicklaus, an underclassman, in the state Jaycees tournament.
Santor placed second. Nicklaus only beat him by twelve strokes.
Palmer had no such intimate knowledge of Nicklaus and his game. He'd heard a few vague tales of the boy wonder from the Columbus area, sweeping through the amateur ranks, but Palmer had enough to worry about with his own generation to lose any sleep over the next one.
Only in Athens the future was suddenly now. Palmer teed up his ball, knowing he had almost no chance of matching the kid's first drive. He lashed at it with vile intentions, hoping against hope to power his ball down to the third green.
It stayed low, like most Palmer drives. Much lower than Nicklaus's ball.
"Arnold hit a big hook," Swearingen said. "It hit short of the first green and bounced downhill to the left." Nicklaus ripped off his second drive. As he stood near the first green, Santor squinted to track the ball's high, majestic flight. Again, Nicklaus had placed his drive on the third green, some 356 yards away.
Again, Palmer failed to match it, unleashing another low, screaming hook shot into oblivion.
"Jack was out-hitting Arnold by thirty-five, forty yards," Santor said. "I could hear the crowd yelling around the first tee." His face three different shades of red, Palmer shot an incredulous look at Nicklaus. "My God," he said. "No man hits it that far. It's men like you who make problems for us." Blosser was dumbfounded. He had never seen a player of any age put a drive from the first tee onto the third green, never mind two drives. The de facto master of ceremonies decided to make a show of it.
"Mr. Palmer," Blosser barked loudly enough for the masses to hear, "can you tell me why you're hooking that ball so violently?" "Because I'm trying to hit it too goddamn hard just to keep up with this kid," Palmer responded.
It was a lost cause. Palmer would later claim he won this long-ball contest, but witnesses reported the players hit about fifteen drives each, and with the aid of some friendly bounces Arnold kept up with Jack maybe three or four times.
Palmer was embarrassed, and a little pissed that Blosser called extra attention to that embarrassment. But he still had the regulation best- ball match coming up, and even if Nicklaus would be his teammate, he could still outplay him. Still show the boy what was what.
Blosser's players drew straws to see who would caddie for whom. Snyder got Palmer, Vandlik got Nicklaus, Santor got Finsterwald, and Reichley got Saunders.
Finsterwald and Saunders represented the favorites, as most assumed that young Nicklaus would amount to a handicap for Palmer. Dow knew every blade of grass and grain of sand on the Ross design; he owned the course record of 63. Palmer had never seen the place, but he caught a major break in the form of his caddie, Snyder, the Athens member who had just won his fifth consecutive club championship. Snyder was in command of whatever local knowledge Palmer might need.
All but emasculated by Nicklaus in the game before the game, Palmer opened the team match with a fury, hitting his first approach shot to within a foot of the hole, tapping in for the easy three while the others made par. Palmer then added birdies on two of the next three holes.
He chipped his third shot to within two feet for birdie at the par-five second, then birdied the par-four fourth after driving his ball 290 yards into the fairway and then landing his approach three feet from the hole.
If Palmer couldn't beat Nicklaus in the driving contest, he would make damn sure everyone saw him carry Nicklaus during this match.
Snyder held the nine-hole record of 29 at Athens, and he was certain that would go down in flames. Palmer would solicit his advice on strategy. Sometimes he listened to Snyder; sometimes he didn't. "He'd say, 'Larry, what would you hit here?'" Snyder said. "I'd tell him it was 175 yards and I'd probably hit the five-iron. And he'd hit the four-iron and almost knock it in the hole for a gimme birdie.
"On the sixth hole, par five, he hooked his tee shot over into the rough. He says, 'How far away?' I say, 'Probably two hundred yards. I'd hit the four-wood.' And he hit the three-iron or four-iron and knocked it on the green." Palmer dropped a twenty-five-foot putt on the 476-yard hole to get his eagle three. He was already playing a game the kid on his bag could hardly believe.
Snyder had been caddying for ten years. He used to shag balls for Finsterwald for eight hours a day, fifty cents an hour, and he would try to mimic Dow's beautiful swing.
"But Dow didn't have the personality that Arnold had," Snyder said. "Not very many people did." Palmer nearly aced the par-three eighth with a four-iron after Snyder advised him to clear the pond with a five-iron. Another birdie. On the next hole Palmer had a twelve-foot putt to tie Snyder's record of 29; he missed it, much to his caddie's relief.
Palmer settled for a six-under 30 on the front side; his teammate, Nicklaus, made the turn at 35. Saunders kept his team in the match with a 33, while Finsterwald struggled to a 36. At the break Palmer-Nicklaus held a three-hole lead.
Not that the team competition was the be-all, end-all. The crowd was buzzing over the possibility that Palmer could shoot 59, or that he could at least break Finsterwald's course record. Among the caddies Nicklaus was also a prime subject of conversation.
Like Santor, Snyder had seen Jack up close in tournament play. In 1952 a fourteen-year-old Snyder went up against a twelve-year-old Nicklaus in the district juniors, and the older player prevailed on the nineteenth hole. "And I bet he outweighed me by forty pounds," Snyder recalled. "By the time Jack was eighteen, his power was phenomenal." That power moved the earth in Athens, and the older Ohio U. players serving as caddies couldn't fathom the noise made when Nicklaus's club face made contact with the ball. "The crack, the boom," Reichley said. "It was a supersonic sound." Nicklaus drove the 330-yard tenth hole, landing his tee shot pin- high and six feet from the cup. He missed the eagle putt and settled for a three. Palmer also birdied the hole, turning the gallery on its ear.
"Watching Jack and Arnie," Reichley said, "we were awestruck." Finsterwald went on a birdie binge to make up for his lackluster front nine, but Saunders faded to negate the effect. Palmer and Nicklaus were in the clear. Both were out-muscling the course, though Palmer was the one making more putts.
The caddies were watching Palmer's every purposeful step. He was the leading money winner on the tour at that point, having banked more than forty-four grand for the season, and yet he didn't walk with an air of superiority.
"So down-to-earth," Snyder said. "He never said an unkind word to me, never frowned, never acted like I should've known better to do this or that." The Ohio U. boys also watched the body language between Palmer and Nicklaus. No one could imagine then that these two figures— separated by more than ten years of age—would someday make for the greatest rivalry the game has ever known. But there was no extra effort on either player's part that day to bridge their generation gap.
"Arnold and Jack were cordial," Reichley said, "but Nicklaus wasn't much of a talker .s.s. He kind of stuck to the business of the day." That business was drumming every available player on the course. Nicklaus wasn't nearly as interested in winning the team competition as he was in posting the lowest score.
He didn't want to defeat Finsterwald and Saunders. He wanted to defeat Finsterwald and Saunders and Palmer.
Nicklaus would win only low amateur honors, his 68 beating Saunders's 71. Finsterwald saved face in his own backyard, edging Nicklaus by a single shot. Palmer sank a fifty-footer at the sixteenth and managed an easy two-putt par on the eighteenth for a 62, celebrating Finsterwald's day by breaking his Athens record by one.
Palmer said a few kind words about Nicklaus afterward but wasn't effusive in his praise. Over the decades, whenever asked about this day, Palmer would inevitably talk about that flying Nicklaus elbow, the one conspicuous flaw.
"I thought he was potentially good," Palmer said. "I noticed he had his right elbow, it was unattached. Let's say it swung out .s.s. Until he got that elbow under control or kept that elbow closer, he might have had some problems with his game.
"He had some problems [with accuracy] at the time. He drove it long and he was good; I mean, it was obvious he was very good. But the consistency was something at the time I thought might have been of some concern." The exhibition wasn't about Nicklaus anyway. "I think the whole thing was just the fact that I was there to appease a good friend," Palmer said, "and that was Dow Finsterwald. It had nothing to do with Jack Nicklaus, other than the fact that I was happy to see him and make his acquaintance, and to understand he was an upcoming player to be reckoned with at some point. And that was it." After the exhibition Palmer gave a dozen Wilson balls to Snyder and three apiece to the other caddies. The Ohio U. boys were paid ten dollars for their priceless experience, and the golfers were off to a dinner held in Dow's honor.
Palmer and Finsterwald helped themselves to a few cocktails while Charlie Nicklaus kept close watch over his boy. "I don't think either Arnold or I realized how great Jack was going to be," Finsterwald would say. "We didn't appreciate the significance of what was taking place." Finsterwald did make a speech at the dinner, and in it he predicted Nicklaus would have a "wonderful future" in golf. The other players spoke as well, and Nicklaus handled himself with surprising ease at the podium.
Palmer told the audience he liked Jack's putting stroke. At the close of the evening, the man and the boy shared their final handshake and went their separate ways, Arnold back to the tour, Jack back to Ohio State.
Swearingen, the event organizer, would go on to become an NFL referee, the one who would make the most controversial call in league history: the "Immaculate Reception" call that decided the Oakland Raiders– Pittsburgh Steelers playoff game in 1972.
But first he officiated golf's Immaculate Conception, the birth of a rivalry that would fuel the surging popularity of the sport in the 1960s.
A driving contest in Appalachia. A meaningless exhibition on a middling nine-hole course.
"That was the start of the whole Palmer and Nicklaus thing," Swearingen said.
That was the start of a lifelong clash of titans that would play out in fairways and boardrooms across the globe.

---

Excerpted from Arnie and Jack: Palmer, Nicklaus, and Golf's Greatest Rivalry by Ian O'Connor
All rights reserved by the original copyright owners. Excerpts are provided for display purposes only and may not be reproduced, reprinted or distributed without the written permission of the publisher.