Note: Supplemental materials are not guaranteed with Rental or Used book purchases.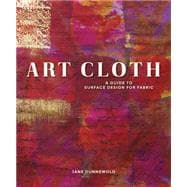 Questions About This Book?
What version or edition is this?
This is the edition with a publication date of 7/27/2010.
What is included with this book?
The eBook copy of this book is not guaranteed to include any supplemental materials. Typically only the book itself is included.
Summary
When Jane Dunnewold's bookComplex Clothwas published in 1996, it quickly became the bible of surface design for fiber artists. In the years since, the world of surface design has significantly expanded: now fiber artists, art-to-wear designers, and art quilters have a much broader range of surface design products to choose from, and there are a wealth of technique combinations that can be used to create art cloth. Art Clothpicks up whereComplex Clothleft off, showing how to layer processes with the latest products to create stunning cloth for use in a variety of fiber art. Following Jane's techniques with step-by-step photography, you will learn to create art cloth using dyes, color removing agents, paints, and foils combined through processes that include silk-screen printing, stamping, stenciling, and handpainting. In addition to detailed step-by-step wet-media surface design techniques, Jane demonstrates how the use of color and design contribute to successful layering. She guides and inspires artists to take their art cloth to the next level through sidebars with design tips and exercises that support the technical information. Finally, each technique chapter concludes with project ideas for the skills learned, so anyone working through the book can literally build layers on cloth as each chapter is completed.
Author Biography
Jane Dunnewold has been an influential textile artist for over 20 years and is the author of Complex Cloth: A Comprehensive Guide to Surface Design (Martingale, 1996). She teaches and exhibits internationally and her work has been included in many juried and invitational exhibits. She has won many awards for her work including at Quilt National, the Quilt Japan Prize (2002) and the Gold Prize at the Taegue International Textile Exhibition. Dunnewold maintains Art Cloth Studios, an exhibition and teaching facility she shares with artists Lisa Kerpoe, Laura Beehler, Leslie Jenison, and Linda Charlton in San Antonio, Texas. She also chairs and teaches in the Surface Design Studio at the Southwest Craft Center in San Antonio.
Table of Contents
Tools:
Stamp carving - basic technique explanation. Expansion of materials to include erasers, larger printing blocks and "appropriated" tools - Plexiglas plates, textured objects etc.
The creation of stencils using fusible interfacing. This is a technique Jane developed and perfected. Two pieces of interfacing are cut as one, and nylon tulle is ironed between the two layers. The net secures the surface and also allows for cut out shapes of interfacing to be ironed directly to the net so that they "float" - eliminating the need for the "bridges" traditional stencils require in order to hold the design elements together.
The creation of stencils from non-fusible interfacing to be used with hot wax, flour paste, and thickened dye.
A variety of silkscreen options:
Updated photo emulsion techniques
Aquarelle crayon applied with Gel Gloss Medium
Wax applied directly to the screen
Freezer paper ironed directly to the screen surface
Latex house paint used to paint a design directly on the screen, resulting in a screen which can be used with every wet media in the toolbox
Flour paste applied directly to the screen. After the flour paste dries, a skewer is used to scrape out a design. The effect is an organic line impossible to achieve through any other means, and a screen which can be printed more than fifty times before it is washed out and reclaimed.
Painting directly onto a screen with thickened dyes.
Using spray paint (the household kind) to generate a permanent surface on a screen
Thermofax screens
Techniques:
Dyeing with MX dyes. The method Jane detailed in Complex Cloth is water wasteful. Low-water immersion techniques are appropriate for layering since the whole point is to create backgrounds suitable for printing. An introduction can include a short discussion on the appropriate use of larger dye baths, based on the goal of the project at hand. This chapter must cover the issue of saturation (dye molecules reacting to fiber molecules), overdyeing guidelines, and a detailed section on printing with dyes, as this process has been revolutionized in the past ten years. Jane has secrets (strategies) related to dye mixing, print paste preparation and wash out procedures - all tested in classroom settings so she knows they work better than what she used to do. If space allows, applying dye to screens (known as "breakdown printing" or "deconstructed printing") could also fit here.
Discharging chemicals. Chlorine products remain one of the most popular methods for stripping color from fabric, despite the health hazards. Jane would ramp up information on safety, and where chlorine products are concerned, this would include new material on the value of choosing products that may have bleach in them, without being the straight bleach from a laundry aisle.
Additional discharging topics/chemicals include:
Jacquard discharge paste (active ingredient Ronglit)
Thiourea dioxide (thiox) - as an immersion bath and also as a printing medium
Rit color remover - available online and in markets, this color remover offers exciting opportunities if used safely.
Textile paints
Information on the paint formulations, color shifts and their effect on printing. Why to use them instead of dye when printing. How to use paint effectively. No on else ever addresses these issues, and paints go unappreciated and unused, when they are the perfect solution to a layering problem.
Water-Based Resists
There are exciting innovations where these products are concerned. All are completely non-toxic and produce more reliable results than products actually sold on the market. Also in their favor - using resists allows a person to avoid discharging agents completely if there are health issues, or a personal preference to avoid the chemicals. The resist applications, smartly applied, mimic the look of discharge without the hazards.
The resists include:
Flour paste. Corn and potato dextrin are thought of as the premier resists, but they are cranky and uncooperative if the temperature and humidity aren't right. And they are expensive. Flour paste is cheap, easy to make and always works. The results are fabulous. The flour is applied to the fabric and after the paste dries, the fabric is cracked. Paint or dye is applied, sinks into the fissures and dries. Then fabric is then washed, the flour paste washes out, and the end result is a fabric patterned with a series of tiny, beautiful lines. You can write into it while it is wet, too.
Soy wax. Water-soluble, a replenishable resource and it can be removed with hot water and bit of Synthrapol detergent. Jane stamps with it and also folds fabric and dips the edges in wax before she dyes the cloth. Endless possibilities and easy.
Commercial bottled glues. These impermanent glues - like Elmer's Glue in the United States - hold a line, can be applied to silk screens, can be immersed for short periods of time, and wash out completely with hot water and a little soap.
Foils and Metal Leafing
The adhesives have changed and are more readily available. Metallic powders have been introduced into the market. But most importantly, surface design has grown up and sometimes the most sophisticated finish on a fabric is gold leaf - a completely different look when compared to the foils, but not at all difficult to apply. This chapter would include a comparison, methods of application, and durability/cleaning advice.
Appendices
Includes detailed Resource Lists, Charts for measurement conversion etc.
Table of Contents provided by Publisher. All Rights Reserved.