Note: Supplemental materials are not guaranteed with Rental or Used book purchases.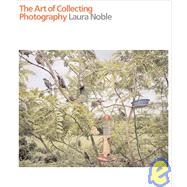 The Art Of Collecting Photography
ISBN13:
9782884790284
by
Noble, Laura
Summary
Establishing a well-put-together photography collection is an art in itself, and mastering the technique is as simple as reading--and looking closely at--this lush volume. It's filled with practical advice on building and curating a collection, along with beautiful photographs by early and contemporary masters that showcase photography's diverse genres, schools, and movements. Explore different types of collections, including biographical, historical, genre, and thematic. Browse through a plethora of inspiring images--landscapes, portraits, nudes, still lifes, fashion images, photojournalism, and more--each with in-depth analysis to train the mind as well as the eye.
Table of Contents
Foreword
p. 07
Introduction
p. 08
A Brief History of Photography
p. 13
The Importance of Historical Context
p. 14
1500-1899: The Early Development of Photography
p. 16
Key Developments of the Twentieth Century
p. 32
1900-1920
p. 34
The 1920s
p. 36
The 1930s
p. 40
The 1940s
p. 44
The 1950s
p. 50
The 1960s
p. 52
The 1970s
p. 54
The 1980s
p. 56
The 1990s (and beyond)
p. 58
Profiled Photographers
p. 61
Structuring Your Collection
p. 57
Approaches to Curating
p. 158
Biographical Collections
p. 160
Historical Collections
p. 162
Technical Collections
p. 164
Thematic Collections
p. 168
Stylistic Collections
p. 178
Contemporary Inventions
p. 180
Practical Advice on Building a Photographic Collection
p. 183
Practical Concerns
p. 184
Purchasing a Print
p. 186
Commercial Galleries
p. 188
Auction Houses
p. 190
Photography Fairs
p. 192
Direct Outlets
p. 193
The Value of a Print
p. 194
Managing a Collection
p. 198
Protecting Prints
p. 202
Conservation
p. 206
Curating a Collection
p. 213
The Photographer
p. 241
The Art Advisor
p. 216
The Photographers' Gallery, London
p. 220
The Gitterman Gallery, New York
p. 226
The Howard Greenberg Gallery, New York
p. 228
Appendix
p. 231
Galleries and Dealers
p. 232
Photography Fairs, Festivals and Events
p. 240
Auction Houses
p. 241
Further Resources
p. 242
Glossary
p. 244
Picture Credits
p. 246
Index
p. 250
Acknowledgements
p. 256
Table of Contents provided by Ingram. All Rights Reserved.