Note: Supplemental materials are not guaranteed with Rental or Used book purchases.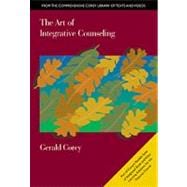 The Art of Integrative Counseling
ISBN13:
9780534576363
by
Corey, Gerald
Summary
The first book on the market designed to help readers conceptualize the various dimensions of an integrative perspective. Readers are first introduced to the concepts and techniques that Gerald Corey draws from in his own integrative approach to counseling. Second, they see how concepts and techniques can be borrowed from a variety of theoretical models and applied to phases of the counseling process from initial to termination stages. Third, the book suggests ways that readers can design a personal integrative approach that they can use as the foundation for their counseling practice.
Author Biography
Gerald Corey is a professor of human services and counseling at California State University at Fullerton and a licensed psychologist. He received his doctorate in counseling from the University of Southern California. He is a Diplomate in Counseling Psychology, American Board of Professional Psychology; a National Certified Counselor; a Fellow of the American Psychological Association (Counseling Psychology); and a Fellow of the Association for Specialists in Group Work.
Table of Contents
| | |
| --- | --- |
| 1. BEGINNING OF COUNSELING | |
| Introduction | |
| An Integrative Theoretical Approach: An Overview | |
| Putting Yourself in the Shoes of a Client | |
| Introduction to the Case of Ruth | |
| Concluding Comments | |
| 2. THE THERAPEUTIC RELATIONSHIP | |
| Introduction | |
| Developing a Working Relationship | |
| Becoming a Client and Sharing in a Collaborative Partnership | |
| Your Role As a Counselor in Creating a Working Relationship | |
| My Integrative Approach with Ruth | |
| Concluding Comments | |
| 3. ESTABLISHING THERAPEUTIC GOALS | |
| Introduction | |
| Becoming a Client and Establishing Counseling Goals | |
| Values and Spirituality as Therapy Goals | |
| Personal Reflection upon Goal-Directed Behavior and Goal-Setting | |
| Clarifying Counseling Goals with Ruth | |
| Concluding Comments | |
| 4. UNDERSTANDING AND DEALING WITH DIVERSITY | |
| Introduction | |
| Dealing with Multicultural Concerns | |
| Various Perspectives on Diversity | |
| Theories Applied to Diversity Perspectives | |
| Recognizing the Spiritual Domain | |
| Understanding Ruth from a Diversity Perspective | |
| Concluding Comments | |
| 5. UNDERSTANDING AND DEALING WITH RESISTANCE | |
| Introduction | |
| Becoming the Client and Experiencing Resistance in Yourself | |
| Understanding Ruth's Resistance | |
| Guidelines for Dealing with Resistance in Your Clients | |
| Concluding Comments | |
| 6. COGNITIVE FOCUS IN COUNSELING | |
| Introduction | |
| Experiencing Cognitive-Behavioral Techniques as a Client | |
| Working with Ruth from a Cognitive Perspective | |
| Concluding Comments | |
| 7. EMOTIVE FOCUS IN COUNSELING | |
| Introduction | |
| You as a Client in Emotionally Focused Therapy | |
| Working with Ruth in Identifying and Exploring Feelings | |
| Concluding Comments | |
| 8. BEHAVIORAL FOCUS IN COUNSELING | |
| Introduction | |
| You as a Client in Behaviorally Oriented Therapy | |
| Behavioral Focus with Ruth | |
| Concluding Comments | |
| 9. AN INTEGRATIVE PERSPECTIVE | |
| Introduction | |
| Drawing on Techniques from Various Theoretical Models | |
| The Foundation of My Integrative Approach | |
| Drawing on the Action-Oriented Therapies | |
| Working with Ruth in Cognitive, Emotive, and Behavioral Ways | |
| Concluding Comments | |
| 10. WORKING WITH TRANSFERENCE AND COUNTERTRANSFERENCE | |
| Introduction | |
| Contrasting Views of Transference | |
| The Connection between Transference and Countertransference | |
| Working with Transference Therapeutically | |
| Dealing with Countertranference Issues | |
| Self-Disclosure as a Way to Deal with Transference and Countertransference | |
| An Illustration of the Interplay of Transference and Countertransference: The Case of Ruth | |
| Concluding Comments | |
| 11. UNDERSTANDING HOW THE PAST INFLUENCES THE PRESENT | |
| Introduction | |
| Working with Ruth's Past, Present, and Future | |
| You as a Client: Examining Your Past, Present, and Future | |
| Concluding Comments | |
| 12. WORKING TOWARD DECISIONS AND BEHAVIOR CHANGE | |
| Introduction | |
| Applying Concepts of Redecision Therapy to Understanding Your Early Decisions | |
| Applying Redecision Therapy to Making Behavior Changes | |
| Working toward Redecisions with Ruth | |
| Concluding Comments | |
| 13. EVALUATION AND TERMINATION | |
| Introduction | |
| Ending Your Counseling Process as a Client | |
| Evaluating Ruth's Therapy Experience | |
| Concluding Comments | |
| REFERENCES AND SUGGESTED READINGS | |