Note: Supplemental materials are not guaranteed with Rental or Used book purchases.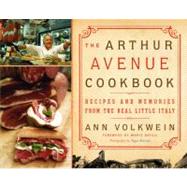 The Arthur Avenue Cookbook: Recipes and Memories from the Real Little Italy
ISBN13:
9780060567156
by
Volkwein, Ann
HarperCollins Publications
Questions About This Book?
What version or edition is this?
This is the edition with a publication date of 2/10/2010.
What is included with this book?
The New copy of this book will include any supplemental materials advertised. Please check the title of the book to determine if it should include any CDs, lab manuals, study guides, etc.
Summary
Arthur Avenue winds its way through the heart of the Bronx. Known to many as the "real Little Italy," the storied Arthur Avenue neighborhood has been home to a vibrant community of Italian-Americans for over a hundred years. Today, this area continues to thrive as visitors and residents stop to buy a fresh, crusty loaf of bread; to enjoy a meal at Mario's Restaurant; to dawdle for a while at Randazzo's raw bar on a warm summer afternoon; or to hear Mike's Deli owner Michele Greco belt out an aria from Rigoletto and spellbind his customers with tales of the Avenue's past. Now, for the first time, the residents of Arthur Avenue invite you to experience the magic of their kitchens and share the flavors of their family tables. Passed down through generations, their delicious recipes are time-tested, tried, and true -- and ready for any kitchen. They include: bull; Sicilian Baked Ziti bull; Yankee Stadium Big Boy (The Greco family's famous grinder that was rated one of the best in the city by the New York Times ) bull; Osso Buco bull; Olive Ciabatta bull; Italian Ricotta Cheesecake bull; Cannoli bull; and more The Arthur Avenue Cookbook also invites you to savor the memories of the neighborhood's most colorful residents, restaurateurs, and shop owners, and those of their families -- many of whom have lived in the neighborhood since it first came into being. Meet Mario Borgatti, the noodle maker who has been there for more than eighty-five years. Anthony Artuso, Sr., takes his bakery business so seriously that he went seventeen years without a vacation -- in part, to ensure that each bride and groom got the perfect wedding cake. And Mike Rella, president of the Arthur Avenue Retail Market, remembers learning English by working in a butcher shop, where he's now a partner with his uncle Peter Servedio. This cookbook also provides a guide to the pastry shops, delis, restaurants, and other famous and lesser-known gems that line Arthur Avenue. Gorgeous photographs, extraordinary characters, and enticing dishes make The Arthur Avenue Cookbook an irresistible addition to any kitchen.
Author Biography
Ann Volkwein is a food and lifestyle writer in New York Vegar Abelsnes is a Norwegian photographer living and working in New York
Table of Contents
Acknowledgments
p. ix
Foreword
p. xi
Introduction
p. 2
Recipes
Antipasti
p. 16
Pasta
p. 40
Meat & Poultry
p. 66
Fish & Seafood
p. 104
Bread
p. 132
Sweets
p. 158
Neighborhood Guide
Visiting Arthur Avenue
p. 184
Shop & Restaurant Index
p. 188
Index
p. 201
Table of Contents provided by Ingram. All Rights Reserved.
Excerpts
The Arthur Avenue Cookbook
Recipes and Memories from the Real Little Italy
Stuffed Pork Chops
Makes 4 Servings
From:
Peter's Meat Market
Peter Servedio
Ingredients:
4 double-cut pork chops
1/4 cup bread crumbs
1/2 pound fresh Italian sausage, diced
1 slice prosciutto, minced
1 slice fresh mozzarella, diced
2 garlic cloves, minced
Pinch of salt and pepper
String for tying
2 tablespoons olive oil
1 cup finely chopped yellow onion
1/4 cup butter
1 cup dry white wine
Directions:
Preheat the oven to 350° F.
With a paring knife, cut a pocket in the rounded side of eachchop. In a bowl, combine the bread crumbs, sausage, prosciutto,mozzarella, garlic, and salt and pepper. Stuff each chop with themixture and sew or tie them closed with string.
Heat the oil in a skillet over medium-high heat. When the oil ishot, pat the chops dry then place them in the pan. Brown on bothsides, about 3 minutes per side. Remove the pork chops and setthem aside in a roasting pan.
Add the onion, butter, white wine, and chicken broth to theskillet. Cook over medium heat, stirring, for 6 to 8 minutes. Addthem to the pan with the pork chops and bake for 1 hour. Removethe string before serving, and drizzle the pork chops with the panjuices once plated.
Tips:
Juicy and flavorful, this dish makes a dramatic centerpiecefor a Sunday meal. If you're in the neighborhood, Peter sellsprestuffed pork chops.
---
Cannoli
Makes about 20 Cannoli
From:
Gino's Pastry Shop
Jerome Reguso
Cannoli Shell Ingredients:
Oil for deep frying
2 cups cake flour1 cup all-purpose flour
1/4 cup sugar
4 ounces lard (1 stick or 8 tablespoons)
1 tablespoon rum
1 tablespoon honey
Pinch of salt
1/2 teaspoon cinnamon
1 large egg plus egg wash
(2 eggs whisked with 2 tablespoons water)
Ricotta Filling:
1 pound dry ricotta (impastata), or buy good-qualityricotta, line a strainer with cheese cloth, place thecheese in it, and drain overnight or a full day
1/2 cup granulated sugar
1/4 teaspoon cinnamon oil or ground cinnamon
1/4 cup mini chocolate chips
Confectioners' sugar for dusting
Directions:
Heat a deep fryer to 320° F.
In a mixer, combine all the cannoli shell ingredients exceptthe egg wash, adding enough water (1 to 2 tablespoons cold water)until it reaches a doughlike consistency. The amount of water willvary according to the outside temperature/humidity. Roll thedough to the thickness of pasta (1/4 inch). Using a cannoli cutter(an oval-shaped cookie cutter), cut out the cannoli. Place the cannoliovals in a row and place a cannoli rod down the center. Flipthe cannoli up and over, sealing the opposite edges where theymeet with egg wash and pressing down.
Deep fry them for 3 minutes, until golden brown.
Combine all the fi lling ingredients. Let the cannoli shells cool,then using a large-tip pastry bag, pipe the ricotta mixture intothe cannoli.
Serve, sprinkled with confectioners' sugar.
Tip:
Jerome's (now-deceased) father, Gino, opened his pastryshop in 1961 after working for several years at DeLillo's,located farther down 187th Street. You can order cannolicutters and rods (sometimes called tubes) online; try Amazon'sbaking section or specialty baking stores.
The Arthur Avenue Cookbook
Recipes and Memories from the Real Little Italy
. Copyright © by Ann Volkwein. Reprinted by permission of HarperCollins Publishers, Inc. All rights reserved. Available now wherever books are sold.
---

Excerpted from The Arthur Avenue Cookbook: Recipes and Memories from the Real Little Italy by Ann Volkwein
All rights reserved by the original copyright owners. Excerpts are provided for display purposes only and may not be reproduced, reprinted or distributed without the written permission of the publisher.