Note: Supplemental materials are not guaranteed with Rental or Used book purchases.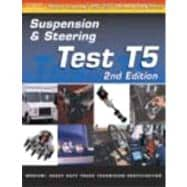 Ase Medium/Heavy Truck Test Prep, T5 Suspension/Steering 2E
ISBN13:
9780766848955
by
Delmar
Related Products
Summary
T5 Suspension and Steering. Intended for any automotive technician who is preparing to take one or more ASE examinations. Covers medium heavy duty trucks suspension and steering. Softcover.
Table of Contents
Preface
vi
Section 1 The History of ASE
1
(6)
1
(1)

| | |
| --- | --- |
| | The Series and Individual Tests |

2
(1)
2
(1)
3
(1)
4
(3)
Section 2 Take and Pass Every ASE Test
7
(2)

| | |
| --- | --- |
| | Who Writes the Questions? |

7
(1)
8
(1)
8
(1)
8
(1)
9
(12)
9
(1)
10
(1)
10
(1)
10
(1)
11
(1)
11
(1)
11
(1)
12
(1)
12
(1)
13
(1)
13
(1)
14
(1)
14
(2)
15
(1)
15
(1)
15
(1)
16
(1)
17
(1)
17
(1)

| | |
| --- | --- |
| | Understand the Test Results |

18
(1)

| | |
| --- | --- |
| | Suspension and Steering (Test T5) |

18
(1)
19
(1)
19
(2)
Section 3 Are You Sure You're Ready for Test T5?
21
(5)

| | |
| --- | --- |
| | Answers to the Test Questions for the Pretest |

23
(1)

| | |
| --- | --- |
| | Explanations to the Answers for the Pretest |

23
(3)
26
(4)

| | |
| --- | --- |
| | Multiple-Choice Questions |

26
(1)
26
(1)

| | |
| --- | --- |
| | Painter A, Painter B Questions |

27
(1)
28
(1)
28
(1)
29
(1)
29
(1)
30
(1)
30
(1)
30
(1)
Section 4 An Overview of the System

| | |
| --- | --- |
| | Suspension and Steering (Test T5) |

31
(1)
32
(15)

| | |
| --- | --- |
| | Steering System Diagnosis and Repair (14 Questions) |

32
(5)

| | |
| --- | --- |
| | Steering Column (3 Questions) |

32
(1)

| | |
| --- | --- |
| | Steering Units (6 Questions) |

33
(3)

| | |
| --- | --- |
| | Steering Linkage (5 Questions) |

36
(1)

| | |
| --- | --- |
| | Suspension System Diagnosis and Repair (16 Questions) |

37
(3)

| | |
| --- | --- |
| | Wheel Alignment Diagnosis, Adjustment, and Repair (14 Questions) |

40
(2)

| | |
| --- | --- |
| | Wheels and Tires Diagnosis and Repair (12 Questions) |

42
(3)

| | |
| --- | --- |
| | Frame Service and Repair (4 Questions) |

45
(2)
Section 5 Sample Test for Practice
47
(12)
Section 6 Additional Test Questions for Practice

| | |
| --- | --- |
| | Additional Test Questions |

59
(18)
Section 7 Appendices

| | |
| --- | --- |
| | Answers to the Test Questions for the Sample Test Section 5 |

77
(1)

| | |
| --- | --- |
| | Explanations to the Answers for the Sample Test Section 5 |

78
(10)

| | |
| --- | --- |
| | Answers to the Test Questions for the Additional Test Questions Section 6 |

88
(1)

| | |
| --- | --- |
| | Explanations to the Answers for the Additional Test Questions Section 6 |

89
(16)
Glossary
105